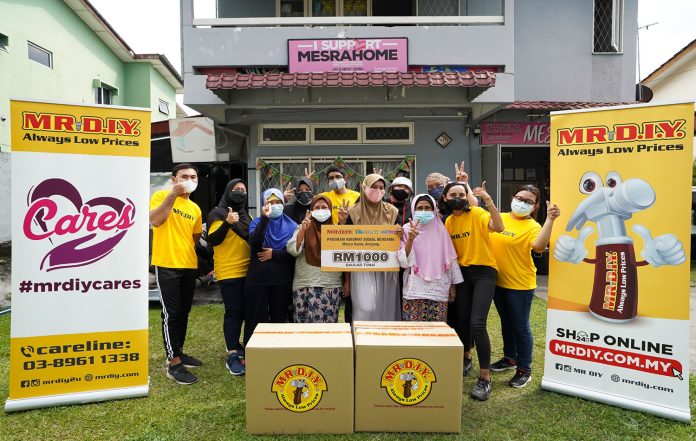 KUALA LUMPUR, 17 May 2022 – It has been an extra-festive Hari Raya Aidilfitri this year, with Malaysians all over the country in a frenzy of celebrations. After two years of lockdowns and movement restrictions, it is fair to say the entire nation has been looking forward to celebrating with family and friends.
As always, Malaysia's favourite home improvement retailer is making sure no one is left out of the festivities.  MR D.I.Y. Group [M] Berhad [MR D.I.Y.] recently mobilised its corporate social responsibility [CSR] team, MR D.I.Y. CARES, to bring Hari Raya cheer to two charity homes – Mesra Home Ampang, a care centre for the elderly, as well as Pertubuhan Kebajikan Rumah Jalinan Kasih Anak-Anak Yatim & Miskin, an orphanage in Cheras.
The team initiated several activities at these two homes, including gotong-royong sessions, games, singalongs, and hosted buka puasa sessions.  Each home received a supply of daily necessities, electrical appliances as well as RM1000 in MR D.I.Y and MR. DOLLAR cash vouchers to help them source for their everyday essentials. In keeping with tradition, MR D.I.Y. also distributed duit Raya to the residents of the homes.
To ensure everyone continues to stay safe despite the nation moving into the endemic phase, the MR D.I.Y. Cares team also conducted a demonstration on how to use COVID-19 test kits and provided the homes with personal protective essentials.
Commenting on the initiative, MR D.I.Y. Group Head of Marketing, Alex Goh said, "It is a long-standing tradition at MR D.I.Y. to work with local community groups and organisations to ensure that the underprivileged are included in the spirit of festive celebrations. This is why MR D.I.Y. has put a significant effort this year behind our 'Raya Serba Baharu' initiative.  In this new normal, we want to make sure that all Malaysians can celebrate properly, without being left out. We want to create memorable Hari Raya moments together, and we hope more corporates will step forward to do the same."
In addition to the two homes, MR D.I.Y. also delivered Hari Raya contributions to 14 other charity homes nationwide.
Watch the MR D.I.Y. Hari Raya festive video on its official YouTube channel: https://www.youtube.com/watch?v=lTeyVlNZfpY. For more information, visit MR D.I.Y.'s website, www.mrdiy.com, e-commerce platform, www.mrdiy.com.my, and its social media channels on Facebook and Instagram.