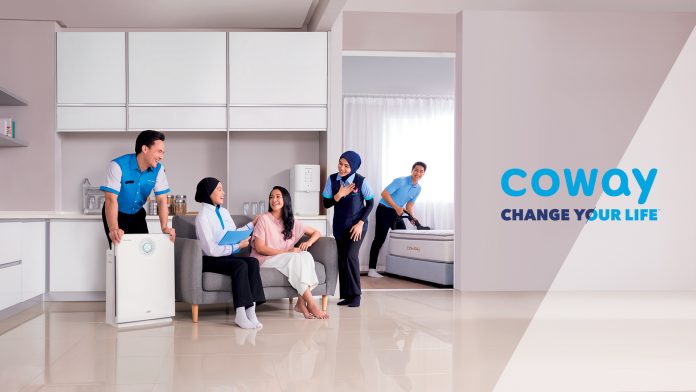 Two Senior Cody Managers (SCM) share their life-changing journeys
As Hari Raya and Mother's Day takes place this May, let's spare a thought for everyday Malaysians; especially the hardworking women across the country making Malaysia a better place one day at a time. Many of them somehow manage full-time jobs plus their roles as mothers, wives and daughters, doing their best to provide for their families.
The struggles of a Malaysian woman are real, especially for single mothers or those with families and little children to care for. Their to-do list never ends, as they juggle a work-life balance to make ends meet. The challenging economy in Malaysia makes it harder for some women to earn a steady income, which is crucial for survival. Sadly, many women still face various obstacles in the working world to date.
Introducing the Coway Ladies, better known as Codys. There are no shortcuts in life and for the Codys, the harder they work, the higher the rewards − limited only by their own capabilities. The Cody women specialise in servicing products at customers' homes and this is just the first step towards climbing up the Coway career ladder.
Coway believes in providing equal opportunities for all women and it is striving to empower thousands of Malaysian women to have a professional career and stable income − creating a platform for Codys to manage their own time with flexible work hours while striking a balance between work and family.
Coway's "Change Your Life" Brand Campaign not only seeks innovative, affordable solutions for its customers. It also focuses on job creation by empowering more women to join the workforce through their Cody initiative. With over 20,000 employees nationwide, more than half comprise of women, further proving Coway's unwavering dedication when it comes to valuing women in their workforce.
Codys are valuable assets to Coway, as their heartfelt service is one of the main reasons why existing customers stay on and new customers come on board. Let us have a look at the compelling journeys of Senior Cody Manager (SCM) Nurulasmaa binti Kamarulzaman and SCM Nadiyah binti Abdullah as they share how they started their careers as a Cody − CHANGING their lives for the better.
For Nurulasmaa, she worked her way up since she joined the Alor Setar branch as a Cody back in 2012. "In the nine years that I've worked with Coway, I've never regretted my decision to join because of the high salary. The more I worked, the more I earned and there is no limit. It's like Coway handed me a blank cheque to fill in the amount every month. I went from zero to becoming a hero for my family now," she said and added that customers were also impressed when she changed her car or bought a new house.
The 32-year-old mother of three, with another baby on the way, said that Coway's attractive work scheme and high incentives pushed her further in her career and she managed to achieve more than she thought was possible. "Back when I was a Cody, in a month, I could earn between RM10,000 to RM15,000 if I hit all my monthly targets in sales and servicing," said Nurulasmaa.
"If we really focus on the job and make plans at the start of the month, there is nothing that we cannot achieve. Now as a senior manager, it's my responsibility to guide and encourage the Codys under me to strive for more," said Nurulasmaa, who has promoted three of her Codys to become managers recently.
Nurulasmaa herself was promoted to Cody Manager in 2016 after being a Cody for more than three years at the Shah Alam branch. She was then promoted to SCM in March 2020 and is now based in Kajang. She has also bagged 15 awards for best performance and productivity and went on seven incentive trips over the years, namely to Italy, Japan, Korea and Shanghai.
Upon graduation with a Bachelor's Degree in Electronic Engineering, she decided to join Coway as a Cody. "Being a Cody is a very rewarding career in itself, not just because of the money but because of the customers I serve. I've been invited to birthday parties and Hari Raya functions. An aunty even taught me how to cook and I also helped some older aunties buy groceries. The bond formed is very valuable to me and it's something that money can't buy," she said and added that she also takes the opportunity to recommend new products to them during the bonding sessions.
Fellow SCM Nadiyah binti Abdullah also expressed her pride as a Cody, especially when donning the blue uniform to work.
"I feel like an air-stewardess on land whenever I put on the uniform because like the flight attendant, we give the best service on land. With the uniform on, people also recognise me everywhere I go. When sitting at a café, people come up to me asking about Coway products," said the mother of two, with her third baby on the way.
The 34-year-old who graduated with an MBA in Marketing and degree in Business Administration (Marketing) said that her motto in Coway is 'Work Hard, Play Hard'. When she joined back in February 2015, she gave herself three years to become a Cody Manager and she succeeded before becoming a SCM in March 2021.
As a Cody, she feels empowered and confident as this respectable profession gives her a sense of belonging in the working world and at the same time freedom to grow without having to sacrifice family time.
"Cody women must be tough and strong as we are always out and about. I've gotten yelled at by customers before but once I learned how to manage them, being a Cody is the best thing that has ever happened to me. There is no turning back," she said.
Nadiyah urges more women to become Codys. No academic papers needed as you only need the heart to serve and commitment to learn. Time is also flexible − suitable even for single mothers who have a lot to juggle with in a day.
"Even with a limited education level, you can go far in this career because Coway does not look at your academic qualifications but at what you can offer," she said and cited how this friend of hers − who is a single mother and could barely afford much or save money with her factory job of ten years − improved her life by leaps and bounds since she became a Cody six years ago.
She added that Coway is also very protective of its Codys as this job requires them to visit customers' houses. If they do not feel safe entering certain premises, a male service technician (ST) will be assigned instead. "Coway always deals with such situations professionally to ensure we are safe. We must awaken our own 'spidey sense' to protect ourselves from harm when we are out there," she said.
A woman's role in the working world has changed tremendously and has made a great impact in our society. So, as we celebrate Hari Raya and honour our mothers this month, let us reflect and salute inspirational women who are leaders in their professions. They inspire and encourage more women to be part of the workforce − giving them a chance to improve their lives. There is no doubt that women can be successful, strong and independent too!