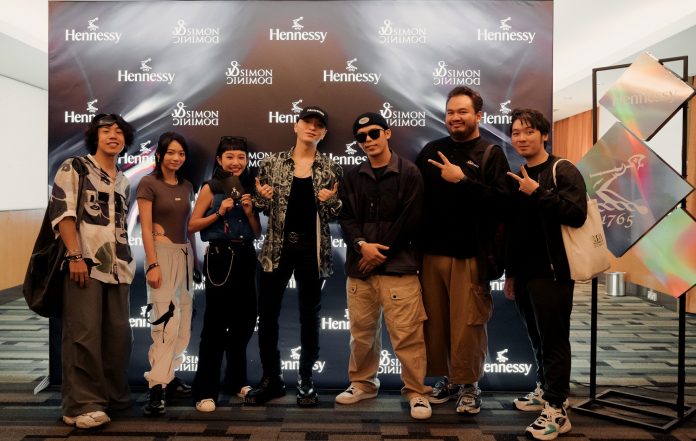 Kuala Lumpur came alive as HENNESSY ARTISTRY redefined the city's nightlife scene with an immersive night to remember
Kuala Lumpur, 7 December 2022 – Partygoers moved in style to the beat at the highly coveted HENNESSY ARTISTRY event that was held at the Kuala Lumpur Convention Centre recently. The high energy night was raving with young and sociable guests fully immersed in the explosive and engaging event.
It was truly the ultimate 360° night experience that was reimagined through hip-hop, music and lights as Hennessy took its loyal fans on an unforgettable night through redefining the party scene with its legendary, expressive and versatile cognac – Hennessy V.S.O.P. Backed by its rich heritage and strong legacy, Hennessy is the undoubted go-to drink for any nightlife scene as the brand is synonymous to unity, reunions and simply having a good time.
Themed Diffraction, the entire night buzzed with a vibrant play of lights, celebrating a dynamic and unconventional motion that unifies the modernisation of the cognac with innovation. Immediately upon arrival, the mood was set as guests were granted entry into the Cleanse Room where they were greeted by HENNESSY ARTISTRY'S virtual ambassador. It was truly a trip of enlightenment for guests where they were then ushered into the Enlighten room, where the Hennessy Legacy Maze awaits. After some masterful manoeuvring, guests were then rewarded with entry into HENNESSY ARTISTRY and delighted with Hennessy's finest – specially curated cocktails mixed and ready to be savoured, presented on a one-of-a-kind conveyor belt bar. 
With drinks in hand, partygoers were all set and ready to party the night away and unleash their dance moves along to great beats, defining their own creative expression of the hip-hop realm with Hennessy. It was truly a night to behold when the event came alive with a light show signifying the official start of the night. Revellers were truly caught in the zone as the high-octane light displays were further amplified by the surrounding reflective set-up at the event that defined Hennessy's diffraction theme. Beyond that, the night was propelled forward by powerful performances from local artists Dato' Maw, S.A.C, and Yung Kai from the Ban Huat Group, bringing partygoers on an euphonic adventure with their stylised tunes of hip hop.
International South Korean hip hop icon Simon Dominic then brought the energy to an all-time-high for the night when he took the stage with his renditions of his hit songs TTFU, Simon Dominic, 119 REMIX, Make Her Dance, POSE! and ya ain't gang. The night then ended with an avalanche of powerful mixed tunes brought to life by DJ Hazel, lighting up the space with her artful spins. 
"HENNESSY ARTISTRY was truly the epitome of what a high energy ultimate night experience should be and Hennessy will be using this momentum and high to usher in 2023. After a successful event that was attended by high profile guests within the nightlife scene, Hennessy Malaysia is looking forward to make HENNESSY ARTISTRY 2023 an even more spectacular event that pushes the boundaries through its special curation of innovative and immersive experiences for the young nightlife scene," said Patrick Madendjian, Managing Director of Moët Hennessy Singapore & Malaysia. 
Throughout the entire event space and walkabout zones, guests were indeed mesmerised and captivated by the play of UV lights and various event interactions that were thoughtfully curated and displayed. Many were also seen capturing the moments in video and photos, at the many photo-walls and photo-worthy displays.
During the event, each guest was also rewarded with a special gift from event partner EK Malaysia, a Malaysian jewellery brand that prides itself with customised handmade designs made with the finest quality gemstones and high-grade leather. With just the QR code found in the InnerClub WebApp, guests were free to scan their unique QR codes at the respective booths to collect their gift. 
To make the night more exciting, guests were also sent on a QR Code treasure hunt to redeem attractive prizes with unique QR codes placed in various locations around the event space, just waiting to be discovered. Prizes up for redemption included Hennessy merchandise along with miniature Hennessy V.S.O.P and Hennessy X.O. bottles.
For more details on the Hennessy Artistry Event, visit Hennessy's Malaysia Facebook page and sign up to Hennessy InnerClub page to receive upcoming updates on the next Artistry 2023.