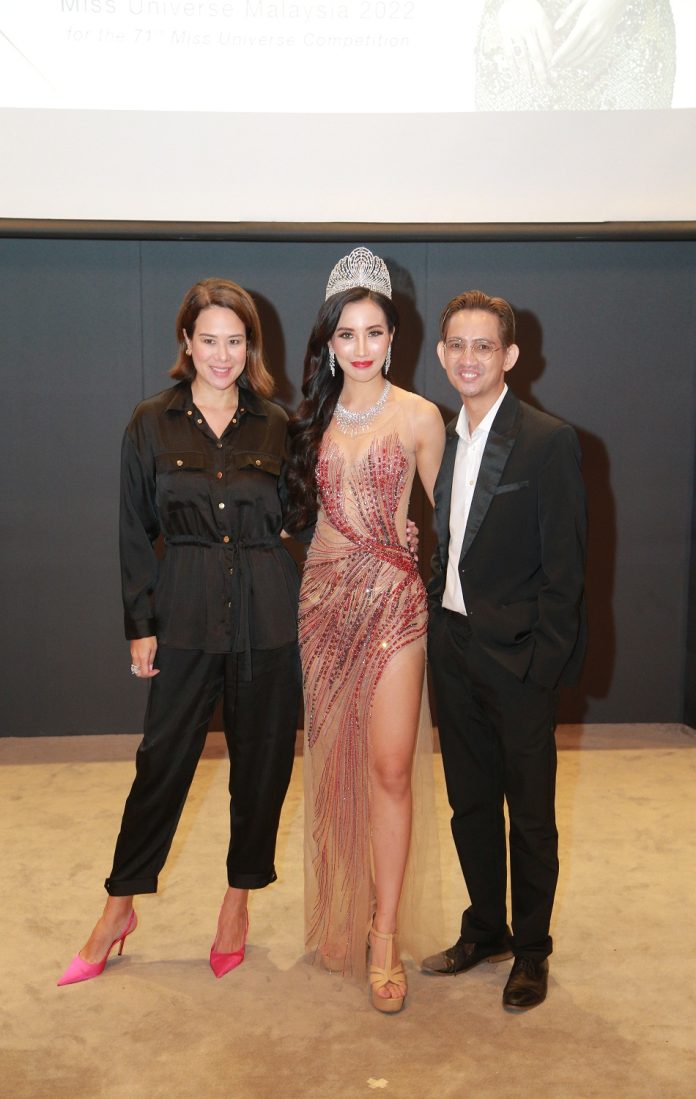 Kuala Lumpur, Friday, 7 December 2022 – 26-year-old Lesley Cheam, the recently crowned Miss Universe Malaysia 2022 will be wearing a national costume inspired by the majestic Mount Kinabalu to represent Malaysia at the 71st Miss Universe competition in New Orleans, USA on 14 January 2023.
The costume is generous with the use of silver and grey colour, which symbolises large slabs of granite along Mount Kinabalu. The colour also oozes strength and confidence, which is befitting of Mount Kinabalu stature as Malaysia's tallest mountain. Weighing more than 10kg, it is designed by eco-conscious local designer, Hatta Dolmat, who is collaborating with the Miss Universe Malaysia Organization (MUMO) for the first time.
Another factor that makes this costume stand out is that it incorporates a sustainable theme to be kind to the environment, which is aligned with Cheam's kindness campaign to be kind to everyone, including the environment. For instance, fabric and embellishment of the costume are made out of unwanted items like fabric, lace, bark, and rPET or recycled PET (polyethylene terephthalate), which is plastic used to make packaging like plastic water bottles and food containers.
As for the evening gown, which is also designed by the same designer, it draws its inspiration from a nebula, which is a giant cloud of dust and gas in space. Hatta features embellishment made out of purple, maroon and gold as the dominant colours in the evening gown to accentuate the skin tone and beauty of the reigning queen.
Elaine Daly, National Director of MUMO says the national costume sends a fashion statement that Malaysia is a progressive global citizen. "The national costume is one of the highlights of the Miss Universe pageant. At MUMO, we go all out every year, and this year is no exception. We are promoting fashion upcycling on an international platform to help address climate change threats, which is one of mankind's greatest challenges and global priorities now. We are also highlighting Mount Kinabalu as the pride of Malaysia, just as Lesley is to us as she represents Malaysia in the global arena next month," she sums up.
To stay updated on the latest news about Miss Universe Malaysia, follow us here:
Official Website www.missuniversemalaysia.com.my
Facebook MissUniverseMalaysia
Twitter @MissUniverseMY
Instagram missuniversemalaysia