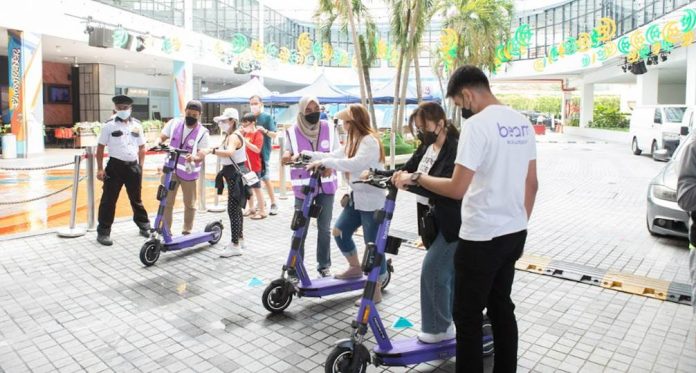 The professionally curated e-scooter safety training programme was held in 1 Utama Shopping Centre on 15th May 2022
KUALA LUMPUR, 18 May 2022 – Malaysia's premier e-scooter operator Beam held its first ever Beam Safety Academy in Malaysia last Sunday, 15th May 2022, at 1 Utama Shopping Centre. The event, which has taken place in several large cities throughout the globe, is Beam's flagship training programme which trains attendees in beginner and advanced e-scooter riding and safety skills.
With the use of micro mobility vehicles rising sharply in recent years, the first Beam Safety Academy in Malaysia indicated a positive reception from the public. Close to 50 people attended the free course, keen to learn more about safe micro mobility use in Malaysia as well as the innovative features of Beam e-scooters that make it safe, convenient, and fun.
"Safety is a priority for Beam. To Beam, safety goes beyond simply ensuring that our riders have a functioning vehicle that meets basic safety requirements. We strive to make sure that every Beam user is mindful of their riding environment, is able to operate their vehicles under control at all times, and use the city's shared spaces according to local laws," said Isabelle Neo, Vice President, Public Affairs at Beam Mobility.
"Micro mobility vehicles have undoubtedly played a role in giving the public a reliable and convenient option for their travels. Moreover, the 12th Malaysia Plan clearly identified micro mobility as an enabler for its economy and a connector of first and last mile trips. With a significant increase in micro mobility users, this is why our Beam Safety Academy is important – to help users learn how to enjoy our vehicles safely," she added.
The Beam Safety Academy provided step-by-step lessons on proper e-scooter usage, parking methods, safety rules, and the importance of adhering to local micro mobility laws. Apart from that, Beam also gave out free Beam credits to all attendees for their participation in the course – symbolic of a graduation present.
Many attendees of the inaugural Beam Safety Academy in Malaysia were first-time users from various age groups, many of whom acknowledged the benefits of e-scooters in making travels simpler.
"For sure, I would be more inclined to use Beam's e-scooters a little bit more after this event, but I will need some more practice first. But that's why an event like this Safety Academy is important," said Adrian, a 42-year-old IT Contractor, who added that e-scooters will also help to solve his first and last mile commute to work in KL City.
Phillip, a 29-year-old working in Funds Accounting, added that he uses Beam e-scooters regularly in the city centre to get from his workplace to his tutoring sessions and for leisure. "Beam's e-scooters are fun to ride as it doesn't require much effort. Using Beam e-scooters also saves me money on parking fees and helps me avoid traffic jams, especially when I only need to get to a nearby place in the middle of the city," he said.
Wong, a 50-year-old Senior Consultant, who had his first ever e-scooter experience at the Beam Safety Academy, said that there definitely is potential for this product in Malaysia, provided the right infrastructure and consumer mindset is there. "I think Beam's e-scooters are very useful. I've seen many of these used regularly in big cities like London where people use e-scooters to continue their commute after getting off a public transportation like the tube. If we can create a safe and suitable environment for e-scooter use in Malaysia, I would definitely consider using this as my method of transport to work," he said
Beam e-scooters are now available for Malaysians above 18 years old to use, with a battery that can take riders as far as 60km. With safety as a priority, all Beam's e-scooters have a 25km/h speed limit, even when going downhill. Moreover, the scooters have in-built GPS trackers which will cause the e-scooters to slow down and sound a loud alert should a user take it outside its riding jurisdiction.