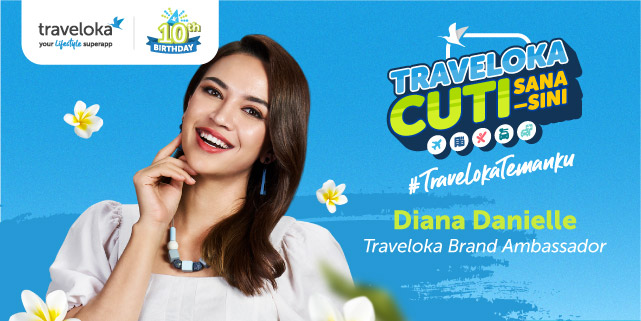 Save up to RM150 when you book your trips on Traveloka in May Traveloka allows travellers to stack more than one coupon code and claim up to RM1,000 income tax rebate to maximise savings 
KUALA LUMPUR, 18 May 2022 — Traveloka brings wonderful news to those who missed all the attractive Raya travel and holiday deals. 
With its coupon-stacking feature, aspiring travellers can save up to RM150 this month by stacking more than one coupon code before paying for their desired travel packages on the superapp. 
According to Traveloka, at present, there are two types of coupons available on its superapp – combinable coupons and non-combinable coupons for travellers to derive better value from beauty and spa; hotels; flights; food and drinks; as well as experience bookings. 
Combinable coupons are coupons that can be stacked on top of other coupon codes to derive better value for one's Ringgit. Non-combinable coupons, on the other hand, are base coupon codes that cannot be stacked on top of another coupon code. The travel superapp encourages travellers to explore and to seek attractive bargains in the form of coupon codes, discounts and on-going promotional packages, as well as stack combinable on top of non-combinable coupons together, before paying for their purchases on the travel superapp, subject to prevailing terms and conditions tied to certain products and promotions. 
For instance, to enjoy a lower hotel fare, travellers can first stack a non-combinable coupon code TRAVELMSIA50 (RM50 off), then add on a combinable coupon code DD200 (RM20 off) to enjoy savings of RM70 on domestic hotel bookings with a minimum spend of RM450. Remember to always key in the non-combinable coupon code first, because you will not be able to stack them later!
According to Angelica Chan, Country Manager, Traveloka Malaysia, the travel superapp has released a significant amount of non-combinable coupon codes under Cuti Sana-Sini, GoOverseas and Xperience tabs for the month of May. Some of which are TRAVELMSIA450 (RM50 OFF) for domestic hotel bookings, MYMAY30 (RM30 OFF) for domestic flight bookings, 5XBORDER (RM150 OFF) for bookings of international hotels and INTMAY50 (RM50 OFF) for bookings of international flights. 
In creating more value for Malaysians to fulfil their desire to explore Malaysia, the travel superapp is registered with the Ministry of Tourism, Arts and Culture (MOTAC). This enables Malaysians to qualify for up to RM1,000 income tax relief for purchases of domestic travel, made through Traveloka before 31 December 2022! 
Chan also said that Traveloka is mindful of travellers' needs as the Covid-19 situation continues to evolve throughout the endemic phase. As such, the superapp also made it convenient for travellers to reschedule or request for a refund due to Covid-19.