The Odyssey Experience Guide treats you to an elevated dine-in journey of self-discovery
Kuala Lumpur, 7 October 2021 – The ambience of carefully curated, freshly cooked food being served by cordial waiters in our favourite restaurants now feels like the utmost privilege. Understanding just how much atmosphere can affect one's gastronomic experience, Hennessy X.O presents The Odyssey Experience. Partnering with esteemed local eateries, the brand seeks to take its consumers on a journey of self-discovery while enjoying Hennessy X.O by means of an elevated dine-in experience. Hennessy has curated a special Guide to help you navigate The Odyssey Experience and ensure that you get the best out of your personalised journey.
Each drop of Hennessy X.O is an Odyssey to behold and you get to personalise your journey in a way that best suits your palate. Redeem your experience by joining the InnerClub and purchasing bottles of Hennessy X.O on Shopee to collect points that can be redeemed for a dine-in experience that includes two glasses of Hennessy X.O in selected partnering restaurants.​ You can indulge in a sensational dine-in escapade in participating restaurants spread across Klang Valley, Ipoh, Johor Bahru and Penang. In Klang Valley, visit Skillet, Rare, Flour and Grand Imperial to enjoy a grand dining affair. If you are based in Ipoh, you can dine-in with Hennessy at Rewine, Sun Lee Hou Fook and STG. The remaining locations include Johor Bahru and Penang with Rowan & Parsley as well as Gēn, respectively hosting this delectable journey.
"The pride of the Maison, Hennessy X.O is a unique liquid that automatically elevates everything it is paired with. This multifaceted cognac promotes personal discovery and encourages its consumers to explore the potential of every dine-in experience. Each bite is a burst of excitement as it drives you to utilise all your senses to truly enjoy this one-of-a-kind gastronomic journey. Our partners are carefully selected among a list of prominent local eateries and they have curated special menus that bring distinct flavours to life through Hennessy X.O's Seven Worlds. Hennessy X.O is truly unmatched in standard and is an iconic drink to be relished by those with a desire to marvel at the art of cognac," said Thomas Bouleuc, Managing Director of Moët Hennessy Diageo Singapore Malaysia.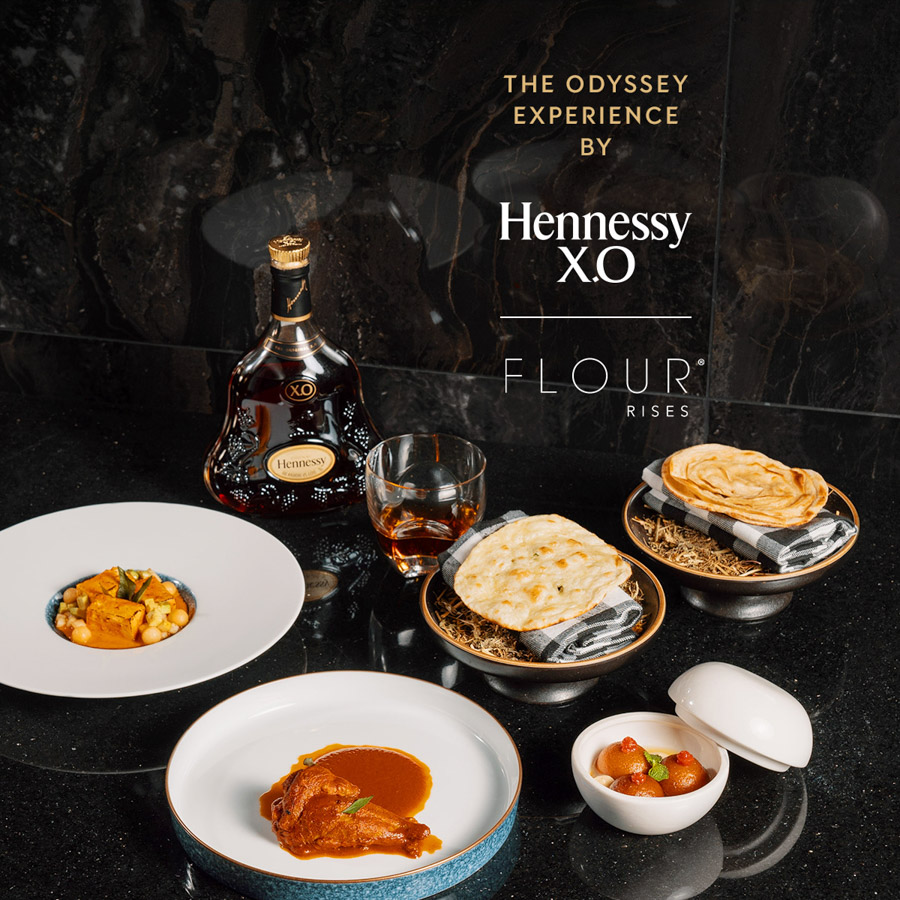 Embark on your personal Odyssey with Hennessy X.O in our participating outlets. You will be served not a meal but an experience; paired with the Seven Tasting Notes of Hennessy X.O comprising Sweet Notes, Rising Heat, Spicy Edge, Flowing Flame, Chocolate Lull, Wood Crunches and Infinite Echo. Each dish is meticulously handpicked to complement one or more of the Seven Tasting Notes to truly portray the versatility of Hennessy X.O and take you through the motions of its uniqueness, enlightening all your senses. Among the curated menus offered and specially made by renowned local chefs include Skillet's Chicken Roulade which showcases Rising Heat and Wood Crunches; Flour's Chicken in sauce Tomat with Spicy Edge and Flowing Flame; Rare The Food Co's Seafood Chirashi Don with Sweet Notes, Spicy Edge and Rising Heat as well as many more from the selected partnering outlets. After all, each bite is an Odyssey in itself.
Get in touch with Ambroise, Hennessy's gender-neutral concierge, via WhatsApp to customise and explore Hennessy X.O in a way that is unique to you. Getting started is a simple procedure where you start your seamless journey on the Ambroise WhatsApp link where you will then be shown a list of the participating outlets alongside the specially curated menus for you to choose from. Once you have decided, Ambroise will make the reservation at your selected restaurant. Upon arrival, simply show a screenshot of the code you've received from Ambroise and you will be welcomed with two glasses of Hennessy X.O. Customers can call any of our partner restaurants to reserve a spot for The Odyssey Experience.
You can anticipate an exceptional, personalised and enlightening gastronomic experience hosted by Hennessy X.O across participating restaurants. The Odyssey Experience is available until the end of the year. To find out more, speak to Ambroise or connect with Hennessy through Hennessy Malaysia's Facebook Page.