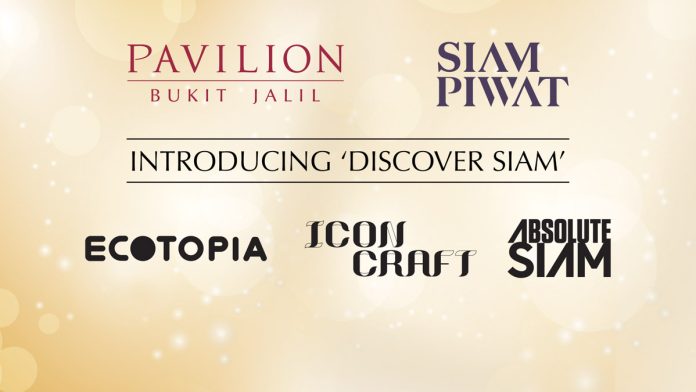 KUALA LUMPUR, 7 OCTOBER 2021: Pavilion Bukit Jalil is set to welcome shoppers from 3 December 2021 – spanning five retail floors with a total of 1.8 million square feet of retail space, Pavilion Bukit Jalil will be the largest fully integrated lifestyle regional mall in the Southern Corridor of Kuala Lumpur. Today, Pavilion Bukit Jalil announces its strategic alliance with Siam Piwat as part of its international expansion move. Siam Piwat is Thailand's award-winning leading retail giant recognised by many respected global retailing and development associations. The Group offers visitors with extraordinary lifestyle experiences at unique and exciting destinations, which have revolutionised and inspired the retail industry in Thailand with renowned malls such as Siam Centre, Siam Discovery, Siam Paragon and ICONSIAM.
Siam Piwat will be making its first store debut outside of Thailand at Pavilion Bukit Jalil. Housed within a dynamic 11,000 sq ft space, it will be bringing in three owned and curated, proudly "Made in Thailand" concept brands, namely Ecotopia, ICONCRAFT and Absolute Siam.
"Thailand is well known for its metropolitan and world-class malls, and was named one of Malaysians' most loved travel destinations in 2019, with over three million Malaysians visiting the country during the year.  Thailand's unique, diverse culture, and its history comes through in the amazing creativity and care for their original crafts and handiwork. Shoppers will be able to explore these unique brands and experience first-hand these innovative and creative offerings, and more importantly, savour the cross-cultural retail experience with these two leading retail giants. We are confident that with the arrival of Siam Piwat in Pavilion Bukit Jalil, it would encourage retail shopping to boost economic recovery," said Dato' Joyce Yap, Chief Executive Officer of Retail for Kuala Lumpur Pavilion Sdn. Bhd., Retail Planner of Pavilion Bukit Jalil.
"One of Siam Piwat's goals is to take Thailand on to the world stage by strengthening the reputation of Thai brands and products with the worldly consumers. This is a start, with our first physical venture outside of Thailand as we expand into Malaysia and work closely with The Pavilion Group. We are confident in Pavilion's ability to best represent our brands while supporting the innovative entrepreneurs who will be filling the shelves of Ecotopia, ICONCRAFT, and Absolute Siam," Ms. Usara Yongipiyakul, Chief Executive Officer, Retail Business Group, Siam Piwat Co., Ltd.
Details of brands
Ecotopia: Ecotopia is an eco-conscious community of like-minded people who believe that 'Together, We Co-Create a Better World.' It reflects Siam Piwat's core vision for retail development, to produce shared value with its partners. Together with 12 eco-creators, Ecotopia presents a new and amicable eco-centric experience that is approachable and practical for all walks of life.
ICONCRAFT: Siam Piwat launched ICONCRAFT as a hub of inspiration to showcase the height of Thai's craftsmanship, first domestically, then to the world. ICONCRAFT celebrates local wisdom in a new perspective while presenting it through Thai craftworks. Above all, ICONCRAFT opened doors for over 800 craftsmen, designers, and local communities across Thailand, forging paths for them towards commercial trade. Efforts including educating, marketing, establishing their brands, and providing financial advice for these entrepreneurs to be a part of a retail ecosystem, truly creates sustainable success and gives mutual benefits for all involved. Products span wide and intriguing categories, namely jewellery, home decors, unique art and crafts, lifestyle and everyday artifacts, scents and aromas, as well as food and snacks.
Absolute Siam: A trendsetting multi-curated brands concept store that features a wide mix of leading fashion and lifestyle brands under one roof. Many first-ever and distinct collaborations, created by leading and upcoming Thai designers who are constantly producing exclusive new collections. It is a space that houses over 60 fashion, art, tech, and lifestyle brands, offering one-of-a-kind innovative and bold products that set new trends in Absolute Siam's style.
Beyond Siam Piwat's offerings, Pavilion Bukit Jalil's vibrant retail mix includes well-known retail brands and new reputable international brands who have selected Pavilion Bukit Jalil as their first entry into the Malaysian retail market – including a renowned Japanese lifestyle chain-store, bringing consumers a cutting-edge cultural, creative and integrated retail experience. Among the confirmed tenants that have signed on with Pavilion Bukit Jalil are anchor tenant PARKSON, specialty anchors BLUE ICE SNOW PARK, DADI CINEMA, THE FOOD MERCHANT, GRAND HARBOUR RESTAURANT & BANQUET, HARVEY NORMAN, PADINI, SPORTS DIRECT, TOYS 'R US, UNIQLO, and HOHM, a 58,000 sq ft home-concept store that aims to house a large array of home essential products.
Pavilion Bukit Jalil aims to be the lifestyle shopping destination for the residents of Bukit Jalil, Puchong and beyond. As the Icon of Connectivity, Pavilion Bukit Jalil is just a stone's throw away from major residential areas with over 1.8 million square feet of development and a catchment of 1.9 million people from the vicinity and is geared towards a strong opening on 3 December 2021.