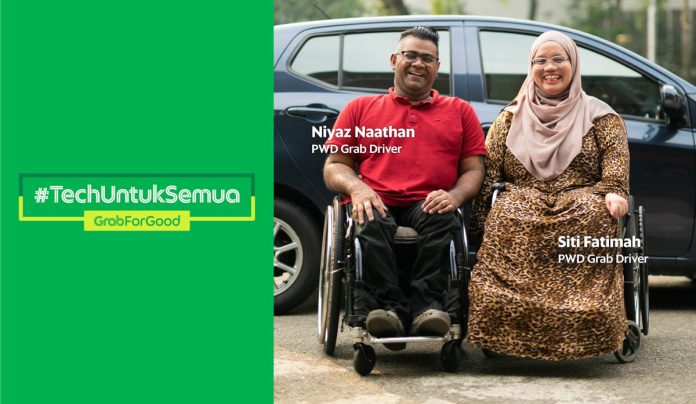 We are honoured to come together with the government and like-minded industry partners, under the banner of the National Employment Council, to tackle underemployment challenges in Malaysia. The #TechUntukSemua programme, which was presented to the Council last Friday, includes three key thrusts to empower more people to access opportunities from the digital economy.
We believe that these initiatives will help create access to  flexible, supplementary income opportunities, and enable small traditional businesses to thrive and truly benefit from the digital economy. Our three key thrust are:
Enable equal access for Persons With Disabilities (PWD) – We remain especially focused on creating equal opportunities for those whose circumstances make it harder to find alternative or additional income, such as persons with disabilities (PWD). Our community of persons with disabilities face more hurdles to access the licences required to participate in the digital economy. We hope to work with the Ministry of Transportation and the Ministry of Women Development, Family and Community Development to ensure our community of PWD could gain accessible means to independently earn an income.
Simplify regulatory requirements to access flexible earning opportunities – Many Malaysians earn a flexible, supplementary income today via the digital economy. However, there are many requirements to fulfil before starting to earn an income. We plan to work with our nation to streamline regulations and make it more seamless than ever for Malaysians to access flexible, supplementary income in the gig economy. By doing this, we hope that we will be able to create 35,000 income opportunities by the end of this year.
Empower traditional businesses to participate in the digital economy – We have started taking small steps towards serving and protecting the livelihoods of our broader community of everyday entrepreneurs. With government support, we hope to further enable businesses across Malaysia, from mom-and-pop stores, wet market traders to food court hawkers, to participate in the digital economy. We will continue to invest in creating awareness and visibility for local entrepreneurs, and to equip them with the tools to thrive in the digital economy.
As a homegrown company, our mission is to create economic empowerment for everyone. We are committed to put in the hard work alongside our government, community and industry partners to further enable and empower businesses, gig workers and all Malaysians.