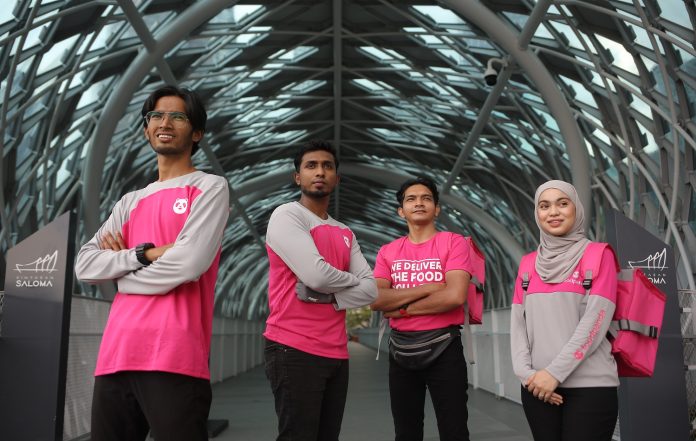 To show appreciation for its delivery partners, foodpanda Malaysia will double the tips
received from customers.
This initiative will also be rolled out in five other markets where foodpanda operates in
various phases and is estimated to impact more than 124,000 riders regionally.
Through this, foodpanda aims to boost the morale of its riders by spotlighting the
importance of their role in the delivery ecosystem
Malaysia, 30 March 2023 – To show appreciation for the many riders and walkers who are consistently working hard to deliver food and groceries, foodpanda launched a 'double tips, double love' campaign for this month. The campaign will see foodpanda match every ringgit tipped by the customers to the riders via the app, providing them with the opportunity to earn twice the amount of tips.
As with all tips that customers choose to give to delivery partners through the foodpanda app, 100 per cent of the tips earned during the campaign will be solely credited to riders' accounts without any additional charges.
The 'double tips double love' initiative will kick in every Friday in the month of April in
Malaysia, and will also be rolled out across Asia in five other markets including Singapore,
Pakistan, Bangladesh, Cambodia, in different formats and via a phased approach. The
campaign is expected to benefit more than 124,000 riders in Asia.
"Our delivery partners are the heart of our business and we want to do all we can to ensure
that their welfare is taken care of," said Kelvin Chan, Director of Operations, foodpanda Malaysia. "The 'double tips, double love' campaign in just one of the many ways for foodpanda to give back to our riders and to show them the recognition and appreciation that they deserve. We hope that with this initiative in which the riders can double their tips, they will feel motivated to continue providing our customers with the best service," he said.

"I also hope that our customers will also give freely in the spirit of Ramadan be assured that 100 per cent of the tips will be channelled directly to our delivery partners," Chan added.
First introduced in 2021 at the height of the pandemic, the tipping feature was an easy way for customers to show their appreciation for their riders in a convenient and safe manner. Through this function, customers can easily input their tip amount before checking out their online orders. Since its launch, the feature has garnered positive feedback from both customers and riders alike with Malaysians being one of the most generous customers in the region.
foodpanda has always prioritised the well-being and safety of its delivery partners through
various programmes and initiatives in Malaysia and across Asia. This is key to building a
positive, safe and secure working environment for all.
In Malaysia, delivery partners have insurance coverage for accidents, permanent disabilities as well as death, to ensure that their next of kin will be cared for financially in the event of
unexpected road collisions while on their shifts. In empowering its delivery partners in their
upskilling journey while setting them on a path for career growth, foodpanda Malaysia is also sponsoring the university or college tuition fees for up to an entire year for five delivery partners. These are just a few of the many numerous incentives for foodpanda riders and walkers.
"We at foodpanda are continually finding ways to improve how we can create a positive
working environment for our delivery partners. The double tips, double love campaign adds to the ever-growing list of initiatives that we roll out for our riders in spotlighting the dedication and effort that they continuously give for each order and customer," said Chan.