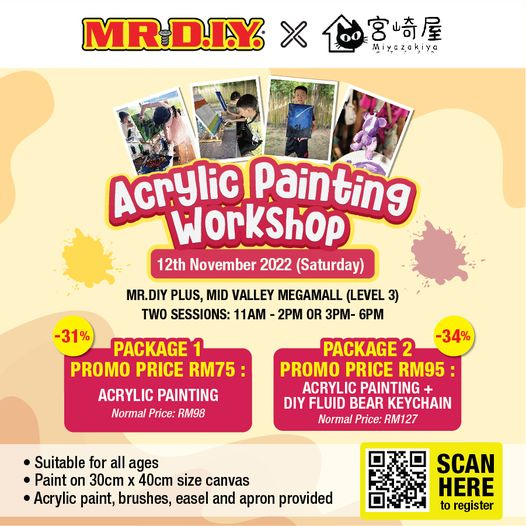 KUALA LUMPUR, 11 NOVEMBER 2022 – Residents of the Klang Valley – it's time to unleash your creativity.
Everyone's favourite home improvement retailer, MR D.I.Y, is partnering with art and creative workshop organiser Miyazakiya to hold an "Acrylic Painting Workshop" at MR D.I.Y Plus, MidValley Megamall, this Saturday, 12 November, 2022.
The workshop is open to everyone, even those without any art or acrylic painting experience.  There are limited seats available, so sign up quickly by scanning the workshop QR code on the MR D.I.Y Facebook page.
There are two workshop packages on offer:  RM75 (for acrylic painting only) and RM95 (for acrylic painting and a DIY fluid bear keychain).
This workshop is one in a series of events that are held regularly at MR. D.I.Y. PLUS to inspire excitement and fun for customers.. Previous events include the MR D.I.Y. PLUS Bonanza – a weekly event for suppliers to promote their products, a blood donation drive, a children's colouring contest, and a 3-day nationwide recruitment drive.
The retailer is also issuing a shoutout to workshop owners and organisers who are interested in running events at their in-house event space – do contact MR D.I.Y on its Facebook page if you have events or workshops you think will be of interest to Malaysians of all ages.
D.I.Y. PLUS at MidValley Megamall is the largest MR D.I.Y. Group store in Malaysia. Launched on 30 June 2022, the store offers the convenience of a one-stop shop with more than 20,000 types of products across various categories and an event space for engaging shopping experiences and activities.
For more information, visit MR D.I.Y.'s website, www.mrdiy.com, e-commerce platform, www.mrdiy.com.my, and its social media channels, Facebook and Instagram.