If you've always thought of Langkawi as an oasis of peace, beauty, and serenity, you're not wrong. What is less known, however, are the other hidden, adventure-spiked gems within the island that will excite even the most seasoned of thrill-seekers. Unmissable adventures await those who are seeking thrilling experiences as Langkawi is undeniably a treasure trove of such activities; attracting nature lovers, wildlife enthusiasts and adrenaline junkies. Langkawi truly has it all: from scenic, pristine beaches, rich flora and fauna to breath-taking natural wonders! To better explore this slice of paradise on earth, here is a list of activities for you to explore the waters and revel in the beautiful tropical landscape.
#1. Waterfall Canyoning, Kayaking and Stand Up Paddling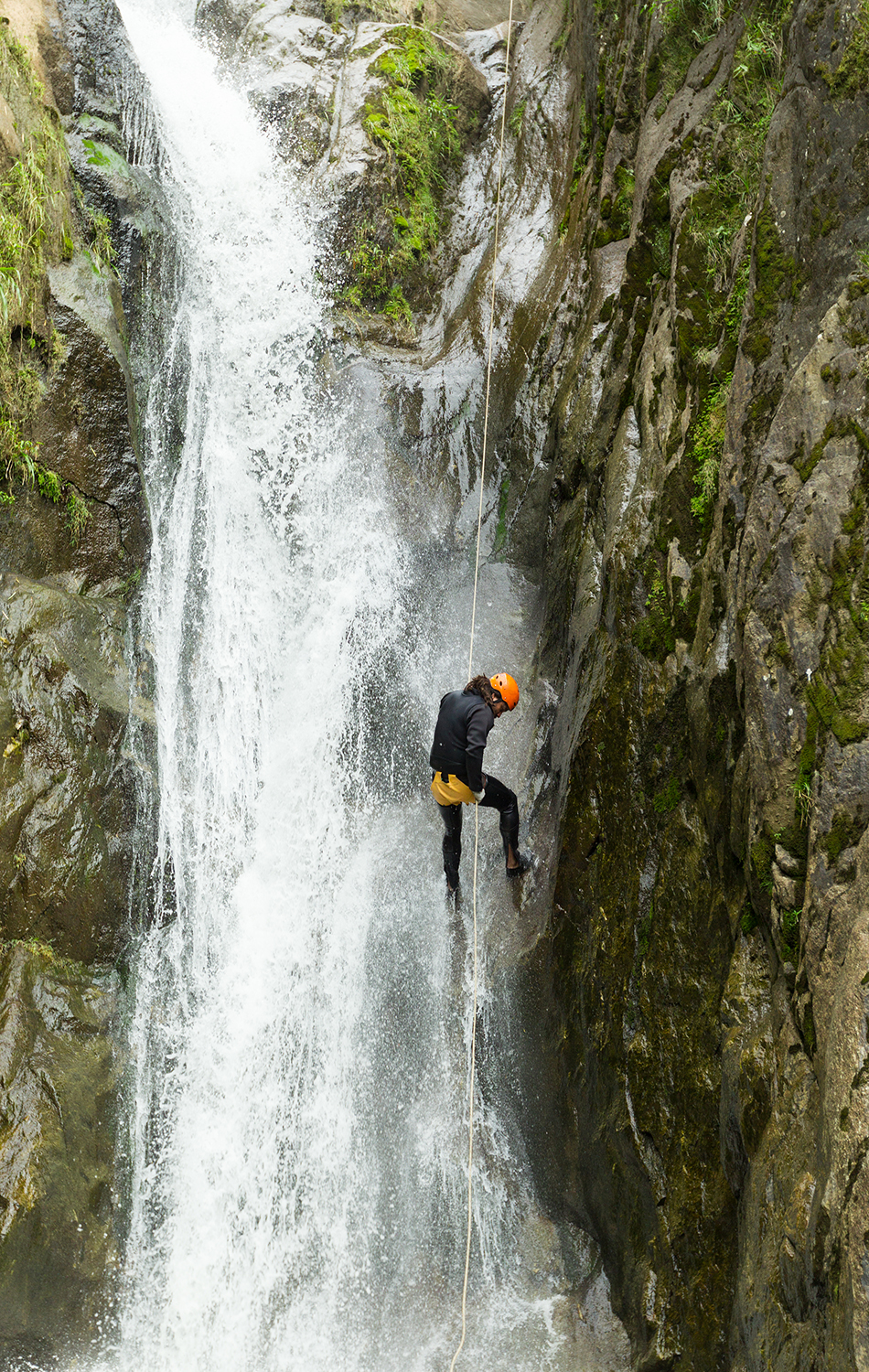 Kayaking on the other hand is becoming a popular sport and is an excellent way to explore the mangrove forests of Langkawi. For all those who are looking forward to a peaceful sport to enjoy, kayaking emerges as a brilliant suggestion. Most operators run kayaking tours on the island, and the first stop of the kayaking tour is the Bat Cave, followed by a visit to the fish farm. Finally, participants get to sit in their kayaks and explore the mangrove forests by themselves as they witness beautiful sights of birds and animals like sea eagles, kites, herons, kingfishers, fiddler crabs, mudskippers, and monitor lizards.
Alternatively, stand up paddle boarding is the ultimate test of balance and endurance. Nothing compares to the sense of being out on the water, hearing the sounds  of the lapping  sea as you paddle while standing on an inflatable board, alone within the Eden of limestone karst and mangrove-forested surroundings. You can interact directly with nature thanks to the non-motorized, environmentally friendly equipment, something you would otherwise miss if you were on a boat.
#2. Stunt Activities and Morac Adventure Park
Looking for the ultimate adrenaline kick? Take a leap of faith and feel like Tarzan as you zip across the canopy of a ten million year old rainforest-passing strangling figs at exhilarating speeds and spotting Dusky Leaf Monkeys and Great Hornbills as you glide between the jungle trees. Conquer your fear and push your limits while climbing, crawling, swinging and gliding on the various aerial obstacles suspended above the rainforest canopy-the ultimate kick for all with a daring spirit.
And if that didn't get your heart racing enough, come experience nature up close with the ATV Adventure Trail, comprising 9 challenges and 4 adventure tracks in two action packed 1 hour ride and a 30 minute ride. With our experienced guides showing you the beauty of Langkawi's natural habitats, this is an unforgettable journey for you and your loved ones.
Meanwhile, with a 20 year history, Morac Adventure Park is home to one of the most professional go kart racing circuits in Malaysia. It is definitely a place where sports lovers can visit to taste adrenaline in its truest form. Just 8 minutes from Langkawi International Airport and Pantai Chenang Beach, the location is surely the most favourable for visitors. Watching the go karts race as the sun sets while planes land and take off a few meters from the track makes it a very beautiful location for spectators. 
#3. Tandem Paragliding
Paragliding is a free flight done with the help of a lightweight wing inflated by the wind. Anyone who experiences the breath-taking Tandem Paragliding will be guaranteed to free fall in love soaring across beautiful coastlines. If you prefer a milder option in comparison to skydiving whilst also craving an aerial vision of Langkawi, fret not, you get to sit in a comfortable harness and enjoy a 360-degree view as a certified instructor pilots a paraglider for you.
#4. Wakeboarding
Wakeboarding is a popular adventure water sports in Langkawi. It is a combination of water skiing, surfing, and snowboarding: the rider uses a wide board to paddle and glide over the water. Wakeboarding is becoming the new rage these days, and luckily, the Langkawi waters are just perfect for trying out this sport. The crystal clear waters will let you observe the fish and corals as you paddle the on the board and enjoy smooth sailing. Suitable for adults and children, it is definitely a fun activity to try out!
#5. Jet Skiing and Surfing
Jet skiing is one of the perfect water sports in Langkawi to explore the beautiful attractions of the archipelago as you speed over the calm waters of the sea and visit different islands en route, including the famous Tepur Island, Singa Besar Island and Dayang Bunting Island. You can choose from an assortment of packages that range from an hour to four hours, and even enjoy swimming in the fresh waters, visit beaches of your choice, capture the scenic views of the islands and watch eagles and seagulls pass by as you sit and relax.
If you are looking for an even higher adrenaline surge, Pantai Tengah and Pantai Chenang offer incredible spots for surfing fanatics. Aim for a time between May and September when strong winds generate waves of up to 1.5 metres high.
#6. Hiking and Cycling
For fitness enthusiasts, Langkawi is truly blessed with thick and lush tropical rainforests suitable for a great excursion for hikers. Amateurs and pros are both able to conquer the journey as the greenery helps you forget the hustle and bustle of the city.
Interestingly, you are  also able to cycle the entirety of Langkawi island without repeating any of the routes. The total distance to cover rounds up to 180 kilometres. Fret not, amateur cyclists too can simply enjoy the scenic routes of rubber, coconut and paddy plantations and you might even get the chance to spot some of the local wildlife on the way without covering the entire island.
With a rich ecology, tropical forests, rich flora and fauna and a pleasant climate, the mountains in Langkawi are considered to be perfect haven for cycling enthusiasts. Pedal through paradise today!
#7. Snorkelling and Diving
The best way to discover the underwater life of the Andaman Sea is through snorkelling and diving. Dive sites are situated around all the small islands in the Chenang area. Visit Pulau Pasir to get a glimpse of the sculptures anchored underwater whilst diving. This initiative by The Langkawi Development Authority (LADA) together with the National Art Gallery was in line with LADA's direction of supporting more green and community based tourism activities. Suitable for beginners and experienced divers, visitors are able to see turtles, corals, sea horses and other marine creatures. 
Snorkelling too is a must-do activity in Pulau Payar to explore marine life. Experts will guide you through the entire process, ensuring a smooth and safe experience. Surrounded by the nature Langkawi offers, you are presented with this beautiful opportunity to enjoy the picturesque scenery of coastal inlets, tranquil waters and clear horizons. If you love the water, then these thrilling activities will captivate your heart because you will get the chance to enjoy snorkelling with colourful tropical fishes and appreciate a closer view of the beautiful attractions under water.
#8. Caving Adventure and Bird Watching
Langkawi island is home to some of the most stunning cave formations to be found in South East Asia. If you enjoy exploring cave systems, then this island has some pleasant surprises for you. The caves located here are a part of the unique geological formations that have been awarded the UNESCO World Heritage Geopark status.
Many of these ancient geological formations were created millions of years back. Some are located in very steep limestone cliffs & rainforests and are difficult to access, let alone explore. However, there are several cave formations that can and have been regularly explored by cave lovers. Some can even be accessed on foot. Some require a boat and you may be able to pass through them on water and watch the awesome limestone formations on the ceilings, as they hang over your head.
Due to the mild yet consistent temperature, Langkawi is also popular as a destination for birding. If you are a fan of bird watching, then you should probably expect an average temperature of 32°C for most of the year. Over 200 species of birds can be seen lurking in Langkawi. Some of these birds are migratory, while others are native to the island. Langkawi Birdwatching excursion is truly one of the best ways to experience Langkawi's nature and enjoy the countryside.
#9. Jungle Trekking / Nature Walk
Start your day with this great expedition that many nature lovers enjoy. Take a little walk through the luscious jungle of Langkawi. Skytrail Jungle Trekking provides a one-of-a-kind experience of going up Gunung Machinchang, Malaysia's oldest mountain range and home to one of the world's most ancient rainforests. The 45-minute hike allows you to see Langkawi's magnificent rainforest with an expert guide and take an exciting cable car ride. Once at the top, you can catch spectacular panoramic views of the rainforest, Andaman sea, and the whole of Langkawi island, an experience worth cherishing forever.
This tour attracts many trekking lovers every year due to the adventure it offers. After completing the trekking course, trekkers will appreciate the remarkable beauty of Langkawi. An experienced nature expert will guide you throughout the trip to unravel all the secrets behind this incredible forest.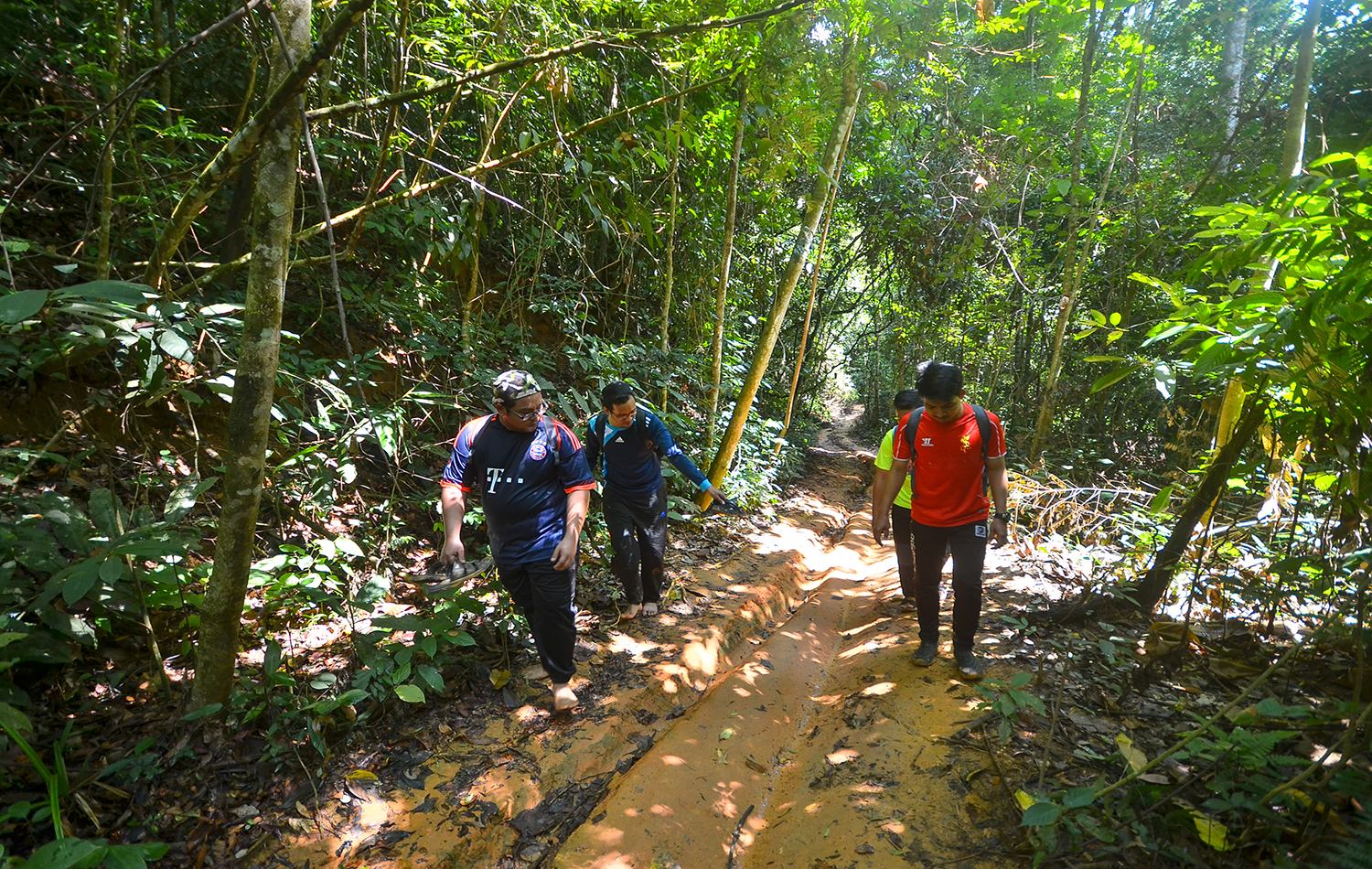 #10. Fishing and Squid Jigging
To truly experience the enchanting beauty of Langkawi, take a fishing trip around the crystal clear waters of Langkawi. Deep-sea and fun fishing are both available for passionate anglers. A huge variety of catches are available such as groupers, snappers, barracudas, wahoos and many more. Additionally, squid jigging is an activity not to be missed. Unlike fishing, squid jigging is usually done at night. Glow-in-the-dark features are attached to wire hooks as a specific lure to attract squids.
The picturesque beauty of the island will warm your heart with breathtaking views of dawn and dusk across Pekan Rabu. Before returning back to your accommodation, enjoy swimming and dining at a barbecue. Book a boat today!