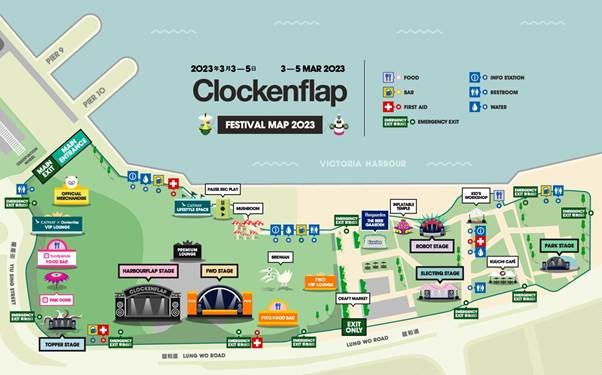 The iconic city festival returns to Central Harbourfront on 3-5 March 2023
[Hong Kong, February 22, 2023] Clockenflap, Hong Kong's biggest international outdoor  music and arts festival, today revealed the festival map as well as a complete list of  attractions and experiences for this year's event, which takes place at Central Harbourfront  from Friday 3 to Sunday 5 March 2023 and features around 100 live acts.
The much-loved event, which is completely sold out for the first time in its 15-year history,  is returning to the city more than four years since its last edition, and will feature the same  world-class festival experience that has wowed fans in previous years. This includes a  spectacular outdoor environment featuring multiple stages; an eclectic array of top F&B  outlets; and a wide-ranging lineup of must-see international, regional and local acts. As  before, it will also be a free-standing event, with festivalgoers able to move easily and  without restriction between the various stages and attractions throughout the weekend. 
Here's what fans can look forward to: 
SIX STAGES OF MUSIC
Harbourflap Stage 
The Harbourflap Stage is Clockenflap's mighty main stage. Find the highest profile artists  with the broadest fan bases here alongside acts that you can count on to deliver those  spine-tingling singalong moments. Harbourflap highlights this year include closing sets by  ARCTIC MONKEYS, WU-TANG CLAN and THE CARDIGANS plus an Asia exclusive set from BOMBAY BICYCLE CLUB. 
FWD Stage 
Showcasing artists from a wide spectrum of styles, genres and countries, the FWD Stage  celebrates the depth, breadth and diversity of Clockenflap's lineup, from acclaimed  Taiwanese soul singer-songwriter YELLOW and local rock kings KOLOR to German electronic  supergroup MODERAT and English jazz innovators EZRA COLLECTIVE.  
Park Stage 
Set within the festival site's grassy lawns, the Park Stage is a firm fan favourite, and the best  place to catch edgy, emerging talent. Broaden your musical horizons with BLACK COUNTRY,  NEW ROAD, N.Y.P.D. and HITSUJIBUNGAKU, to name but three. 
Electriq 
The festival's dedicated electronic stage, Electriq is where you'll find international names  such as HAAI, SERUM and the legend that is SISTER NANCY, alongside the very best DJ  talent Hong Kong has to offer. In short, this is the place where you can sample the finest in  dancefloor energy from day into night. 
Robot Stage 
With two distinct personalities, the Robot Stage features family-friendly, kids-focused 
content by day, before turning its attention to Hong Kong DJs and party crews once the sun  sets. With stage takeovers from the likes of YETI OUT and MINH CLUB alongside respected  local acts such as ANTHONY2 and MENGZY, there's sure to be an incredible atmosphere— and great memories to be made—at the Robot Stage. 
Topper 
New for 2023, the Topper Stage will keep the vibes flowing in between the live sets at the  Harbourflap Stage. With a focus on edgy yet accessible electronic music from across the  globe, and a lineup featuring DJ EL TORO, HELEN TING, DRAFUS and more, there will be  good times in store at Topper all weekend long. 
ON-SITE EXPERIENCES
Arts 
Clockenflap is about much more than music, and the festival's arts programme serves up a  spectacular selection of Instagrammable attractions and audiovisual adventures. Open call  winner Pause.Rec.Play gives everyone a chance to jam together using a collection of special  sound effects; VIDEOTAGE curates a visually astonishing journey into artists' mental  imagery of local cityscapes; RELENTLESS MELT presents a special selection of abstract and  psychedelic films; MEMORABILIA MOBILE invites audience members to become a model,  with Clockenflap as the backdrop; while street art by CARATOES and PARENTS PARENTS,  plus the ever-popular, otherworldly BIRDMEN, will provide photo ops galore. Other  highlights including SOLAR SOUND SYSTEM. 
Family-Fun 
As in previous years, families and children of all ages are well catered for at the festival,  from puppet-based performances at TREASURE CHEST THEATRE, to demonstrating a  passion for percussion at the DRUM JAM, to soothing sonic explorations with I IS ONE.  Other highlights including WEST ISLAND SCHOOL, OM PEACE and CHILDREN'S DISCOVERY  MUSEUM (CDM). 
FWD VIP Lounge & FWD MAX Zone 
As well as showcasing a dazzling array of cutting-edge artists on the FWD Stage, FWD  Insurance is also hosting its own VIP Lounge, the FWD MAX Zone and the FWD Food Bar,  where attendees can enjoy a wide range of tasty cuisines amid comfy picnic  vibes. Festivalgoers can also register as an FWD MAX member to get a complimentary  voucher to spend on food and drinks. Register now: https://bit.ly/3ICzbOZ 
Cathay x Clockenflap Lifestyle Space
Clockenflap's top-tier sponsor Cathay is bringing their lifestyle experience to the heart of  the festival, as the airline ventures further into lifestyle territory. Visit Cathay's lifestyle  space to enjoy a series of extra-rewarding experiences—beat the high score and win miles  at the arcade rhythm game, or take a selfie in front of Cathay's bespoke wall art. Cathay is  also hosting the festival's ever-so-coveted VIP lounge, a feather wearable craft workshop,  
and a temporary glowing tattoo workshop. Festival goers are welcome to drop by and glam  up before catching their favourite headliners. 
Hoegaarden The Beer Gaarden 
Clockenflap's Official Beer Partner HOEGAARDEN offers Clockenflappers the chance to slow  down and relax at a spacious beer garden complete with beanbags, picnic tables and  parasols while enjoying authentic Belgian wheat beers, fruit-flavoured brews and refreshing  sorbets. The Gaarden will also feature a variety of fun photo opportunities, with staff on  hand to help create slow-motion gifs that can be shared on social media. Guests can create  their own unique headpieces to wear at the festival at a special Flower Crown workshop .  Last but not least, popular Hong Kong artists Kaho Hung and Renci Yeung will make a special  appearance on the 3rd of March to greets fans. 
foodpanda Food Bar 
Located right next to the Harbourflap Stage, foodpanda's eye-catching pink area presents a  special Food Bar where hungry festivalgoers can enjoy a variety of great eats as well as the  chance to chill out, snap unique photos and win limited edition foodpanda x Clockenflap  goodies. Don't forget to sign up to pandapro at the event to enjoy exclusive perks! 
Food  
With a variety of food suppliers cross the site, fans can chow down on an extensive selection  of delicious cuisines from around the world, including a special stall by THE CHILLI LAB,  which will be recreating the famous chilli sauce from the recent hit Hong Kong comedy film  Chilli Laugh Story, as well as serving up local street food classics such as shumai, goose oil  soy sauce lo mein noodles and chicken wings. And KUUCHI CAFÉ IN PARTNERSHIP WITH  BLUE BOTTLE COFFEE offers a laidback setting where festivalgoers can enjoy coffee, coffee  cocktail, signature Liège Waffle or other light refreshments. 
Craft Market 
Handmade Hong Kong returns to host the popular CRAFT MARKET, which will feature  around 30 different stalls selling all manner of festival-friendly items.
SUSTAINABLE INITIATIVES
From the very beginning, Clockenflap has strived to consider the planet and invested in  ways of properly managing—and, wherever possible—recycling its waste. This year,  Clockenflap will run an effective recycling programme based on keeping waste material  types to a bare minimum in the public space and encouraging attendees to take ownership  of their litter. Recycling stations will feature across the site, with clear signage and dedicated  staff to separate waste into the correct bins. Every container used at Clockenflap will be  100% recyclable or compostable, and the festival does not allow plastic packaging, straws,  cutlery, stirrers or landfill-generating gimmicks. 
PAYMENT METHODS
This year you can use your credit card, octopus card and mobile payment wallets to pay for  food, drink, merchandise and crafts in craft market. No cash will be accepted for purchase  anywhere on site, so make sure your phone is fully charged, credit card packed and octopus  topped up. 
▪ Alipay & WeChat Pay 
▪ Union Pay 
▪ Google Pay , Apple Pay and Samsung Pay 
▪ Octopus (don't forget to top it up ahead of time before entering the venue!) ▪ PayMe 
▪ Visa & Master Card 
FESTIVAL ADMISSION
You must bring your ticket and photo ID, and the name on the ID must match the name on  the ticket. Failure to bring ID could significantly slow or even prevent your entry. 
Our staff will be checking tickets and IDs at the entrance. If the name on your ticket doesn't  match the name on your photo ID, you will be refused entry. Please make sure you've  updated the name on your ticket if you need to! One ticket is valid for one entry only. 
If you have a student ticket, you must bring full time Hong Kong student ID. Festivalgoers  with student tickets who fail to produce valid ID to prove their eligibility will need to pay the  difference in price to a General Admission ticket in order to enter the festival.
You can either print your ticket or if you have a phone with a big screen transfer the PDF to  it. 
If you have a weekend ticket, do not take your wristband off overnight, you will need it to  gain entry on the following days. 
TICKETING INFO
All tickets for the festival are now sold out. There will be no additional tickets available on  the door. 
All retained and non-refunded tickets purchased for previous years have been updated for  this year's event and will be valid for entry on arrival at the event. You will find your  ticket(s) in the "My Tickets" page of your Ticketflap account when you log in. The old  festival ticket(s) are not valid so be sure to log in to Ticketflap and download the newly  issued ticket(s). 
If you require any assistance with recovering your updated ticket(s), please contact  contact@ticketflap.com 
MEDIA: 
Important Note 
For media enquiries, including photos and videos at high resolution, interview requests and  media accreditation, register and login to our online pressroom at clockenflap.com/press.  
Please submit on-site artist interview requests and media accreditation to press room by  23:59 on Feb 24. Any media requests submitted after will not be considered. Successful applicants for media accreditation will receive individual notifications by email no  later than 23:59 on 1st March, 2023. Applicants who have not been notified for successful  admission may assume their applications unsuccessful. No individual notifications will be  sent to unsuccessful applicants. 
FULL LINEUP: 
ARCTIC MONKEYS (FRI)
WU-TANG CLAN (SUN) 
THE CARDIGANS (SAT) 
BOMBAY BICYCLE CLUB (SUN) 
PHOENIX (FRI) 
FKJ (SAT) 
KINGS OF CONVENIENCE (SAT) 
MILET (SUN) 
MODERAT (SUN) 
MONO (SUN) 
MEN I TRUST (FRI) 
SASHA ALEX SLOAN (SAT) 
BLACK COUNTRY, NEW ROAD (SUN) 
YELLOW 黃宣 (FRI) 
Julia Wu 吳卓源 (SUN) 
COLLAR X RUBBERBAND (SAT) 
KOLOR (SAT) 
老王樂隊 (YOUR WOMAN SLEEP  
WITH OTHERS) (SUN) 
EZRA COLLECTIVE (SUN) 
YOUNGQUEENZ (FRI) 
TYSON YOSHI (SAT) 
PER SE (SAT) 
CHAI (SAT) 
THREE MAN DOWN (SUN) 
HITSUJIBUNGAKU (SAT) 
HYBS (SAT) 
GINGER ROOT (SAT) 
SUMMER SALT (SAT) 
LÜCY (SAT) 
HAAI (FRI) 
SERUM (SUN) 
SISTER NANCY MEETS LEGAL 
SHOT (SUN) 
KIM ANN FOXMAN (FRI) 
THE ILLUSTRIOUS BLACKS (SAT) 
南洋派對 N.Y.P.D. (SAT)
BEN&BEN (SUN) 
BALMING TIGER (SUN) 
LEENALCHI (SUN) 
YETI AND FRIENDS TAKEOVER (SUN) 
DEE MONTERO (SAT) 
JANETTE SLACK TRIBUTE (SAT) 
LUNA & THE BOSIN (FRI) 
THE LOVESONG (SUN) 
SILICA GEL (SAT) 
THE HERTZ (SUN) 
CHARMING WAY (SUN) 
CEHRYL (SAT) 
CHANKA (FRI) 
DAVID BORING (FRI) 
J.K.N.C (SUN) 
假日貞操 VIRGIN VACATION (FRI) 
ARCHES (SUN) 
RIDDEM (FRI) 
豆腐王國 TOFU KINGDOM (FRI) 
CHINKY EYES (SAT) 
MR KOO (SAT) 
CODE (SUN) 
METER ROOM (SAT) 
MURPHY'S LAW (SUN) 
BLACK VELVET COLLECTIVE (SUN) 
宀 TAKEOVER: SUNSIARE B2B  
SAM FUTURA (SAT) 
HEAVY FT MOUSEFX & NELSON  
HIU (SUN) 
ANTHONY2 (FRI) 
HALLEX M (SAT) 
MC DAN STEZO (SUN) 
DJ FU (SUN) 
DJ LOVELY (SUN) 
DARKA (FRI) 
JEREMY CHEUNG B2B JAYME (SAT) 
MENGZY (SAT)
MERRY LAMB LAMB B2B YUM!  
LAKSA (DJ SET) (SAT) 
FARRAH (FRI) 
MAGNETIC SOUL FT KUTOFF (SUN) 
MAGIC ROOM CREW: MOSHI,  
LEON, MILAM, LYDIA NADIA (FRI) 
SHANDA & ANGELIKA (FRI) 
JFÜNG B2B BUSYBOI (SAT) 
MMEE (SUN) 
ENRY B2B JUSTIN LIM (SUN) 
CRIMES AGAINST POP (SAT) 
DJ EL TORO (SUN) 
DRAFUS (SAT) 
FABSABS (SUN) 
GOKIL SYSTEM (SAT) 
DJ RORK (SUN) 
ARUN R (SAT) 
HELEN TING (SUN) 
SAI STREET SESSSIONS (SAT) 
PAUL BPH (SUN) 
JOHNNY HILLER (SUN) 
JIMBROWSKI (SAT) 
AYMERIC (FRI) 
ROBOT (SUN) 
LE GROUPE ELECTROGENE  
FANFARE CLUB (SAT&SUN) 

For more information, contact: 
Clockenflap PR Department Kelyn Yuen 
Marketing Manager 
kelyn.yuen@magneticasia.com +852 6494 3079  
For future sponsorship opportunities,  contact: 
Clockenflap Sponsorship Department Kinny Barlow 
Head of Partnership 
kinny.barlow@clockenflap.com +852 9122 7469