Kuala Lumpur, MALAYSIA, June 9, 2021 – Global technology leader Xiaomi has contributed to the newly launched mega-sized vaccination centre (PPV) at the Malaysia International Trade and Exhibition Centre (MITEC), which began operations last week. The smartphone brand is providing its support to the National Covid-19 Immunisation Programme (PICK). The contributed products, consisting of 30 units of Mi Air Purifier 3C and 200 units of 20,000mAh Redmi 18W Fast Charge Power Bank, will go to the new PPV at MITEC and its frontliners.
PICK, led by coordinating minister YB Khairy Jamaluddin, Minister of Science, Technology and Innovation, has recently announced the opening of several more PPVs in Selangor and Kuala Lumpur, as part of efforts to expand the capacity of dispensing vaccines. As of 8th June, 2021, more than 3.79 million1 Malaysians have been vaccinated, with over 12.77 million2 Malaysians having registered for the vaccine, according to the Special Committee for Ensuring Access to Covid-19 Vaccine Supply (JKJAV). The PPV at MITEC, which has 51,000 square meters of event space, is expected to see over 5,000 people vaccinated daily and could increase by up to 8,000 individuals.
Xiaomi Malaysia recently contributed Mi Air Purifier 3C's to the centre in hopes that frontliners and those visiting are able to breathe fresher air. The Mi Air Purifier 3C uses a True HEPA filter with nanoscale filtration precision to efficiently remove fine particles such as airborne bacteria, dust and other harmful particles, with 360° circulation for high-speed purification that provides fresh breathing air in an instant.
In addition, Xiaomi Malaysia provided 20,000mAh Redmi 18W Fast Charge Power Banks to the frontliners to help power-up their devices, especially as they are on-the-go, ensuring that they are always connected to their families and their coworkers while also enabling efficient productivity at the PPVs.
"The Covid-19 Immunisation Task Force (CITF) has raised the capacity of vaccination in the Klang Valley – we are thankful to see the support and cooperation from Malaysians on the importance of vaccination and hope to deliver the vaccines to as many people as soon as possible. We appreciate the support given by Xiaomi Malaysia towards PICK at this critical time, we believe that the contributed items will be a great addition to the PPV," said YB Khairy Jamaluddin, coordinating minister of PICK.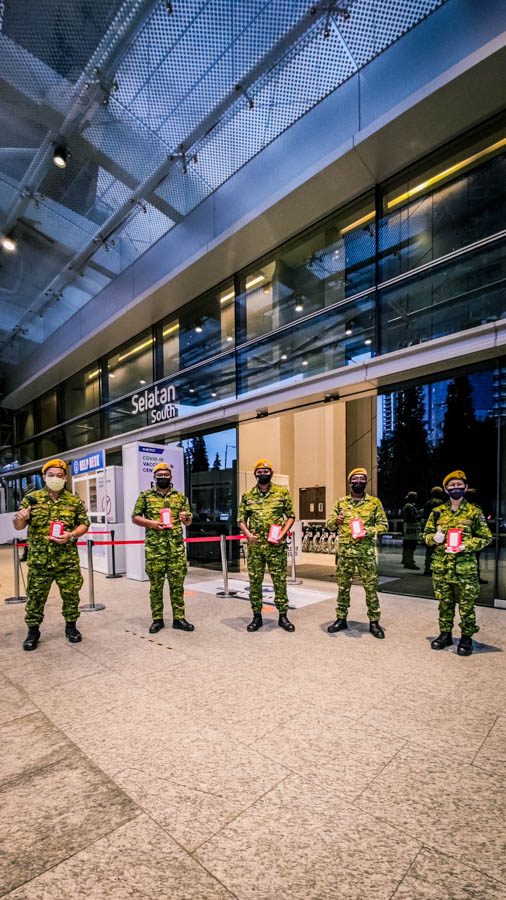 "As one of the top global technology leaders, we are glad to be able to show our support towards PICK. We are proud that our innovative AIoT products will be able to serve a greater cause at the newly launched PPV at MITEC. We hope that the Mi Air Purifiers and power banks will help facilitate a comfortable environment for frontliners and Malaysians. We urge Malaysians to cooperate during this full lockdown to stay at home and work together to try our best to flatten the curve," said Nicolas Shi, General Manager of Xiaomi, Malaysia and Singapore.
More information about the contributed products here: Mi Air Purifier 3C, 20,000mAh Redmi 18W Fast Charge Power Bank
1 The latest total vaccination for the first and second dose as of 8 June, 11.59pm (JKJAV Facebook Page)
2 The latest total number of people who have registered for vaccination as of 9 June, 2.00pm (JKJAV website)