MALAYSIA, 14 June 2023: Winter has arrived, and there is no better time to cool off while experiencing the  magic of Down Under. With an incredible multitude of experiential offerings, get ready to immerse yourself in  culture, heritage, gastronomy and nature. From exhilarating events to eclectic tours and one-of-a-kind stargazing experiences, Australia is the dream destination for you to rejuvenate and experience a winter holiday like no  other. 
"Australia continues to be an alluring travel destination for Malaysians looking for an exciting vacation. From thrilling winter festivals to island tours, Malaysian travellers are bound to be drawn to the endless offerings of  the country," said Karen Saw, Country Manager Malaysia of Tourism Australia.  
Below is a monthly roundup of upcoming events as well as the latest tourism experiences, restaurant openings,  and exciting new stays. Please don't hesitate to reach out if you'd like more information on these or other  Australian experiences!
UPCOMING FESTIVALS & EVENTS
FIFA Women's World Cup™ (Adelaide/Tarntanya, Brisbane/Meeanjin, Melbourne/Narrm, Perth/Boorloo,  Sydney/Warrane):

In about a month's time, FIFA Women's World Cup 2023™ will kick off Down Under,  hosting 32 nations in a battle for the grand title. With matches happening across Australia and New Zealand,  FIFA Women's World Cup 2023™ presents the perfect opportunity for football fans to explore the wonders  of Australia alongside the games. Now is the time to grab your tickets to catch the match of your choice. 

From 20 July – 20 August

.  

The Curated Plate (Sunshine Coast, Queensland):

Sunshine Coast's premier culinary festival is back with a  10-day celebration of the region's local produce, producers, chefs, and unique natural foods from the sea  to the hinterland. Expect a delectable program brimming with unique culinary experiences for everyone to  enjoy. Visitors can immerse themselves in the flavours of the region and explore the gastronomical wonders  brought to the table by Sunshine Coast.

From 28 July – 6 August. 

National Indigenous Art Fair (Sydney/Warrane, New South Wales):

For an ethical marketplace chock full  of art, performances, and bushfood, pop by The Rocksin Sydney to explore the country's Indigenous culture. 
Here, you can partake in a communal weaving circle or purchase creations from the First Nations artists,  ranging from art and jewellery to Indigenous bush food and plants. From 1 July – 2 July. • Cabin Fever (Busselton and Margaret River, Western Australia): The destination winter festival of the  season returns with a series of eclectic events featuring regional produce, award-winning wine, live music  and entertainment from Brusselton to Margaret River. Cosy up by the fire this July as you fill up on cheese  toasties, bop to disco beats or sip on wine with a side of board games. From 14 July – 23 July.
EXPLORE NEW EXPERIENCES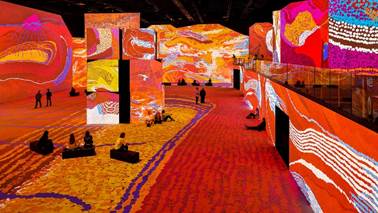 Connection Exhibition (Melbourne/Narrm, Victoria):

The LUME Melbourne will be launching a new exhibition, Connection – an immersive experience of the First Peoples' art, music, and culture. Starting from  23 June, be greeted by an incredible display of original art that combines the world's oldest culture with  cutting-edge technology. 

Astronomy at the Calyx (Sydney/Warrane, New South Wales)

: Astronomy lovers can look forward to a  night of stargazing and wine against a backdrop of exotic cacti in the heart of Sydney's Royal Botanic Gardens at the 'Love Your Nature' plant exhibition. Learn about the cosmos from First Nations astronomer and  distinguished Astrophysicist, Dr Angel Lopez Sanchez, on a journey to the strange worlds that sits up in the  sky. The exhibition is available on selected nights between April to October. 

Waubs Harbour Whiskey Tours (Bicheno, Tasmania):

Tasmania's world-class whisky distillery, Waubs  Harbour Distillery, has added three new tours inviting visitors to learn more about their unique craft. Around  three hours north of Hobart/nipaluna, the distillery churns out delicious maritime Tasmanian single malt  whisky. Complete your experience with three whisky tastings in the ocean view tasting room overlooking  the great Tasman sea. 

Farm Tours at The Vintner's Daughter (Canberra, Australian Capital Territory):

Sign yourself up for a farm  tour, perfect to keep the kids entertained while they learn about each animal on the farm. Meet an array of  farm animals, from emus to dairy goats, and join in their morning feeding time as well. For adults/parents looking to unwind, a complimentary wine tasting is available at the cellar door building. The Vintner's  Daughter is located in Canberra's cool climate wine district specialising in premium small-batch wines.  

Museum of Underwater Art, Phase Two (Townville, Queensland):

Dive down to the Great Barrier Reef  Ocean floor to discover this underwater museum and its newest sculptures. Amidst dozens of underwater  art installations, seek out The Ocean Sentinels, the third underwater installation at the museum specially  placed for snorkelers to explore. Marking the second phase of the Museum of Underwater Art, 20 sculptures  sit on the ocean floor for you to admire.
HIP NEW PLACES TO EAT & DRINK
Folly (Perth/Boorloo, Western Australia):

Sip on classic cocktails from the wrap-around veranda of Perth's  newest rooftop bar. Folly serves up a specially curated selection of bar bites that will take you on a trip  around the world. Munch on their Sichuan-spiced dumplings, Korean fried cauliflower or Fremantle octopus, all while accompanied by stunning sunset views and Perth's cityscape. 

Palazzo Salato (Sydney/Warrane, New South Wales):

Sydney's newest 120-seat Roman-inspired trattoria transports you to Italy as you indulge in Sydney rock oysters, adventurous hand-shaped pastas or a flat iron  steak paired with the perfect wine recommended by their on-hand sommeliers. Conveniently located in the  heart of CBD, the restaurant's impressive space includes a walk-in bar, a second bar, private dining room

and the full restaurant.
Megalong Restaurant (Blue Mountains, New South Wales):

Newly opened in the alluring Blue Mountains,  which is just over two hours' drive west from Sydney, is chef Colin Barker's latest venture, Megalong  Restaurant. A fine dining experience with a sustainable paddock-to-plate approach, ingredients for each  dish are organically grown on site or locally sourced. Megalong's menu is seasonal, but diners can expect a trio of snacks, meat and fish-based mains with hearty vegetable sides and a fruity dessert. 

North & Common (Melbourne/Narrm, Victoria):

A restaurant with a strong sustainable ethos, North &  Common curates produce-driven seasonal menus for a unique and delicious selection. Located in the  Pentridge lifestyle precinct, the once prison's mess hall has been transformed into a contemporary style for  an elegant yet intimate dining experience. Patrons can enjoy dishes such as rock oysters served with a classic  mignonette, grilled rib-eye, and more.  

Manky Sally's (Hobart/nipaluna, Tasmania):

Manky Sally's is Hobart's luxury nano-brewery, taphouse and  dive bar that sits prominently on Salamanca strip. Carrying a range of beer by Moo Brew – a craft brewery  owned by the Museum of Old and New Art (MONA) – the bar promises a combination of both experimental  and normal beers paired with their Asia-inspired bar snacks.
EXCITING NEW STAYS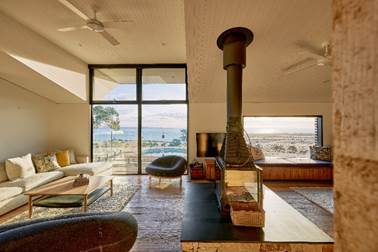 Saltbush Farm (Cape Jervis, South Australia):

Just a 90-minute drive south of Adelaide/Tarntanya lies a  sustainable luxury retreat perched on the tip of the Fleurieu Peninsula. Be mesmerised by unobstructed  views of Kangaroo Island and the gulf as you soak in the serene surroundings and lush interiors that pay  homage to the Australian bush. 

Sixty6 acres (Sunshine Coast, Queensland):

Relax and recharge with a luxury farmstay at Sixty6 Acres,  where lodges are decked out with wood-burning fireplaces, freestanding baths, and modern furnishings. Head over to the stables to visit the resident furry friends, from Galloway Steers to babydoll Southdown  sheep, or enjoy a day out by the farm lake, fed by natural springs. 

Yellow Water Villas (Kakadu National Park, Northern Territory):

Kakadu National Park's new eco-sensitive  accommodation promises a peaceful luxury retreat as you find respite under a canopy of trees. Yellow Water  Villas has thoughtfully curated each retreat to reflect the stories of the local Indigenous community while  ensuring minimum impact to the surroundings. 

The Interlude (Melbourne/Narrm, Victoria):

Steeped in culture and history, The Interlude is one of only a  handful of prison hotel conversions, which is now home to 19 heritage suites and an underground relaxation  pool. The Interlude also offers a varied selection of signature experiences and tours to explore the spaces  of Interlude or Coburg's creative arts community. 

The Bonobo (Byron Bay, New South Wales):

Set to make its debut in 2024, The Bonobo by Rae's is bringing exceptional hotel-apartment experiences to Byron Bay. Every detail of the property incorporates the nature  and coastal beauty of the Bay, providing the ultimate sensory experience for each guest.