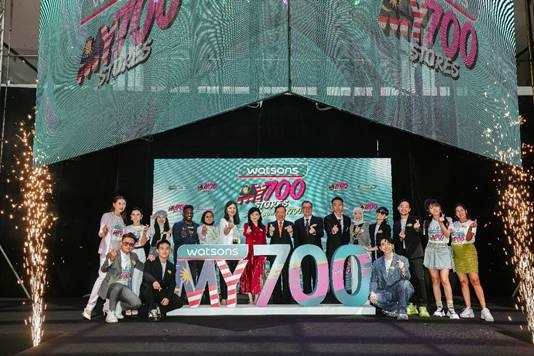 KUALA LUMPUR, MALAYSIA 16 JUNE 2023 – Watsons Malaysia, the leading health and beauty retailer, is delighted to announce the grand opening of its 700th store in a remarkable achievement that cements its position as a market leader. The new store, located in KSL Esplanade Mall, Klang signifies a significant milestone for Watsons Malaysia and reinforces its commitment to providing customers with unparalleled shopping experiences and innovative products.
Despite the difficulties the pandemic has brought forth, Watsons Malaysia has expanded from 535 outlets in 2019 to 700 stores now. Additionally, the number of loyalty members has increased from 5.7 million in 2019 to 7.2 million, representing 1.5 million new members in a short time, and saw significant double-digit sales growth this year.
Officiating at the Watsons' new store opening event in Kuala Lumpur, Dominic Lai, Group Managing Director of A.S. Watson Group, thanked business partners, customers and employees for their unfailing support and loyalty. "As one of our fastest-growing markets in Asia, we are thrilled to announce the launch of Watsons' 700th store in Malaysia. Watsons will continue to develop and adapt to being the leading retailer in health and beauty products to fulfil customers' shifting needs and achieve excellence in offering an unmatched O+O customer experience. We will continue this growth path with our customers and build an improved tomorrow for all of us together with an unwavering sense of purpose and a commitment to ensuring that our customers Look Good, Do Good, and Feel Great".
The 700th Watsons store situated in the heart of Klang is one of the largest malls in Klang, spanning approximately 4,144 square feet. This store is strategically situated within KSL Esplanade Mall, one of the area's largest malls. The expansion of our store in this prime location enables us to better serve the needs of the neighbourhood in the royal town of Klang and provide a convenient and enjoyable shopping experience for our valued customers.
"It has been an incredible 29 years since Watsons Malaysia first entered the retail industry, and throughout this journey, we have accomplished numerous milestones and established ourselves as the No. 1 retail brand among customers. The grand opening of Watsons Malaysia's 700th store serves as a testament to our unwavering commitment to making our products and services easily accessible to our valued customers and members within their local neighbourhoods," stated Caryn Loh, Managing Director of Watsons Malaysia.
Offering O+O Customer Experience 
The new store highlights the integration of offline plus online (O+O) shopping, providing customers with the convenience of browsing and purchasing products through multiple channels. With innovative technologies, QR codes are strategically placed throughout the store, enabling customers to access additional product information and promotions, bridging the gap between physical and digital experiences.
This new store features the latest G9 concept, which seamlessly integrates a wide range of exclusive products and services, catering to our valued customers' diverse needs and preferences. Shoppers can expect a wide range of one-of-a-kind services in-store, including an innovative Style Me feature counter equipped with augmented reality (AR) technology for virtual colour try-ons, a dedicated Watsons Elite express lane for privileged members and convenient self-checkout options. Additionally, we are excited to introduce the e-Stamp area, where customers can shop, collect stamps, and redeem exclusive items, adding more value to their shopping experience.
Besides that, the store takes pride in its commitment to sustainability, offering a refill station for Naturals by Watsons and collaborating with the Waste Management Association of Malaysia (WMAM) on a recycling program. This initiative encourages shoppers to participate in responsible practices by donating used packaging materials purchased at Watsons.
The store showcases an extensive selection of products, featuring exclusive brands and merchandise that can only be found at Watsons. This extensive range encompasses the enticing W Table showcasing new and exclusive K-Beauty products, a dedicated Hair Care pillar that caters to all hair needs. Additionally, the store offers comprehensive pharmaceutical services, beauty tools, delectable confectionery, and practical household products.
Caryn added, "Watsons strives to stay current with market trends while providing our consumers with a convenient, value-added shopping experience because consumer demand is continuously changing."
Watsons' popularity is always on the top of mind amongst consumers when it won the ultimate Platinum award in the retail category and its ninth consecutive win since 2014 at the annual Putra Brand Awards where the win is essential to the people's choice awards as voted by the consumers in Malaysia.
For more information, visit Watsons.com.my or get daily highlights from Watsons Malaysia Facebook and Instagram.