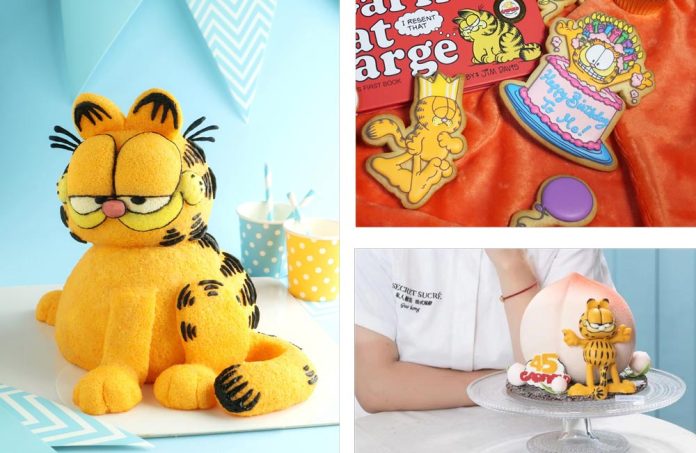 Slate of Garfield product and event launches announced, including Garfield Runs across Malaysia, Padini collaboration and limited edition anniversary reprint
Susanne Ng (@susanne.decochiffon) and other Asian bakers commissioned for artisanal birthday bakes featuring everyone's favourite feline
June 19, 2023 – Paramount Global is celebrating the 45th anniversary of Jim Davis' Garfield – one of the most iconic cats in show business. The very first Garfield comic was published 45 years ago today.

Why exactly is this cat so lovable? He naps whenever he wants, gets the first (and last) bites of all his favorite foods, he's charmingly witty, and is all about self-love! His creator Jim Davis says, "It's incredible to see that after all this time, Garfield continues to be a big fat hairy deal! It's been 45 years since my first Garfield comic was published and fans are still in love with him – sassy cattitude and all!".

"I suspect that the fact that there's a little Garfield in each of us has helped to capture hearts around the world," says Davis.

Paramount is celebrating the beloved cat in several unique ways, one of which, of course, includes a birthday cake!  Various artisanal bakers will be coming up with their own renditions to celebrate Garfield's 45th. While the cakes will not be for sale, they are a stunning tribute to our favourite feline. 
Following the success of the Garfield comic strips, in February of 1980, Ballantine Books published Davis' very first compilation called Garfield at Large, containing Garfield strips dating from June 19, 1978, (the very first) to January 22, 1979. The book became a New York Times bestseller and remained on the bestseller list for years. As part of Garfield's 45th anniversary celebrations, Paramount Consumer Products has created a commemorative reprint, with only 300 copies available worldwide. Each copy is individually numbered and signed by Jim Davis himself, and is available for our biggest superfans at our select anniversary activations! Across Asia, as part of a collective birthday tribute on June 19, more than 80 influencers, artists and local celebrities will be showcasing this book on their social platforms, sharing their love for Garfield with their followers.