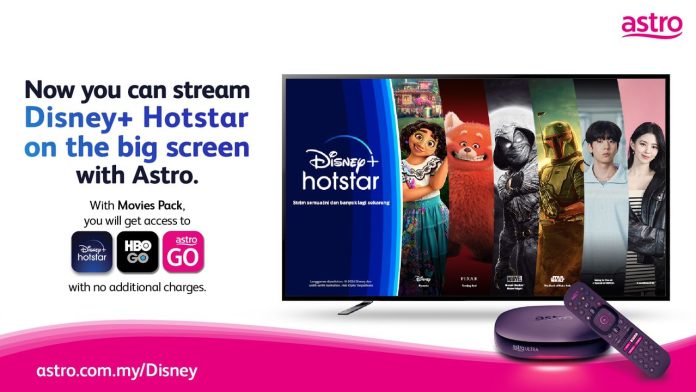 Consumers can stream Academy Award®-winning content and blockbuster Hollywood films from Disney,  Pixar, Marvel, Star Wars, National Geographic & more from the comfort of their homes
Customers can now stream Disney+ Hotstar on the Ultra Box 

Enjoy more choice and better value with exciting new packages suited for the streaming  and connected world 

Sign up for the Platinum Pack on a 24-month contract and enjoy 60 days on Astro + 24  months complimentary access to Sports Extra
KUALA LUMPUR, 28 April, 2022 – Astro continues to enhance their customers' viewing  experience by seamlessly integrating global streaming services with international, live  sports and Malaysian Hits on a single platform, making it the undisputed entertainment  destination in Malaysia. Starting 28 April 2022, consumers in Malaysia can enjoy their  favorite Disney+ Hotstar content including Marvel Studios' Moon Knight, Korean dramas 
such as Crazy Love, Soundtrack #1 and Going to You at a Speed of 493km, brand new  series The Kardashians, and the Academy Award®-winning film Encanto, which won the  Oscar for Best Animated Film; and Pixar's Turning Red which is the number one film  premiere on Disney+ globally to date (based on number of hours watched in the first three  days) on their TV screens via the Ultra Box.
Disney+ Hotstar is the dedicated streaming home for global, regional and Malaysian  stories. It brings together blockbuster Hollywood films and award-winning content from  Disney, Pixar, Marvel, Star Wars, National Geographic, FX, 20th Century Studios and  many more, providing a wide array of titles from select Malaysian studios and a unique  and growing portfolio of local language content from Asia Pacific. Disney+ Hotstar offers  programming with a variety of original feature-length films, live-action and animated  series, short-form content and documentaries. 
Euan Smith, CEO of Astro TV said, "We are delighted to welcome Disney+ Hotstar onto  the Ultra Box, further increasing our customers' access to great content all in one place.  As home to some of the most iconic brands and franchises, Disney+ Hotstar has provided  consumers in Malaysia with an endless and exciting library of original and authentic  content. It has proven to be popular amongst our customers and can be easily accessed  on a connected set-top-box at home. Streaming services complement our strong local  vernacular and regional Asian line-up, plus our unparalleled global sports offering from  Premier League to Asian Games and FIFA World Cup 2022. We are proud to be the No.1  streaming service aggregator in Malaysia with Astro GO, Disney+ Hotstar, Netflix, TVB  Anywhere+, HBO Go and iQIYI now available and many more favourites to come.  Customers on Ultra Boxes can seamlessly switch between local popular hits and Disney+  Hotstar's exciting content offering, all without ever needing to leave their Astro interface." 
"The all-new Astro experience enables customers to now watch their favorite streaming  services on the Astro Ultra box while enjoying better value and savings. It has been  instrumental to expanding our reach, with over 550,000 homes now being connected via  Ultra. Our new, simplified TV packs which are available with bundled streaming apps start  from as low as RM60 per month, providing convenience and value to customers. We're  also pleased to offer our new Astro Fibre (broadband) product as a bundle, further  enhancing the Astro value proposition." 
Our existing customers on Movies, Premium 1, Premium 3 and Platinum Packs will also  have access to Disney+ Hotstar and simply need to click on the streaming platform's app 
on the Ultra Box homepage and simultaneously, can start the on-screen login process via  tv.hotstar.com on another device. The easy-to-follow process enables customers by first  logging in with their mobile number and then keying in a unique code from their TV  screens. 
The new Astro experience is designed to empower customers to stream all the shows  they love in one place, with an intuitive interface and a single bill. Now is the best time to  sign up with attractive promotions at www.astro.com.my. New customers who sign up for  the Platinum Pack on a 24-month contract get to enjoy 60 days on Astro including  complimentary access to Sports Extra for 24 months. For further details on Platinum  Pack, please click bit.ly/PlatinumPack60DaysOnUs. Alternatively, new customers on the  Movies Pack can enjoy 30 days access to the pack on us. For more details, please  click bit.ly/MoviesPack30DaysOnUs