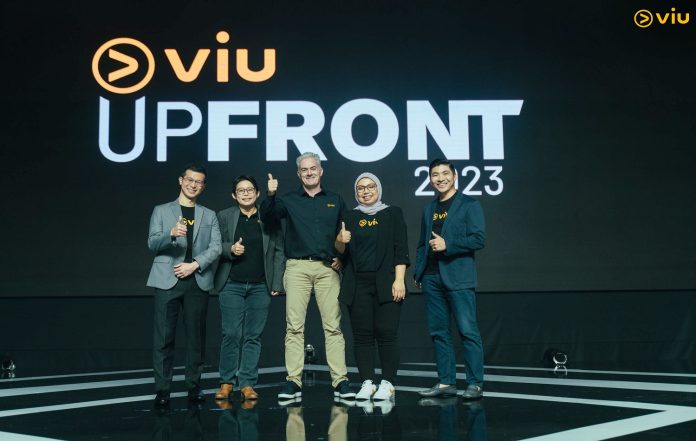 Inaugural Viu Upfront event unveils 2023 content lineup, including five new local originals
PCCW (SEHK:0008) – KUALA LUMPUR, 24 NOVEMBER 2022 – Viu, PCCW's leading pan-regional OTT video streaming service, has announced five Viu Original dramas to be released in 2023, after a post-pandemic year which saw recognition for local productions by industry peers and consumers alike.
The announcement was made at its inaugural Viu Upfront event, which was the platform's gathering with key media agencies, business partners, clients and Malaysian film and arts stakeholders.
Mr Kingsley Warner, Country Manager of Viu Malaysia, said, "Viu has been wanting to do this for a while but was disrupted due to the pandemic. Now that we are at the end of 2022, we are establishing our Viu Upfront event to share with key partners and stakeholders a recap on what we have done in 2022 and what we are looking to do in 2023 from a content perspective."
2023 will kick off with the highly anticipated Viu Original Nenek Bongkok Tiga, a supernatural thriller that has been generating buzz on social media. The production reunites award-winning director Datuk Yusry Abdul Halim with producer Zurina Ramli who was behind the Viu Original She Was Pretty, a standout title in 2022. Nenek Bongkok Tiga features an ensemble of young up-and-comers and seasoned talent on the Malaysian acting scene such as Meerqueen, Sara Ali, Sofia Jane, and Sherlis Merlis, and is set to premiere in early 2023.
Following the success of Viu's K-drama adaptations such as Black and She Was Pretty, Viu will be producing an adaptation of the hit Korean romance fantasy drama W: Two Worlds, starring actor and model Hun Haqeem and singer, actress and host Daiyan Trisha. The series will also be directed by Datuk Yusry Abdul Halim and produced by Zurina Ramli.
Other titles that span a range of genres will premiere in 2023, including the sci-fi psychological thriller Alter-naratif, to be directed by award-winning director Faisal Ishak (Isteri Misteri, Juvana, Nur Kasih) and featuring the talented lineup of Nabila Huda, Neera Azizi, Liyana Jasmay, Rahim Omar and Gambit Saifullah. A powerful family drama about love and duty, faith and redemption from acclaimed creator Eirma Fatima (Pesan Dari Tuhan, Akulah Balqis, Perempuan Melayu Terakhir) comes in the form of Terlanjur Cinta. Dear Karma is set in both Malaysia and Japan and produced by RedComm Productions, who are known for hit films such as Gol Dan Gincu, Istanbul Aku Datang!, Manisnya Cinta Di Cappadocia and Kami Histeria.
More information on the above-mentioned titles can be found in the Appendix.
These dramas and more can be found on the Viu app, which is available for free download on App Store, Google Play, and selected smart TVs, as well as on the web at www.viu.com. 
Rewinding 2022
2022 has been a successful year for Viu Malaysia, with She Was Pretty and Seribu Nina scoring wins at the national level from Asian Academy Creative Awards (AACA) after already picking up a slew of other awards. Both were among the five Viu Original titles released in 2022. Diana Danielle was the National Winner (Malaysia) for Best Comedy Performance for her role as Nadia Rahman in She Was Pretty. Meanwhile, local musician Amylea and Bajai's Bintang became the National Winner (Malaysia) for Best Theme Song or Title Theme, which was featured in the same drama.
At the same time, Seribu Nina scored the National Winner (Malaysia) for Best Original Programme By A Streamer/OTT. Both shows will go on to represent Malaysia at the AACA grand finals to be held in December in Singapore.