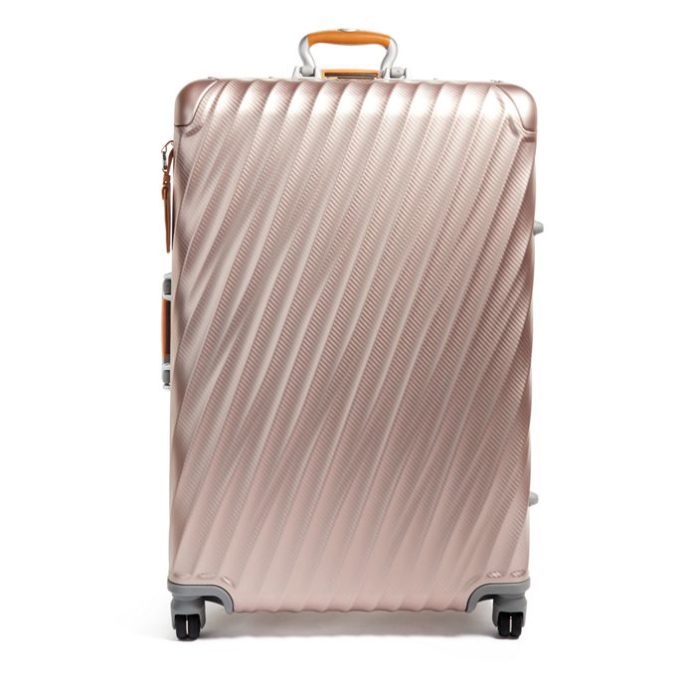 Hong Kong, 12 January 2022 – This Spring, TUMI was inspired by the idea of "connective harmony." Embracing the juxtaposition of the digital space and the natural world, it explores how modern technology is used to sustainably recreate and reimagine natural resources.
With a focus on sustainability, in addition to durability and modularity, TUMI proudly announces the relaunch of their beloved Alpha Bravo collection. First introduced in 2010, the collection marked a pivotal moment in the brand's history when the modern, utilitarian bags were introduced. The latest evolution captures the same "go anywhere, do anything" energy of the original line, but with sleeker and even more durable silhouettes. Crafted with TUMI's signature ballistic nylon, some styles feature the addition of vibrant scratch-resistant coatings. Key pieces this season include the Recruit Chest Pack, Navigation Backpack and the Mason Duffel. Additionally, select bags will be available as a unique capsule that takes the military inspiration to the next level, made in a durable ripstop that takes its cues from rugged parachute fabric. In total, over two dozen styles are being introduced to the Alpha Bravo collection for Spring 2022, ranging from backpacks to totes to briefs.
Compatible with the Alpha Bravo collection, as well as select styles from other collections, is the new range of TUMI+ travel accessories. The cleverly designed pieces give TUMI clients the option to personalize their bags to meet their needs. From modular pouches that can be attached to the interior or exterior of bags, to a detachable water bottle holder and packable rain cover, each add-on was made to enhance functionality. An entire eco-system is created through the use of daisy chains, G-hooks and carabiners, helping people adapt to the modern world and life on the go. They also effortlessly transition from their in-office to at-home setups.
TUMI continues to highlight their recently introduced 19 Degree Titanium and Expandable 19 Degree Aluminum cases this season. Made from its namesake metal, 19 Degree Titanium offers enhanced strength, while the expandable 19 Degree case offers a flexible carrying capacity on one's journeys. Both, exclusively offered in the carry-on size, display TUMI innovation at its finest, bringing something unique to the market. In aluminum, Texture Blush is a new colorway for Spring '22, showing a softer style of the iconic collection. The most sustainable version 19 Degree—in polycarbonate, whose shell, lining and more are made from recycled materials—also returns with vibrant colors for the season.
For Women's, a new series of captivating, active styles have been designed to help clients reach peak performance without breaking their stride. The Misty Duffel and Fern Drawstring Backpack are two stand-out styles that convert to hold a yoga mat, making the commute from the office to the studio seamless.
Another bright addition for Spring is the new Iridescent Blue colorway for the Tahoe and Devoe collections. The mesmerizing coating shifts from blue to purple depending on the light with a stunning metallic sheen that makes a statement with a sleek, minimalist silhouette.
All the new styles and longstanding innovations help make TUMI the ultimate gift destination for Chinese New Year, Mother's and Father's Day, as well as Graduation. These highly functional and beautiful gifts adapt and fit every stage of life.
Also on the horizon for Spring are exciting collaborations with a cutting-edge streetwear brand as well as a leader in the tech space. Additionally, TUMI continues to innovate in what will be the 3rd year of their ongoing partnership with McLaren, launching products and global activations that align with the upcoming Grand Prix races. Each collaboration's brand partner was meticulously selected and shares TUMI's values of innovation and design.
"As we developed this season through the lens of 'connective harmony,' we truly evaluated our collections and styles to ensure that they are meeting all of the needs of our global citizens. We set out to create our future classics knowing that travel will return, and we will be engaging with one another on a one-to-one global basis," said Victor Sanz, TUMI Creative Director.
"For me, one of the most exciting moments of the season is most definitely the relaunch of the Alpha Bravo collection. Since its inception over 10 years ago, this collection has always been driven by our ever-evolving customer and their lifestyle. They have become the muse of this collection, and we want to ensure that we deliver the highest caliber product for them to achieve their goals," he concluded.