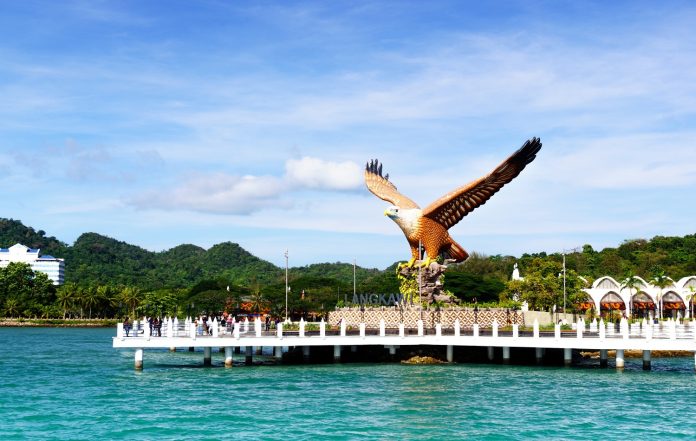 Often find yourself scrolling through your social feed day dreaming about tropical getaways? As most people are feeling the squeeze of inflation, it goes without saying that budget becomes an important factor to consider when it comes to planning trips. With that in mind, we've curated an extensive and complete itinerary on the best things to do in Langkawi together with some of the must-eat places to experience.
While costs are on the rise this year, many people are not willing to forgo a family vacation, especially after the last few years of having to miss out or cancel a family vacation. Just because you may be trying to do family travel on a budget, it does not necessarily mean you have to or should miss out on a fantastic trip. If you are trying to do family travel on a budget, then this post is for you.
Day 1
Start your day by visiting the Oriental Village, the home of Langkawi Skycab and SkyBridge. The area is only a 20-minute drive from Langkawi International Airport. You will be amazed at the unfolding dramatic views from the Skycab's platforms all the way up to 708 meters above sea level. There are plenty of activities in Oriental Village, such as feeding animals and experiencing the joys of animal therapy at Machinchang Pet Land, defying reality at VR Universal, and being entertained by the 3D interactive paintings at the 3D Art Museum.
For lunch, check out Restaurant Siti Fatimah for an impressive variety of Malay dishes. After fueling up, continue your journey by making your way to the Telaga Tujuh Waterfall, one of the island's most revered and majestic natural wonders. Cool down in this waterfall, with cheeky monkeys swinging between their branches. If you fancy dining with a stunning view of Chenang beach, Langkapuri Resort Roof Top Restaurant is the place to go as it offers both good food and a view that's delightful on the stomach as well as your eyes.
Day 2
For your second day on this idyllic island, consider island hopping. This activity is ideal for anyone who wants to enjoy the wildlife, dense forests, freshwater, and picturesque views. To have a wholesome experience, head over to the Underwater World Langkawi, one of the largest marine and freshwater aquaria in Southeast Asia. For lunch, eat at Smiling Buffalo, a café tucked in a boutique chalet. With its wall-less structure, flourishing tropical garden, and relaxed ambience, you are promised a good lunch escapade.
Be sure to also check out Langkawi Craft Complex which sells exquisite artworks from Malaysian craftsmen and artists. The main Craft Complex has a succession of halls with several sections that are designated as museums, displaying varieties of intricate art and craft items reflecting the cultural Malaysian heritage. Entrance is free and you will definitely leave with a souvenir or two.
For shopaholics, enjoy duty-free shopping amongst the widest variety of luxury brands at designated duty-free stores, shops, and shopping centres at Kuah. 
To capture Instagrammable holiday moments, stand in front of the eagle's base at Dataran Lang to take an instantly recognizable selfie. To end your day, bring your family to Wonderland Seafood at Kuah Town, the locals' to-go place when it comes to seafood at pocket friendly prices.
Day 3
Have a refreshing start with a breakfast picnic at Temurun Waterfall, which consists of three tiers with a 200-meter drop, making it the highest waterfall in Langkawi. After a hearty breakfast with a view, go to the ominously named Pasir Tengkorak beach which features activities like trekking, camping, swimming, and sunbathing for big and small groups alike. Experience fresh steamed crabs that are caught in the mangrove forests at Crab Farm for lunch.
For the second half of the day, immerse yourself in a relaxing Mangrove Tour at Kubang Badak Island and be amazed at Malaysia's biggest crocodile in captivity at Crocodile Adventureland. To cap off your night, fill your tummy with even more value-for-money seafood whilst basking in stunning views of the Andaman Sea at Warung Upih.
Day 4
Start your morning right with nature at Tanjung Rhu Beach, an amazing getaway that features untouched corridors of forests, serene shorelines, and peaceful enclaves for visitors looking for a tranquil retreat. At Tanjung Rhu, unmissable adventures await those who are seeking thrilling experiences such as stand-up paddling, kayaking, and paragliding.
Unwind at Ayer Hangat Village Salt Water Hotspring, where you can soak in soothing and relaxing hot springs. Tantalise your tastebuds at Mak Ngah Gulai Panas, said to have the best Malay Curry Fish in Langkawi! 
Discover many animals and have up-close interactions with them during feeding sessions at Langkawi Wildlife Park. See a different side of Langkawi in a rewarding mangrove tour, which can be privately customised for an unforgettable experience. For dinner, indulge in a dizzying array of pizza styles at Artisans Pizza.
Day 5
On your final day in this paradise, be sure to experience the culture Langkawi has to offer by visiting Makam Mahsuri, where you will have an amazing time learning about the Mahsuri's tomb, the final resting place of a beautiful maiden. For your next stop, drop by Langkawi Rice Garden Museum or Laman Padi, a popular eco-tourism spot at Chenang Beach where you can learn about rice cultivation in a rustic setting. For traditional Malay cuisine, explore Nasi Dagang Pak Malau during lunch for nasi dagang with a generous selection of side dishes such as chicken curry, beef rendang, mutton korma, pickled cucumber and sambal.
If you love fruits and eco-tourism, Mardi Agro Technology Park Langkawi is a treat for you. Learn about local agriculture and farming techniques and be awestruck by the sweeping stretch of land consisting of fruit farms over Gunung Raya Reserve forest. For splashing fun, visit Perdana Quay Eco Marine Park Langkawi, the first interactive sea water theme park in Asia. For dinner, visit Kapal Layar Langkawi Restaurant. With a mini sailboat docked on its rooftop, this restaurant is truly an arresting sight to behold. Equally as eye-catching are its lavish servings of marine cuisine.
What are you waiting for? Craving a refreshing family adventure? Look no further than the stunning shores of Langkawi Island!