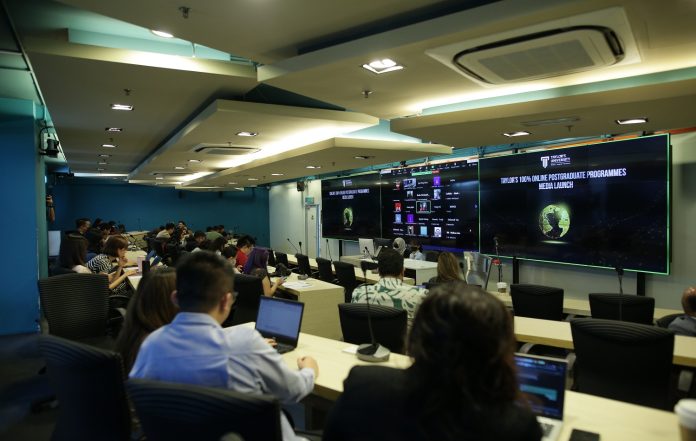 SUBANG JAYA, 9 FEBRUARY 2023 – Recognising one's desire to explore new avenues, learn, and improve themselves, Taylor's University officially launched its 'Taylor's 100% Online Postgraduate Programmes'. Carefully curated by a group of experts, the asynchronous learning experience incorporates bite-sized content through nano-learning to help students upskill and reskill themselves, anytime and anywhere.
There is growing recognition that diverse skill sets not only enhance a resume, but also contribute to personal journeys of lifelong learning. However, working individuals in Malaysia and across the region may be hesitant to give up their careers for schooling especially when they have to juggle a work-life-study balance. Knowing this, the Taylor's 100% Online Postgraduate Programmes offers flexibility that caters to busy individuals with a nano-learning method, which provides bite-sized videos and interactive content for learning.
With an investment of RM5 million, Taylor's Digital was set up to spearhead fully online programmes and leverage its own experienced learning designers, programmers, and audio-visual team to produce nano-learning content designed for today's learners who cannot assimilate or afford long hours of learning in their fast-paced lives. This has helped to create an education model that enables learners to pursue their education from any location. Equipped with a complete online learning ecosystem, learners can have access to quality education experiences through round table discussions, forums, and dedicated support systems to interact with their course mates and lecturers, as well as gain exclusive networking sessions with industry leaders.
The notion that "it's never too late to learn new skills" underpins Taylor's course offerings in this new programme. With a breadth of courses such as Postgraduate Certificate in Education, Master of Applied Computing, Master of Teaching & Learning, Master of Global Hospitality Management and Master of Business Administration, Taylor's University allows individuals to explore new horizons and areas of study. Additionally, five different intakes give students greater freedom to juggle hectic schedules – they can opt to join intakes in January, March, June, August, or October.
Responding to burgeoning workplace trends, Taylor's 100% Online Postgraduate Programmes is designed as a solution to this. Burnout and a decline in employee engagement have been observed in the workplace in recent years, resulting in the global phenomenon known as the Great Resignation, which sees the rejection of the hustle culture by Gen Z professionals or also known as the 'Quiet Quitting' trend.
According to studies from organisations like McKinsey & Company, 40% of the global workforce is looking to quit in the next three to six months if they are dissatisfied with their jobs. Closer to home, the Randstad Workmonitor survey stated that 89% of Malaysians said that job market fluctuations have "made them realise" that they need more training and development to stay relevant. That said, employers must offer their employees opportunities to upskill and reskill themselves, or risk losing their skilled talents.
"The rapid industry changes and the resultant talent gaps at local and global scales require today's workforce to be armed with new skills and multi-disciplinary knowledge to advance their career. Working adults however, face challenges with time and flexibility to further their education. Taylor's 100% Online Postgraduate Programmes addresses these dilemmas as it gives everyone an opportunity to further their education through bite-sized, highly flexible content whilst keeping a healthy social learning environment," said Professor Dr Pradeep Nair, Deputy Vice Chancellor and Chief Academic Officer, Taylor's University.
Taylor's University is the top private university in Southeast Asia and is one of the very few institutions with strong industry networks in the region. The reputable education industry leader has been awarded with the QS 5 Stars rating for Online Learning, ensuring a students' success after completing their education with Taylor's University.