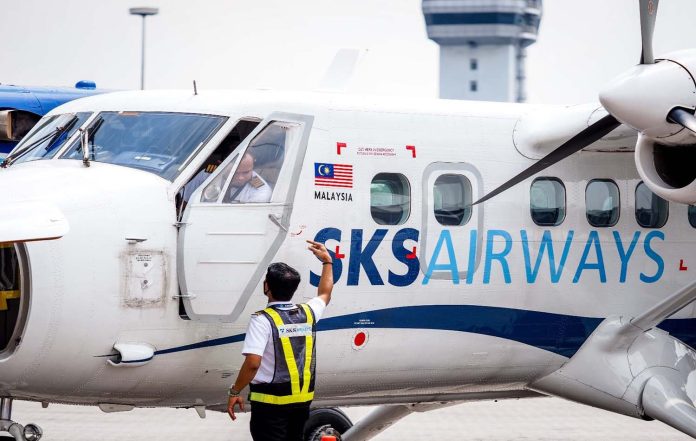 Introduces short-haul routes to three popular island destinations in Malaysia, Pulau Pangkor, Pulau Redang and Pulau Tioman
Subang Jaya, 25 January 2022 – SKS Airways, Malaysia's newest commercial airline sent off its inaugural flight today in a simple yet significant ceremony to mark the important milestone.
The event was graced by YB Datuk Seri Ir. Dr. Wee Ka Siong, Minister of Transport who sent off the first SKS Airways flight KI 6357 which departed from Subang's Sultan Abdul Aziz Shah Airport at 1315 hours to Pulau Pangkor. Guests on board the maiden flight included Dato' Rohman Ahmad, Director of SKS Airways together with guests from aviation, travel and tourism related industry.
Earlier in his welcome speech, Dato' Rohman said, "This inaugural flight is extremely meaningful to all of us at SKS Airways as it marks our beginning as a commercial airline offering passenger, cargo and charter services.  With our hubs in Subang and Senai, we plan to connect Malaysia and beyond to destinations in ASEAN and southern China.
"As a new set-up, we are nimble, agile and flexible, and able to tap into any opportunities that arise. We are positioning ourselves to capitalize on the current pent-up demand for domestic travel, and this will also give us a head start when international travel resumes."
Addressing the guests at the launch, YB Datuk Seri Ir. Dr. Wee Ka Siong, Minister of Transport Malaysia said, "It gives me great pleasure to witness the launch of Malaysia's newest airline. This is an indication of a positive consumer sentiment towards air travel, particularly domestic travel. In October 2021, MAVCOM released results of its Consumer Survey which revealed that 60% of Malaysian travellers are looking forward to domestic air travel. Among the reason cited for the preference for domestic travel included lower cost of travel, high risk of exposure to COVID-19 when travelling internationally and respondents living with high-risk family members.* Therefore, I believe the introduction of SKS Airways particularly to popular island destinations like tax-free Pulau Pangkor will be a boon for domestic travel and revive the local tourism operators in these places."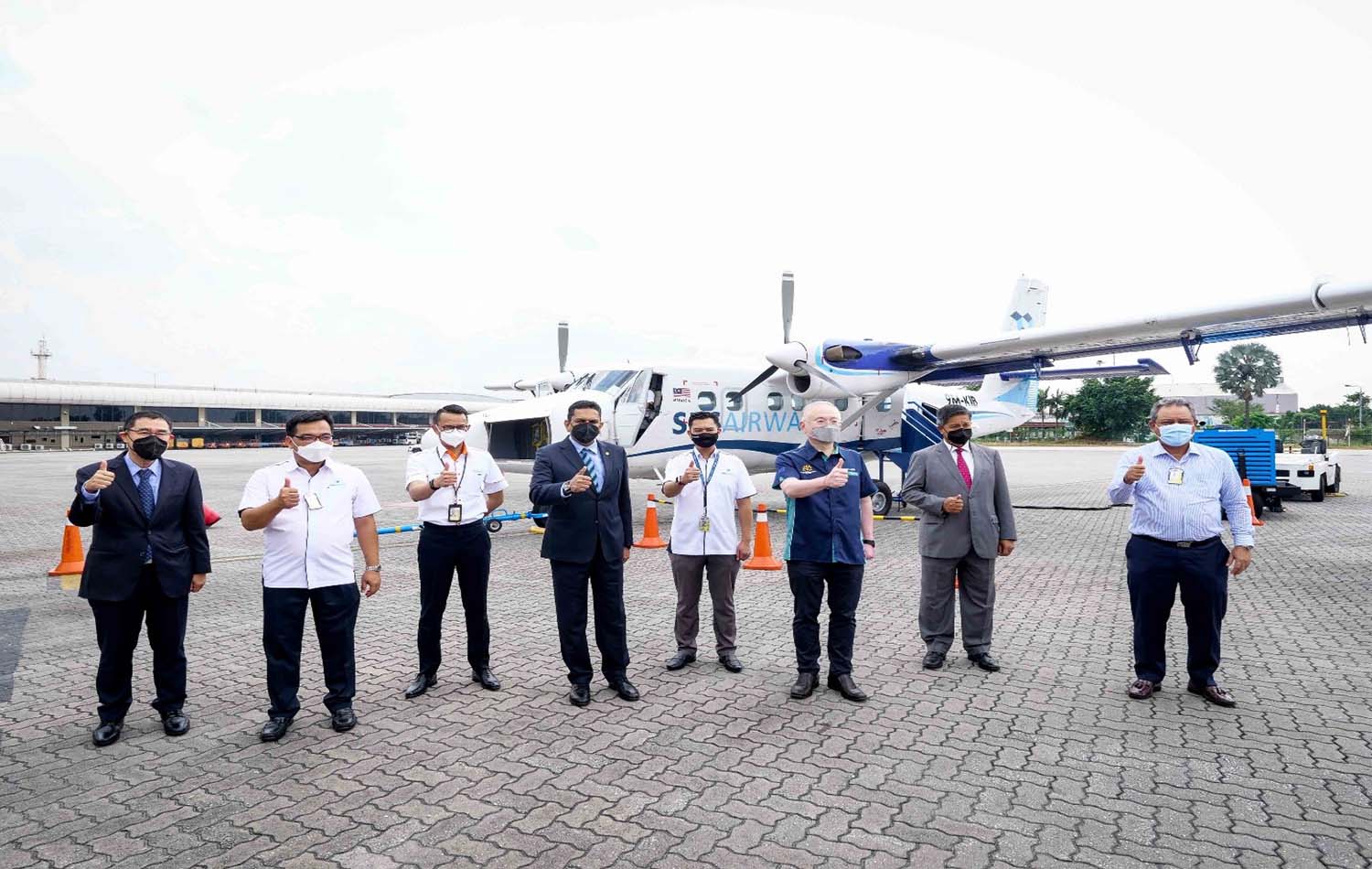 SKS Airways offers easy access to island hopping with flights commencing between Subang to Pulau Pangkor beginning 26th January; Subang to Pulau Redang beginning 31st January; to Pulau Tioman from Subang and Johor Bahru in the second quarter of 2022.
With the commencement of all three routes there will be 12 scheduled flights per day at a full daily capacity of 228 passengers, SKS Airways offers all-in fares from RM160 one way. SKS Airways adopts a 3-Tier Fare system which travelers can choose from depending on the destinations and time of bookings. They are SKS PROMO, SKS LITE and SKS PLUS.
SKS Airways Twin Otter Flight Schedule for Pulau Pangkor, Pulau Redang and Pulau Tioman
FLIGHT No.

DESTINATION

From – To

Flight 

Frequency

Effective

Date

KI

6512

Subang – Redang

Daily

31-Jan-22

KI

6513

Redang – Subang

Daily

31-Jan-22

KI

6351

Subang – Pangkor

Daily

26-Jan-22

KI

6352

Pangkor – Subang

Daily

26-Jan-22

KI

6516

Subang – Redang

Daily

Second quarter 2022

KI

6517

Redang – Subang

Daily

KI

6602

Subang – Tioman

Daily

KI

6603

Tioman – Subang

Daily

KI

6606

Subang – Tioman

Daily

KI

6607

Tioman – Subang

Daily

KI

6131

Johor Bahru – Tioman

Daily

KI

6132

Tioman – Johor Bahru

Daily
SKS Airways will begin operations with Twin Otter aircraft, well-known all over the world for toughness and reliability with excellent Short Take Off and Landing (STOL) capabilities which enables it to land comfortably on short airstrips. The 19-passenger turboprop Twin Otter aircraft is highly manoeuvrable, versatile and one of the most flexible planes ever built. 
SKS Airways expects to appeal to IT-savvy Gen-Y and Gen-Z individuals, young families and all travelers and island lovers looking for an experience unlike any other for short weekend getaways at popular island destinations within Malaysia.
For latest updates, news, activities and promotions or to book your next island holiday with SKS Airways, log on to www.sksairways.com or follow SKS Airways on Twitter (twitter.com/sksairways), Facebook (facebook.com/sksairways), Instagram (@sksairways) and LinkedIn (SKS Airways).
Begin the most scenic journey of your life now. Ready, Jet-Set, Go!