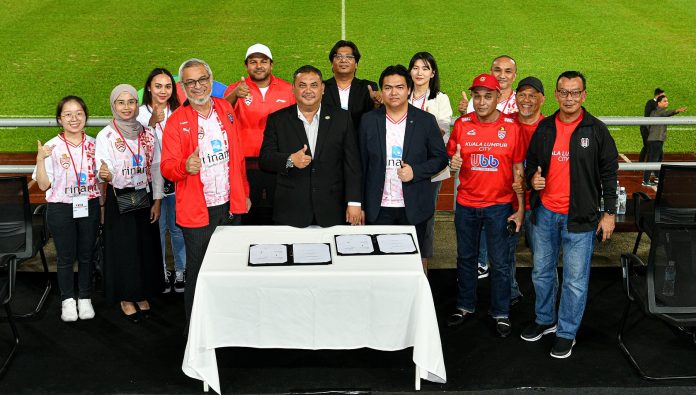 Company acquires majority stake in football club from KLFA
PETALING JAYA, 2 MARCH 2023 – Rinani Group Berhad ("Rinani" or "the Company"), a financial consulting firm, is pleased to announce that the Company has signed a share sale agreement ("SSA") with the Kuala Lumpur Football Association ("KLFA") to acquire a majority stake in Kuala Lumpur City FC Sdn Bhd ("KLFC"), the owner of the KL City FC ("KLCFC") football club.
Rinani director Azri Azerai said, "The SSA officially makes Rinani the majority owner of KLFC. We pledge to bring KLCFC's performance on the pitch to a higher level by concentrating on coaching, player recruitment and youth development and we promise our fans better engagement and experience for their money's worth. Besides the game, we will also focus on enhancing the revenue stream for KLFC for it to be sustainable and continue maintaining the club."

"We would like to thank the KLFA for all that they have done over the years for the club and we will build on this to bring KLCFC to the next level. We will work towards having more corporate tie-ups and sponsorships for the club to be financially sustainable as well as ensure training levels that can bring the club to the international stage. We also would like to thank the Prime Minister, YAB Datuk Seri Anwar Ibrahim, for his support for our venture and for encouraging the growth of Malaysian football."

KLFA president Khalid Abdul Samad said, "This is a historic day for KLCFC with majority ownership of KLFC passing over to Rinani. The privatisation of the club is in the best interests of all that involved in the sports of football, including the players, supporters, sponsors and vendors that have been closely associated with the club over the years. Best wishes to not only KLCFC and Rinani Group, but also KLFA."

Political Secretary to the Prime Minister, Azman Bin Abidin said, "The privatisation of state-run football teams is vital for the further development of the game as this will ensure that clubs have access to the expertise and knowledge that the private sector can provide. It is also vital that the private sector run the football clubs professionally with good governance as this will assist in ensuring financial viability for youth development and player recruitment."

Stuart Ramalingam, CEO of Malaysian Football League said, "The continued privatisation of football clubs in the country will benefit all stakeholders, especially the players as their welfare will be better taken care of. There will be more transparency in how the clubs are run and finances managed. Professional management of the clubs is important as this will mean the need to engage with supporters, improve performance and offer a better product."
Rinani's acquisition of a majority stake in KLFC is also in line with the directives from FIFA, football's international governing body, and of the Asian Football Confederation, to have state-run football teams be professionally run, privately financed and independently owned.