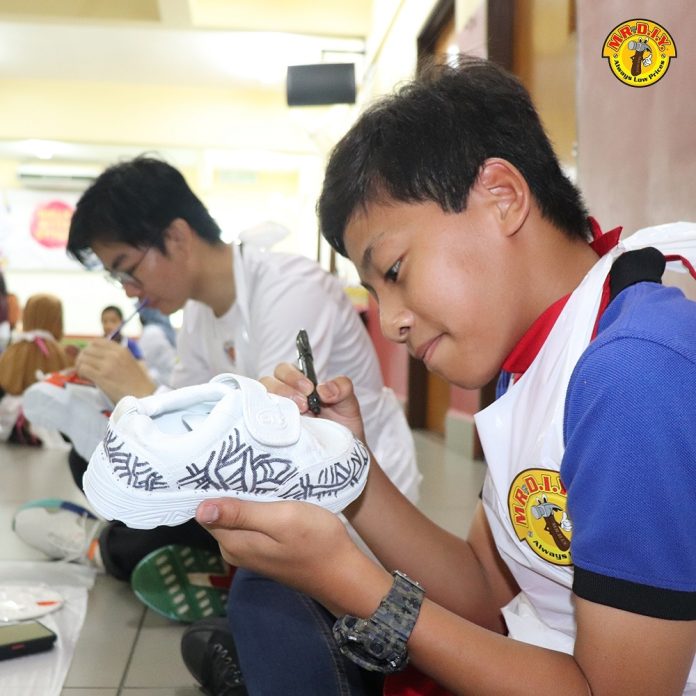 KUALA LUMPUR, 2 March 2023 –  When Malaysia changed its regulations on the colour of standard school shoes at national schools from white to black, it resulted in an oversupply of white canvas shoes at retailers nationwide.
Not wanting to see the shoes go to waste, Malaysia's favourite home improvement retailer, MR D.I.Y. Group [M] Berhad [MR D.I,Y,] has come up with an innovative idea — to involve schoolchildren in the process of upcycling these shoes and giving them a new lease of life.
MR D.I.Y's "Walk with Style" initiative, a collaboration with Soroptimist International Damansara [SID], saw more than 750 schoolchildren from Selangor, Perak, Kedah, and Kuala Lumpur use art supplies from MR D.I.Y to create a wide array of fun and fashionable school shoes with unique, individualised designs.
The children were from The Edufun Learning Centre, Ipoh, Perak; Sekolah Kebangsaan Tunku Bendahara, Kodiang, Kedah; Rumah Aman Sungai Buloh, Selangor; Myanmar Refugee Community Learning Center (MRCLC); and Program Perumahan Rakyat (PPR) Pinggiran Bukit Jalil, Kuala Lumpur.
On hand to guide and help them at the upcycling events were volunteers from the MR D.I.Y Cares team and SID,  MR D.I.Y. also provided the participants with art supplies such as markers, paints, drawing brushes, accessories, and glitter.
In total, more than 750 pairs of white school shoes were upcycled.
Commenting on the effort, a spokesperson from MR D.I.Y. said, "MR D.I.Y's ethos is to be a sustainable business that has a positive impact on the communities we operate in, and part of this effort includes playing a role in educating Malaysians on the need to reuse, reduce, recycle and upcycle.  It is one of the ways we can build a sustainable society.

"Initiatives such as "Walk with Style" embed an understanding of the principles of sustainability in our younger generation, while keeping the learning fun, engaging and creative.  It's also very much in line with our ambition to build a stronger do-it-yourself [DIY] culture amongst Malaysians," he said.
The spokesperson also expressed his thanks on behalf of MR D.I.Y. to SID, saying that the retailer's outreach programmes have been effective because of the excellent support from countless parties, and in the case of "Walk with Style", with SID. He encouraged more corporates to work with organisations such as SID to positively impact communities.
This is not the first time MR D.I.Y. has worked with Soroptimist International chapters around the country.
In December 2021, it collaborated with SID to help 45 families at Orang Asli Kampung Sungai Kepong by providing them with personal protective supplies to fight the pandemic. The two organisations also joined forces to provide everyday essentials to children's homes and education centres around the country in 2021 and 2022.
MR D.I.Y also worked with Soroptimist International Kota Kinabalu (SIKK), to distribute everyday essentials to 40 families of Kampung Gana in Kota Marudu, Sabah. In addition, SIKK helped the retailer distributed a further 22,000+ test kits to hospitals, state health department, and organisations in Kota Kinabalu, and Putatan, Sabah, and Miri, Sarawak from October to December 2022.
For more information on the "Walk with Style" initiative and MR D.I.Y.'s other community programmes, visit MR D.I.Y.'s website, mrdiy.com, e-commerce platform, mrdiy.com.my, and their social media channels, Facebook and Instagram.