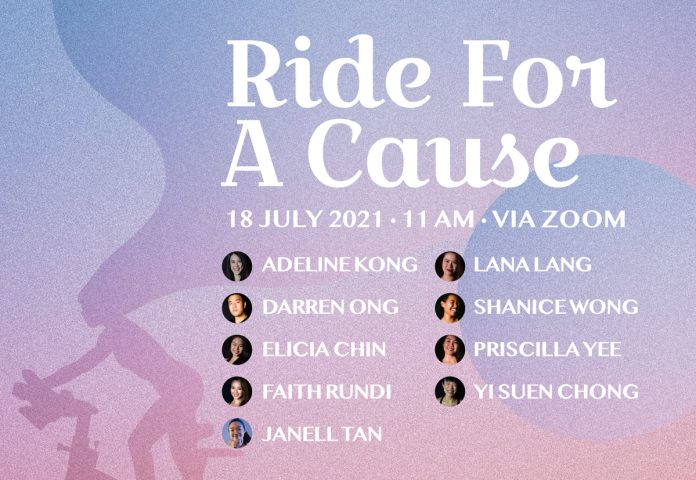 Kuala Lumpur, 13 July 2021 — With the pandemic showing slow signs of recovery, communities in Malaysia have taken a severe hit particularly the Chin Women Organization (CWO) and their community-based learning centre in Malaysia. Many Malaysians are now taking charge of helping one another. Jumping on the bandwagon are local rhythmic cycling instructors raising funds to help CWO through a fundraiser showcase, "Ride For A Cause", from now until 18 July 2021.
The pandemic has worsened the social and economic rights of the most vulnerable in society among them refugees such as the CWO. They are frequently the first to suffer the economic impacts of a lockdown and are often hardest hit when faced with illnesses. The situation for refugees have largely been overlooked and under emphasised, with most of the assisted funds and support channeled towards locals.
As the pandemic took its toll, CWO had to close the school, leading to the loss of its main food sponsor and loss of jobs for their families. Refugees in Malaysia already face constant challenges without the pandemic but the situation is more critical now as these vulnerable communities struggle to recover. Like many other children who are not able to attend school,
the children at CWO are no exception. They have no access to online learning as they do not have technological support such as computers or tablets.
The dire situation has inspired Shanice Wong, a rhythmic cycling instructor to give the CWO a way to stand on their own even if just to survive the pandemic. The fundraiser entitled "Ride For A Cause", brings local fitness personalities, Adeline Kong, Darren Ong, Elicia Chin, Faith Rundi, Janell Tan, Lana Lang, Priscilla Yee and Yi Suen, who will be putting on a showcase of 45-minutes Rhythmic Cycling performance which is open virtually to the public but are encouraged to donate to watch the showcase. Those who have an indoor cycling bike at home may join the session or simply support by watching the showcase.
Donate and Enjoy the Beat of Rhythm-based Indoor Cycling by Local Fitness Personalities
The fundraiser will begin from 13 July until 18 July 2021 where 100% of the collected funds will go to Chin Women Organization (CWO) school for Chin refugees to cover rental, food and access to education.
There is no minimum amount of donation but for every RM55 donated, the amount will help CWO to purchase one food box where one box feeds a family of four for approximately one to two weeks.
Date                             : 18 July 2021 (Sunday)
Time                            : 11 AM
Platform                      : Zoom
Link will be shared to those who have successfully donated and registered to attend the showcase
Cause                          : Raising funds for refugees affected by the ongoing COVID-19 pandemic
Organization              : Chin Women Organization (CWO)
Donation platform      : https://ride-to-support.raisely.com/
Keep informed about the Ride For A Cause fundraiser on Shanice Wong's Instagram at www.instagram.com/shanicewmy
To reachout to the Ride For A Cause organiser, please email Shanice Wong at shanicewong365@gmail.com