With a mission to deliver extraordinary memorable experiences, Pirata Group invites visitors to savour the best dining, shopping and sightseeing the city has to offer. What's more, travellers to Hong Kong will receive an extra special house welcome drink when dining at any Pirata Group restaurant
Hong Kong, 13 February 2023] At long last, Hong Kong is open and ready to welcome the world with open arms. Whether you're popping into town for business, pleasure, a long-awaited reunion with loved ones or for one or more of the city's major upcoming events – Clockenflap (3–5 March), Art Central (22–25 March), Art Basel (23–25 March), Creamfields (1–2 April), Hong Kong Sevens (31 March–2 April) – chances are your itinerary will include taking advantage of the amazing dining experiences on offer. From buzzing Causeway Bay and Soho to laid-back Stanley and old-meets-new Wan Chai, let Pirata Group and its extensive lineup of memorable restaurants help your tastebuds lead the way to an unforgettable stay in the reopened and reinvigorated Fragrant Harbour. To celebrate the reopening of Hong Kong, all travellers will receive a special welcome drink upon presenting their passport or train/flight ticket when dining at any Pirata Group restaurant!
Causeway Bay: Shop, stroll, sip and eat 'til you drop
Home to some of Hong Kong's best shopping, from street markets and niche boutiques to multi-storey malls and department stores, Causeway Bay is buzzing with energy all day and well into the night. Don't miss the hundreds of stores (and top-notch cinema) at Times Square and neighbouring Hysan Place, anchored by retail destinations such as Lane Crawford, Taiwan's Eslite Bookstore and the Apple Store. If you're in the area, don't forget to check out Sogo. Featuring a large supermarket in the basement for all your needs, the popular Japanese-style department store showcases a wide selection of international items, including fashion brands, skincare products and jewellery. Or, stretch your legs and enjoy a stroll through Victoria Park to enjoy the Hong Kong Flower Show 2023 (10–19 March), or visit the Hong Kong Central Library and Haven Street – known as Little Mecca for all kinds of (un)necessary oddities – next to the park. Rugby fans will want to keep heading inland towards Hong Kong Stadium for the Hong Kong Sevens (31 March–2 April), the world's premier rugby event of its kind. The fashion-minded, meanwhile, should make a beeline for Fashion Walk and its assortment of favourite designer and high-street brands as well as indie boutiques. Browse B'In Select for a curated selection of local and international designer items from clothing to watches, jewellery and accessories or pause for a coffee break at sneaker lifestyle store-cum-cafe HER, created by stylist and former actress Hilary Tsui. For a slice of sustainable fashion, head to Pak Sha Road and snag yourself one-of-a-kind vintage steals at A break 93 – a treasure trove of high-quality pre-owned clothes.
Once you've built up an appetite, make your way to the welcoming environs of brand new tapas restaurant and bar Calle Ocho. Named for its location on 8 ('Ocho') Cleveland Street in Fashion Walk, the eatery opened in January 2023 and embodies the generous spirit and vibrancy of Iberian culture with its classic Spanish tiling, flamenco paintings, traditional instruments and vintage 1960s fans dotted around the walls. Executive Chef Víctor Caballé Molina serves up an extended and varied traditional tapas experience of freshly made and boldly flavoured dishes such as Iberico ham croquetas, fluffy Spanish tortilla and grilled baby corn with Manchego cheese as well as larger plates like a show-stopping arroz negro and succulent roasted Spanish suckling pig 'boneless' terrine. And, with prices starting at HKD45, Calle Ocho has set its sights on being one of the most accessible high-quality Spanish dining experiences in Hong Kong. So go ahead, eat your heart out!
Stanley: Soak up the best of seaside living 
Sand, sea, shopping and hiking trails aplenty – no trip to Hong Kong is complete without a visit to the coastal enclave of Stanley. Once a major fishing port, the area is now best known for the sprawling Stanley Market full of small shops selling everything from souvenirs and tchotchkes to Chinese silks and custom artwork. If you're looking for a memorable Hong Kong souvenir or a gift for a loved one back home, drop by Stephen Yeung Gallery or T Wong Atelier. Then, once you've haggled to your heart's content, take a stroll along the picturesque seaside promenade with an ice cream in hand. History buffs will love Stanley's unique historical treasures from Murray House, Tin Hau Temple and Blake Pier to Pak Kan Uk (meaning 'eight houses'), a row of traditional red-brick houses on the eastern side of Stanley Bay, and the Hong Kong Correctional Services Museum with its peek into prison life from then to now. Stanley's surrounding hiking trails are some of the best on offer. If you're up for a challenge, plan an adventure in the great outdoors and hike your way to Stanley via the Twin Peaks and Violet Hill followed by a dip and a snooze at Stanley Beach. For a gentler, child-friendly stroll, visit Stanley Ma Hang Park, which has a number of beautiful temples and stunning photo opportunities, or walk up to Rhino Rock – a short but adventurous trail that leads to a spectacular rock formation with an uncanny resemblance to, you guessed it, a rhino.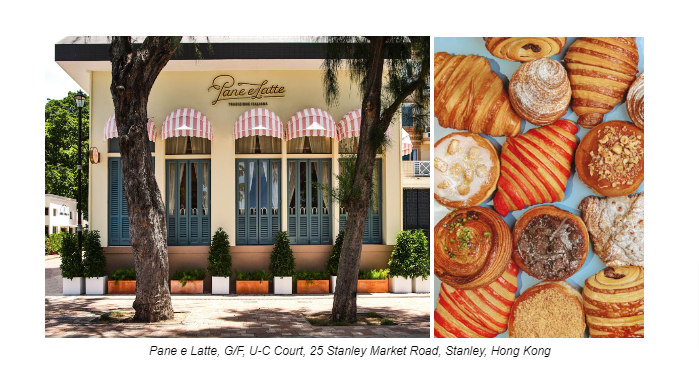 Capturing the best of Stanley's warm, welcoming seaside vibe with a dash of Italian flair, Pane e Latte is the perfect place to indulge in some pre- or post-exploration refreshment – while giving your Instagram followers major FOMO! With walls and counters decorated with antiques, paintings and real family photographs from Italian beachside holidays, the cosy panetteria is an established Instagram hotspot, with many delightful corners and opportunities to capture priceless memories. The experience evokes comfort and familiarity while satisfying cravings for artisanal breads, pastries, cakes, pizza al taglio and sandwiches. Everything is produced in-house from scratch daily, using nine different types of flour from Italy and only the freshest raw ingredients. Also on offer besides the authentic, traditional baked goods and an all-day menu of healthy, 'earthy' and 'heavenly' meals is a delectable selection of hand-crafted artisanal gelato 'experiences' as well as Italian coffee, wines and cocktails. You might enter thinking you're in Stanley but you'll leave dreaming of Positano.
Taikoo Place: Discover what's rising in the East
If you haven't visited the Fragrant Harbour in a while, you may not know there's a vibrant new business and entertainment district on the eastern side of Hong Kong Island. Taikoo Place commercial complex and the surrounding Quarry Bay neighbourhood are home to hundreds of multinational corporations and all the amenities you can think of to serve their thousands of employees. Besides hiking trails and an amazing harbourside promenade that connects Tai Koo Shing with Quarry Bay Park, the district is home to Ryze trampoline park and Verm City – a 20,000 sq ft climbing gym – as well as Cityplaza shopping centre and its indoor ice rink.
Where Taikoo Place really shines is its diverse dining and nightlife experiences, including Pirata Group's largest-ever hospitality development. The Sixteenth is a collection of four restaurants (two Italian and two Japanese) housed within a single self-contained dining environment at Taikoo Place's Oxford House. Recalling the flamboyance of Italian opera houses in the 1960s, La Favorita features grand, theatrical interiors to match its large-format Italian classics such as handmade lobster tagliatelle and a show-stopping 1kg Bistecca alla Fiorentina. The Sixteenth's other Italian concept, Tempo Tempo, sets the scene for il dolce far niente – the joy of doing nothing – whilst enveloped by stunning sunsets and breathtaking views from its vast outdoor terrazza. Guests are encouraged to linger at their leisure over comforting bites and an array of drinks from classic martinis to refreshing Aperol spritzes and inventive vodka infusions. A more intimate riff on Pirata Group's celebrated, contemporary Japanese restaurant Honjo, Honjokko is a quily enchanting venue for guests with a taste for life's finer things. Menu highlights include a nigiri experience featuring bold combinations like the fragrant hamachi truffle and the buttery wagyu uni, and grilled items such as wagyu beef, pork belly, barramundi and more. Turning things up a notch is TMK Funk & Rolls, the third iteration of the wildly popular, music-inspired temakeria TMK. Guests can expect TMK's classic and signature handrolls whilst surrounded by groovy interiors and a playlist full of the best funk tunes ever, making for a fun, casual and uplifting vibe to Taikoo Place's dining scene.
Wan Chai: Get to know the real Hong Kong
With its mix of skyscrapers, street markets, hidden temples and neon-lit nightlife districts, Wan Chai is the image that typically comes to mind when one thinks of Hong Kong. The former fishing village certainly has something for everyone, whether you enjoy browsing the daily catch at the old-school Wan Chai Wet Market or chasing the latest trends at Starstreet Precinct's hip fashion and lifestyle boutiques. One of the coolest streets in the world, Star Street has a lot to offer. Must-visits include multi-label lifestyle store Kapok, which presents a curated selection of clothing, lifestyle products and homewares, and Hong Kong-based brand Lane Eight, which has the most versatile workout shoes made with recycled materials. For those artists and creatives amongst us, Wan Chai is also home to a number of small ateliers and painting studios offering bespoke Chinese painting, art jamming workshops and more, whilst yogis can book their favourite yoga classes just around the corner.
If history and culture are your thing, be sure to also take a stroll along the Wan Chai Heritage Trail before seeing what's on at the Hong Kong Arts Centre. Arts lovers won't want to miss Art Central (22–25 March) and Art Basel (23–25 March) at the Hong Kong Convention and Exhibition Centre. From there, it's a quick hop to Lockhart Road and its infamous bars, clubs and live music venues.
If anything, time spent in Wan Chai is sure to stoke your appetite. Pirata Group has you covered with not one but two exciting dining experiences at 239 Hennessy Road. Located over three floors of the building, The Optimist is a Barcelona chic bar and Asador-inspired restaurant which provides guests an authentically generous Northern Spanish experience. This is the place for towers of fresh seafood, grilled prime cuts and sharing dishes, all washed down with anything from white sangria and ice-cold Champagne to innovative cocktails and bubble tea. A recent addition, now available daily from 15:00–17:00, is the Spanish Afternoon Tea Set brimming with sweet and savoury pinchos and a selection of refillable beverages. Pirata Group's flagship Italian eatery, Pirata, takes pride of place higher up on the 30th floor. Committed to delivering Italian culinary treasures at prices that don't break the bank, the warm and welcoming eatery offers traditional family-style dining alongside an equally familial style of service – all against the backdrop of a breathtaking view of the Hong Kong skyline.
Of course, this is just an appetiser of all Hong Kong has to offer – dining and otherwise. Perhaps you find yourself strolling amongst the art galleries and dried seafood shops of Sheung Wan. Why not cap off the day with a memorable Japanese meal at Honjo? If you're in the mood for heartier or spicier fare before an evening out in Lan Kwai Fong or to the Central Harbourfront for Creamfields Music Festival (1–2 April), look no further than Soho's ultimate meat bar, MEATS, or modern Indian destination Chaiwala. You can find all these and much more at piratagroup.hk. To celebrate Hong Kong's long-awaited reopening, all travellers will receive an extra special house welcome drink when dining at any Pirata Group restaurant, after showing their passports and train/flight tickets. Act quickly as this promotion ends on 30 November 2023. We can't wait to welcome you back to Hong Kong and our Pirata Group family!