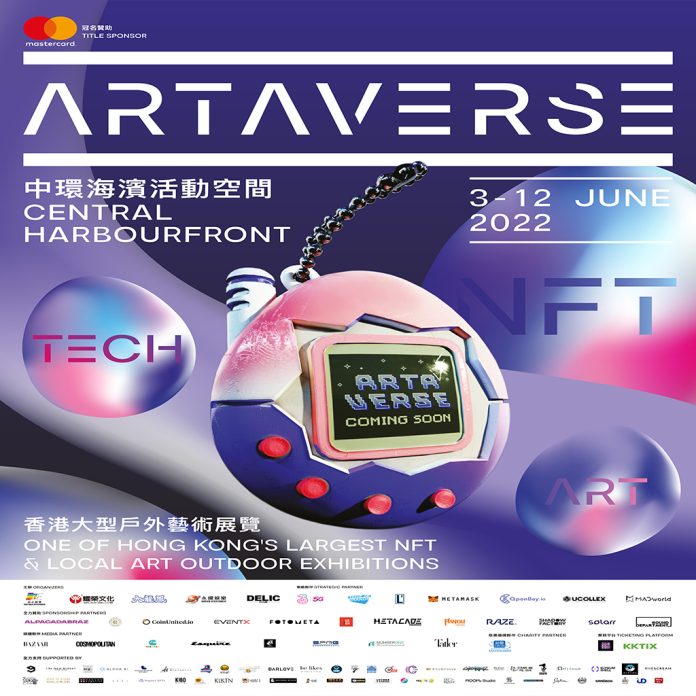 Discover unlimited opportunities in a digital universe of art under Web 3.0
(Hong Kong, 27th May, 2022) One of the Asia's largest NFT & local art outdoor exhibitions, "ARTAVERSE",  Title sponsored by Mastercard®, will be held from June 3 to 12, 2022 at Central Harbourfront Event Space with over 150,000 square feet of exhibition space, "ARTAVERSE" is widely supported by key players and  leading organizations from many different industries. More than 100 partners include ( in alphabetical  order): leading mobile service provider in Hong Kong "3 Hong Kong"; global leader in gamification and  blockchain "Animoca Brands"; popular Taiwanese NFT project "Alpacadabraz"; ClubFanX x well-known  artist, Mr. Wing Shya; Asia's largest NFT collector, "CoinUnited.io"; "Fotometa by Fotomax"; "Hong Kong  Fringe Club"; Asia's Leading Web 3.0 Venture Capital, "L2 Capital"; the visual effects director of the "2022  Winter Olympics" opening ceremony, Liu Di; "METACADE by PONG Group"; "ARTAVERSE" preferred Wallet "MetaMask"; the designated marketplace for the conference founded by well-known female  entrepreneur Anina Ho, "Qponbay"; the local technology company, "RAZE"; the Largest NFT Fi Platform in  Asia, "SOLARR"; "Sound Department"; "UCOLLEX"; famous NFT Artist – XY (聶曉宇); "9Gag", plus a  number of well-known pop music performers. Together, they bring a variety of digital art exhibits, art and  technology exchange and idea-sharing, as well as live music performances. The team behind "ARTAVERSE"  has invested an 8-figure sum into this first-ever event, aiming to build an outdoor art community integrating 
digital art, blockchain technology, augmented reality, virtual reality and local art, and to bring local  contemporary digital artists and pioneers of the art x technology industry together. The event leads members  of the public to set foot into the digital universe of art under Web 3.0 where virtual and reality blend, allowing  a brand new experience into a new immersive world. Mr. Hanjin Tan, the world's first Chinese-language music  NFT artist, joins as the expert consultant and art technology ambassador, to inspire local art enthusiasts to  create diversified artworks by leveraging new technologies – and to promote local art to the world. 
CEO of Right Grace Entertainment, Mr. Rocky Wong, co-organizers of "ARTAVERSE", said, "With the rapid  expansion of the digital universe of art under Web 3.0, "ARTAVERSE", represents one of the largest NFT art  exhibitions in Asia. I wish to leverage my past experience in listed companies and in investment to synergize  with the expertise of Yin Wing Live in organizing performance and entertainment events, to create a platform  to push forward Asian art technology development. Furthermore, this will further nurture potential pop  culture talent among the new generation from Hong Kong and other Asian markets to devote themselves to  the art/technology industry." 
Chief Marketing Officer and organizer of "ARTAVERSE", Mr. Daniel Chang, said," With Hong Kong being a central hub of the international art technology market, and we hope to take advantage of this to make  "ARTAVERSE" a bridge to connect with the international counterparts. It gathers experts from different  industries from all over the world, with the aim of thrusting ahead the popularization of blockchain  technology from Asia to the globe. We aim to provide artists with more platforms to promote their artworks;  at the same time bringing new concepts for protecting the copyright of digital art creators. The project lays  a subversive foundation for the future development of the Metaverse, and further expands sustainable  development of the digital art and cultural industry." 
Curator of Bold & Concept Asia, Ms. Tiffany Chui, added, "This event has been very challenging in terms of  its conception and concept delivery; not only do we present art technology to the public in a physical way by  allowing everyone to experience all kinds of digital art exhibits in an immersive experience, but also to  present that in a simple and easy-to-understand way to educate the public, so as to promote the  popularization of art and technology. I would like to thank the sponsors and all parties for their support in making this brand-new event a grand festival. We hope that "ARTAVERSE" will develop into an annual grand  occasion, bringing more new art technologies and promoting the development of local art." 
Three exhibition areas in "ARTAVERSE": Opening up infinite possibilities 
"ARTAVERSE" aims to promote the popularization of art technologies such as NFT and Metaverse, providing  opportunities for art lovers to learn about, appreciate, collect or even locally create artworks. The exhibition  will be divided into three areas, namely ART BOX, ART HUB and ART STAGE. With diverse digital art exhibitions,  art and technology exchange, and live music and cultural performances, an immersive art, entertainment  and cultural journey through real and virtual worlds opens up. 
"ART BOX" – over 20 exhibition units exploring the ecosystem of art and technology  The ART BOX area will set up over 20 independent exhibition spaces, showcasing an array of NFT artworks, including Asia's largest NFT collector, CoinUnited.io, to showcase selected NFT art from their NFT art  collections worth over 300 million US dollars, an example being "Shocked Doge", one of the most expensive  NFT collections in the world. works from other partnered units include: local design cartoon brand, "B. Duck";  "Clubfanx x Wing Shya"; developer of artificial intelligence robot (Sophia), a highly recognized, prolific, street  and contemporary artist "SZABOTAGE", "Hanson Robotics"; CEO of blockchain startup platform KLKTN,  Daisuke Iwase; "Lucky Tiger"; "METACADE by PONG Group"; "Hong Kong NFT Association" (NFTAHK); "One  Satoshi"; "SOLARR"; "PANGU"; innovative platform that sells unique and limited-edition NFTs for toy and pop  culture collectibles, "Ucollex" (alphabetical), allowing visitors to view ingenious and creative digital artworks  while learning about introductory knowledge of NFT contemporary art collection, and letting art lovers of  the new generation collect their favorites online instantly. 
Additionally, "Shadow Factory" in ART BOX will use new technologies such as virtual reality (VR), augmented  reality (AR) to allow participants to enjoy an immersive art experience, creating extraordinary artistic visual  effects for visitors. Besides, the organizer is also partnering famous restaurants "Bite", "Barlove" and "Pernod  Ricard", to provide visitors with high-quality dining options "CoinUnited.io" will also provide themed food  with the Crypto Punk #7810 in its collection to provide guests with a different dining experience. 
「ART HUB」— Gathering both international and local top artworks and popular NFT projects  At ART HUB, an array of digital artworks connecting the virtual world with reality in 4 different zones:  Celebrity Zone, NFT Zone, Art Technology Zone and Art Zone. In Celebrity Zone, works by famous artists are  shown, including "ARTAVERSE"'s Expert Consultant and Art & Technology Ambassador Hanjin Tan, famous  photographer who participated in Hong Kong Film Awards special issue CK Chan, Hiro Yoshikawa, artist Kay  Tse On-Kay, Alex Lam Tak-Shun, Kelvin Kwan Chor-Yiu and Francis Cheng Siu-Hong. "13a New Street Art  Gallery" will also join with founder of "ALPACA LAND" founder and artist, Joey Thye Cho-Yee, Arol, knoa.C,  Leonlollipop, Miloza Ma, Mr. Likey, surreal photographer SurrealHK (Tommy Fung), William Tsang x Fordarest  Project, and other outstanding Hong Kong artists and illustrators participating in the exhibition.  
The NFT Zone will also present popular Taiwanese NFT project "Alpacadabraz" by contemporary artist  Chuckchee. In addition, brilliant artworks such as the creations by "Bad Face Bots" (BFBS), "LYCHEE &  FRIENDS", "EYELIEN", "Investment Sky", Sam Lee Chan-Sam "Sunday Zoo", Jeremy Li "Jeremy Shuhow Lin" (JL  Basketball League), founder of UDomain To Cheung, "Nomoreclub", "SeishinMob", "Tipsy Cat" and other  cooperative NFT projects. 
The Art Technology Zone will also display works by prominent artists. Kings Art, a new contemporary art  trading platform, will exhibit NFTs and prints by Tony Wong Yuk Long. Artworks by 4 local artists will be shown,  including contemporary Chinese brush painting by Hong Kong artist, Owen WONG (黃家偉) , Liu Jia (劉佳),  and sculptures by Anton Poon (潘星瑋), showcasing the vitality and diversity of local art. Other contemporary 
artists such as Xu Zhenbang(徐振邦), famous NFT Artist – XY (聶曉宇), Xia Han, digital artist and illustrator  Claudia Chanhoi, and well-known artist Vivian Ho will participate in the exhibition. The "Seefood Room" will  also display artwork editions by top contemporary artists, including Tomokazu Matsuyama、Yue Minjun、 Takashi Murakami、Mayuka Yamamoto、Yoshitomo Nara etc. 
"ART STAGE" – Art and Technology Talk x ART BATTLE x Weekend Live Music Performance  Promoting the Exchange of Art and Pop Culture 
In addition to visiting and collecting multifarious artworks, visitors can understand more about the latest  market updates of art technology, and take part in different forms of art exchange through 20+ art and  technology talks, in addition to live music performances at ART STAGE held by "ARTAVERSE". Among them,  the art and technology talk about the latest market information on art technology and conduct different  forms of art exchanges. "Animoca Brands" will invite guest speakers to explore the infinite possibilities of the  art universe. What's more, live music performances will be held on 3rd, 5th, 10th, 11th and 12th June.  Performers include Alex Lam Tak Shun, Alfred Hui, Catherine Wong, Dear Jane, Jason Chan Pak Yu, Kaho Hung,  Michael Cheung Tin Fu, RubberBand, and Shimica Wong (listed alphabetically). Dope Ones will play host the  largest and first live NFT x Music Debut in Hong Kong for the launch of Dope Ones NFT Mixtape Debut on 9th June. 
Details of Weekend Live Music Performance:  
Date 

3 Jun 
5 Jun 
9 Jun 
10 Jun 
11 Jun 

12 Jun

5:00pm – 

5:45pm

Candy & Will 

Indie Jam 

Indie Jam 

Indie Jam 

Panel

6:00pm – 

6:45pm

LIMITS x  

UCOLLEX  

Digital Art  

Battle

LIMITS x  

UCOLLEX  

Digital Art  

Battle

LIMITS x  

UCOLLEX  

artists sharing  &  

demonstration

LIMITS x  

UCOLLEX  

Digital Art  

Battle

LIMITS x  

UCOLLEX  

Digital Art  

Battle

LIMITS x  

UCOLLEX  

Digital Art  

Battle

7:00pm – 

7:45pm

DJ Geek Fox 

DJ Lokyii

Dope NFT  

Music Night

DJ Angus 

DJ Angus

7:45pm – 

8:15pm 

Dear Jane
Jason Chan  & Catherine  Wong
Rubberband
MC Cheung  Tin Fu &  

Kaho Hung

Alfred Hui 

(Closing  

Ceremony)

8:15pm – 

9:00pm

DJ Geek Fox 

DJ Lokyii 

DJ Angus 

DJ Angus
In order to help the new generation get familiar with the art Metaverse, "ARTAVERSE" will organise a special  session, a children's digital art workshop, on weekend mornings (4, 5, 11, 12 June, Family package will be  launched, please stay tuned). The purpose is to let children explore the mysterious digital universe of Art 
under Web 3.0, to help them master the concepts of NFT and Metaverse, and getting them well-prepared  for the new era of Web 3.0 popularization. Income from the workshops will be fully donated to the Hong  Kong Council of Early Childhood Education & Services to support in cultivating children's development. 
Purchase "ARTAVERSE" tickets and have the opportunity to receive a limited exclusive NFT, and join the  digital universe of art under Web 3.0 
Mastercard holders can enjoy exclusive access to early booking with 10% off discount from now and with 5%  off during official sale period. The official sale of tickets will commence at 1:00pm on 29 May through KKTIX,  while participants who are under 16 years old can enjoy an ART Youth ticket discounted offer of HK$150 on  weekdays (except Fridays, Saturdays, Sundays and public holidays). Every VIP full-day ticket buyer will have  the opportunity to get an exclusive designated commemorative NFT for free (first-come-first-served) through  MetaMask. Details of the event and ticket purchase options are as below: 
Details of event and ticket sale:
Exhibition Date: 

3-12 June, 2022 

Exhibition Time: 

Workshop period: 10:00 am – 12:00pm 

Day period: 12:00pm – 4:00pm 

Night period: 5:00pm – 9:00pm

Exhibition Place: 

Central Harbourfront Event Space

Ticket Price*: 

Day/night period on weekdays: HKD$280 

Weekend night period: HKD$380 

VIP full-day ticket: HKD$880  

ART Youth ticket (For participants under 16 years-old): HKD$150

Mastercard early sale: 

Starting at 6:00pm on 16 May, 2022 to 11:59pm on 28 May, 2022 (10%  off discount)

Official sale: 

Starting at 1:00pm on 29 May, 2022 on KKTIX 

(Mastarcard 5% off discount)

Remarks: 

*An additional HK$8 handling fee for each ticket will be charged *MetaMask users can receive a designated commemorative NFT for free  by "ARTAVERSE" airdrop (Airdrop: sent through blockchain technology)
"ARTAVERSE" Commemorative NFT Registration and Distribution Date: 
Type of ticket: 

VIP Ticket 

Normal Ticket

Special gift: 

Special Type of NFT Blind Box  Quantity: 10,000

Basic type of NFT 

Quantity: 80,000

Registration date: 

Online registration: 

16 May to 28 May, 2022  

11:59pm 

On-site registration: 

June 3 to June 12, 2022

Only online registration available: 16 May to 28 May, 2022 11:59pm

Gift distribution date: 

Airdrop distribution date* 

30 May to 1 June, 2022 

On-site registration and 

redemption: 

Participants who buy ticket after  29 May can redeem Blind Box  NFT at the designated counter  with the ticket on the day 

Blind box NFT unboxing date:  2 June, 2022#

Airdrop distribution date* 

30 May to 1 June, 2022

Remarks: 

*Only for users who have completed the ticket purchase and  submitted a valid MetaMask wallet address before 11:59 pm on May  28 (subject to the time of receipt)  

Please note: Offer will not be reissued if application is not submitted  before the registration date 

#VIP Special Edition Blind Box NFT- After the box is opened, users  can randomly get commemorative NFTs of different rarities. For  details, please visit the event website – www.artaverse.asia; Users  can use the NFT styles they hold at the "ARTAVERSE" venue during  the "ARTAVERSE" event and merchants to exchange corresponding  discounts or gifts. For details, please refer to the event website  update and related terms and conditions.