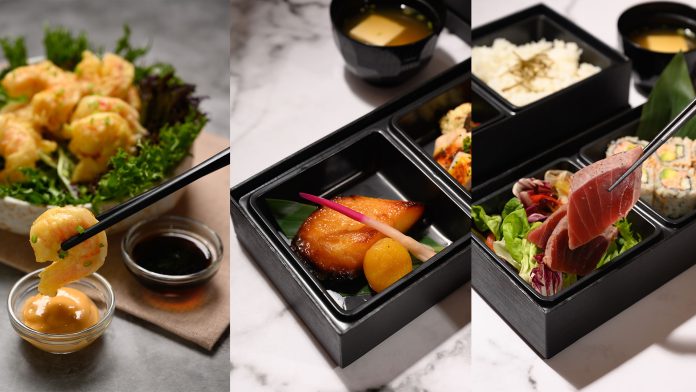 Introduced during the Movement Control Order earlier this year, Nobu At Home returns with a massive 30% discount off the total bill to bring world-renowned Japanese-Peruvian cuisine to your doorstep. Nobu At Home takes on a refreshed menu featuring Nobu signature dishes and other premium choices to give customers a wide array of mouth-watering dishes to enjoy in the comfort of their own home.
With the Conditional Movement Control Order being reintroduced until November 9th, Nobu Kuala Lumpur wanted to continue to serve customers to the best of their ability by making their famed cuisine easily accessible and a little more affordable during these trying times. The 30% discount will be available for the duration of the Conditional Movement Control Order, and will be extended accordingly if it is prolonged. Aside from the generous discount, those staying within a 5km radius of Nobu Kuala Lumpur can enjoy free delivery whilst orders within a 15km radius will require a minimum spend of RM400 (before discount) to be eligible.
The latest Nobu at Home menu was carefully crafted by Executive Chef Philip Leong along with his talented Nobu kitchen team. The menu was specifically designed to take into account the various needs of different customers. Having introduced their 'For Two' promotions in the second half of the year, it's allowed Nobu Kuala Lumpur to serve a new set of customers with a different set of demands.
"Over the last few months, we've been running our extremely successful 'For Two' promotions, and there were some guests that asked for more premium dishes such as Wagyu. We've addressed that concern with this menu ensuring that there's a wide variety of options for everyone to enjoy. Of course, we had to be selective when crafting the menu as not all dishes are suitable for delivery. We do not compromise on the taste, texture and feel of the selected dishes featured on the menu and customers will find that every dish featured will retain the same quality upon delivery," said Executive Chef Philip Leong.
"We understand that the Conditional Movement Control Order has impacted a lot of people which is why we thought offering a 30% discount on the total bill would go a long way. We're excited to give our guests a 56-storey high experience right at their home." said Head Sushi Chef Chico.
Starting from 28th October 2020, you can indulge in a unique dining experience with Nobu at Home from 12pm to 9pm daily. The highlights of the menu are the highly requested melt-in-your-mouth Japanese Wagyu with Nobu Sauces as well as the signature Black Cod Miso glazed with Nobu's sweet Den Miso paste.
Customers can also look forward to the Sushi and Sashimi Bento Set that comes with three pieces of sushi and six pieces of sashimi meticulously handpicked by Head Sushi Chef Chico and the Dry Aged Prime Rib Eye with Anticucho Sauce completed with a side of Miso Soup, Rice, Salad and Nobu Biscuits. To bring your dining experience to a sweet end, indulge in some of the delectable desserts available such as the Chocolate Sata Andagi, Nobu Cheesecake and the Bento Box comprising various treats.
Nobu Kuala Lumpur has temporarily halted its dine-in lunch service for the time being, please find the new operational hours below.
Operational Hours
Take Away/ Delivery    :               Monday to Sunday from 12.00pm – 9.00pm
High Tea                             :               Saturday & Sunday from 12.00pm – 3.00pm
Dinner                                  :               Monday to Sunday from 5.30pm – 9.00pm
For delivery and takeout, please call 03.2164.5084 or WhatsApp 019.389.5085. Payment details are as follows:
Account Name:
VENUS GOURMET SDN BHD
Bank Account Number:
MALAYAN BANKING BERHAD (MAYBANK)
5144 9567 9043