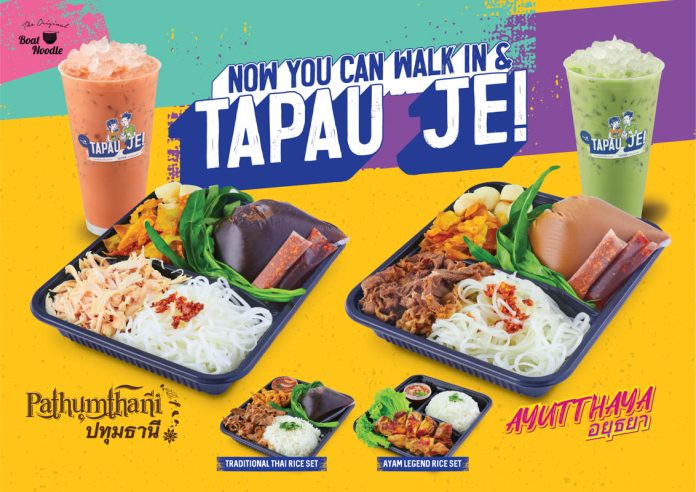 Amidst the new normal, Boat Noodle Malaysia adopts new modus operandi 'Tapau Je' to promote safe and SOP compliance deliveries and take-away services
KUALA LUMPUR, 7 DECEMBER 2020 ─ Boat Noodle officiates Tapau Je, a drive to establish a brand new approach for consumers to consider F&B delivery as well as restaurant take away. All menu items, including appetisers, traditional rice sets, drinks, desserts and especially boat noodles, are available for order on Grab and Foodpanda nationwide. Within certain areas of Klang Valley, orders are available through h ttp://tapauje.boatnoodle.com.my, Boat Noodle's very own website for convenience. New users will find that they are entitled to a 10% discount on their orders during their first visit.
The humble bowl of kuai tiao ruea or Thai boat noodles is a popular delicacy in Thailand and Malaysians have jumped on the trend. Stacks of bowls have been seen dominating the local social media sphere for the past couple of years owing to the uniqueness of its small portion
and the many bowls one can stack. Due to popular demand, Boat Noodle acknowledges their customers' growing insistence through social media, hence committed to a solution to bring the best of their dishes to all; Tapau Je introduces a similar experience of enjoying soup noodles and more in a carefully packed bento set.
Introducing Tapau Je
For the sole purpose of retaining the quality of taste, the noodles in brothy flavours of Ayutthaya and Pathumthani, both of Boat Noodle's signature authentic boat noodle soup can be enjoyed by one and many in three methods:
1.    On the move
While still warm, open the packaging and pour your broth directly into the bento provided with no worry or fuss for dishware. You can also fill the ingredients within a bowl if desired .
2.    When in the office
Easily microwave the soup noodles in a bowl or dish for hearty lunch or dinner.
3.    Cooking within the comfort of home
To add a little personal experience, the noodles can be reheated on a stove, with medium heat and seasoned to your own liking.
Instructions are provided alongside the bento orders for ease of preparation and to ensure an all-rounded experience where customers can enjoy their meals in their own manner.
While straightforward, the noodle dishes are packed with more ingredients for a satisfying meal. The menu also extends its offerings to the Pathumthani rice set, a traditional rice dish served with the signature Pathumthani soup and the crowd favorite, Ayam Legend rice set served with a generous sweet and spicy dip. Additionally, a colourful variety of Thai beverages are also available as thirst quenchers. This is all for the convenience and comfort of eating at home or work.
"This year, Boat Noodle welcomes our customers and more to enjoy authentic Thai food in the comfort of their own homes and in the company of loved ones. Served in bento sets, our food can be enjoyed warm and most importantly, safely. This is part of our strive to embrace innovative means to serve our customers better. As a local brand, Boat Noodle believes in integrating new approaches to our methods and therefore, bringing our service to the next level during times of change. In this case, our initiative stems from giving customers an option to have their meals and drinks delivered or taken away. , I say, Tapau Je!" Said Mr. Tony Lim Chin Hau, Founder and CEO of Boat Noodle.
He added, "Malaysians in the city are exploring new f&b options through delivery everyday. 'Tapau  Je'  provides  a  genuine  Boat  Noodle  experience  through  options  that  allow  our customers to enjoy our food, especially the noodles in their own way".
With a starting price of RM 9.90, noodles and rice sets alike are available as per below:
Head to your nearest outlet and Tapau Je your favorite meals.
List of outlets available can be found within the official website included below.
For more information, customers are welcome to visit the official website at: h ttp://boatnoodle.com.my