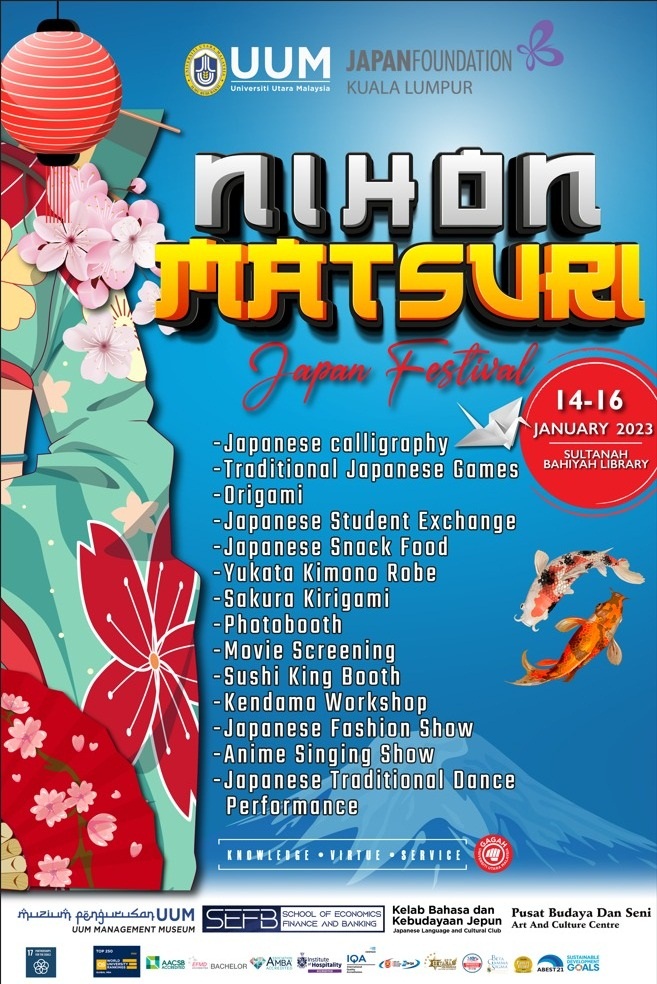 Bringing Japanese culture for everyone to enjoy at Universiti Utara Malaysia (UUM)
"NIHON MATSURI Japan Festival" is happening in Kedah at Universiti Utara Malaysia (UUM) from 14 to 16 January 2023 with a variety of activities ranging from food, culture and art showcasing the charms of the Japanese culture to all.
During this two-day event, visitors will get to experience a variety of Japanese-themed activities such as origami, kendama, yukata tryouts, calligraphy, Japanese film screenings, food booths and so on at the foyer of Sultanah Bahiyah Library, UUM. An opening ceremony will be held on 15 January, 10:30 AM at the Library Foyer with the presence of Yang Berusaha Professor Dr. Haim Hilman Abdullah, Vice-Chancellor of UUM, Mr. KAWAGUCHI Yoshiyasu, Consul-General, Consulate General of Japan in Penang.
Aside from that, an exhibition on Japanese food and culture will also be happening for two months at Management Museum UUM from January to March 2023. For more info and registration links to the workshop and film screenings, please visit www.jfkl.org.my.
This festival is coorganised by The Japan Foundation, Kuala Lumpur (JFKL) and Universiti Utara Malaysia (UUM).