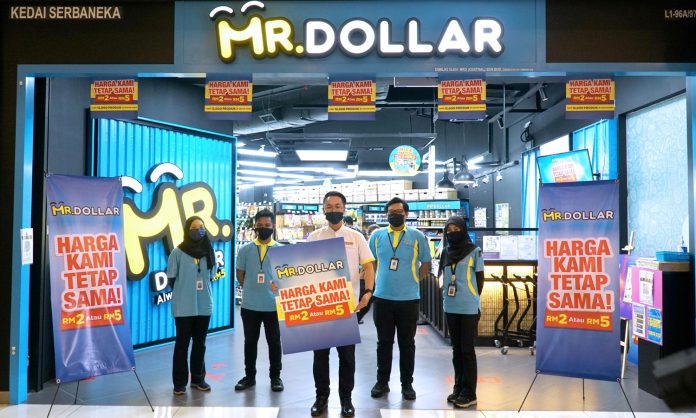 KUALA LUMPUR, 23 MARCH 2022 –  MR. DOLLAR, the fixed price concept store that is part of home improvement retail giant MR D.I.Y. Group (M) Berhad, today reiterated its stand not to increase prices at its stores, stating it was not in consumers' interests to do so at this time. 
The popular store, known colloquially as "kedai harga tetap" says its fixed price policy of RM2 and RM5 will be maintained at its 50-plus stores nationwide for the foreseeable future.
Responding to queries following recent price increases by similar players in the market,  Alex Goh, Head of Marketing at MR D.I.Y. Group said, "Malaysians today are under a lot of pressure when it comes to spending on food and household essentials.  The COVID-19 pandemic has strained the global supply chain.  Freight and forex charges have increased, there is a scarcity of labour, and recent Russian-Ukraine developments have caused oil prices to soar.  All of this has had a cumulative effect on the price of goods, and understandably, many retailers have been forced to raise prices simply to stay in business.
"However, as a homegrown Malaysian brand, and the largest home improvement retail network in the country, we want to play our part by staving off price increases for as long as possible to help Malaysians.  Using our direct relationships with manufacturers and suppliers, the economies of scale with our Group's 900 stores nationwide, and a stringent application of data discipline and analytics, we have been able to mitigate much of this impact without passing on costs to our customers.  Having a fixed-priced store that they can depend on will give Malaysians the peace of mind they need to ensure their families and loved ones have what they need, without straining their wallets. We believe it is not in the customers' best interests to raise prices now."
Goh was speaking to members of the media at the MR. DOLLAR store at The Mines, Seri Kembangan where he was conducting a briefing on recent changes in shopper trends.
He said that due to increases in the prices of goods, the retailer had noticed that Malaysians were actively seeking out value or dollar concept stores for their everyday essentials.  
"Customers today are smart. With children going back to school, and the Ramadhan/Hari Raya festive period coming up, they are doing their homework, and actively looking for value.  MR. DOLLAR was created in 2020, as the country battled the peaks of the pandemic.  Despite being in lockdown, customers soon realised that they could stretch their ringgit further by shopping in stores like MR. DOLLAR.  And our survey shows that the search for value hasn't diminished; we are growing from strength to strength."
Goh also shared some of the verbatims shared by customers during a recent survey by MR DOLLAR, which was run to gauge views about the relevance and appeal of dollar concept stores.  
One of the respondents, a 27-year old private sector employee from Kajang, Aisya, said. "I visit MR. DOLLAR three to four times a month. The prices are affordable and fixed. It is convenient because I don't have to go to other stores to find household essentials and I can estimate how much my family and I should spend daily or weekly on our purchases."   She said she usually spent between RM30 – RM50 per visit.   
Echoing the sentiment was 48-year old executive Phang, who said, "It's very convenient and easy. My family and I don't have to do price comparisons on products. We don't need to spend time doing research." 
Founded in 2020, MR. DOLLAR offers a wide range of products across 10 categories (chocolates & sweets; snacks & biscuits; cooking ingredients; groceries; drinks; bakery products; chilled & frozen food; household; hardware; and stationery, toys & sports), all priced at either RM2 or RM5. Popular brands in the store include Maggi, Oreo, and Coca-Cola, to name a few.   
Beyond its attractive price point, MR. DOLLAR also offers customers a comfortable shopping environment, with over 14,000 items displayed in an 8,000 sqft location, with wide aisles and air-conditioning.  Other than F&B and household essentials, MR. DOLLAR also offers personal protective essentials such as face masks, hand sanitizers, face shields, disinfectants, and COVID-19 test kits at low prices. 
For more information and updates, visit MR. DOLLAR's website, www.mrdollar.co, or its social media handles — Facebook and Instagram @mrdollarmalaysia and @mrdollar.malaysia respectively, or call the MR. DOLLAR Customer Careline at 03-89611338. The list of MR. DOLLAR stores are available at this link: https://www.mrdollar.co/storelocator/.