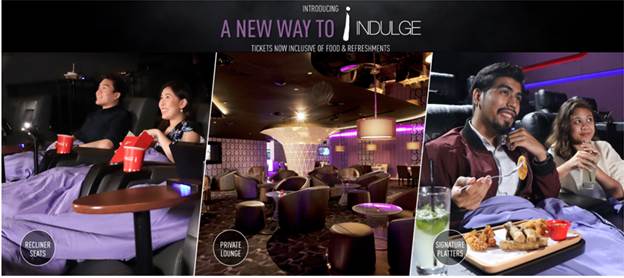 KUALA LUMPUR, 29 March 2022: With a growing number of blockbuster movies such as  Fantastic Beasts: The Secrets of Dumbledore and Sonic The Hedgehog 2 finally arriving soon at  the big screen after long delays due to COVID-19, TGV Cinemas is adding another one to the  string of good news for the cinema industry – the reopening of TGV's gourmet cinema, INDULGE! 
Celebrating the finer things in life, each INDULGE hall features a movie experience like no other  where INDULGE guests are treated to premium recliner seating, comforter blankets, in-hall  services as well as a private lounge while guests relax, unwind and truly escape at the movies.  
Tickets for INDULGE are now inclusive of TGV's signature food platters – Golden Treasure,  Gourmet Dim Sum and Vegetarian where each are accompanied by a refreshing Classic Lime  Mojito. Guests are free to select any one of the platters that compliments their taste buds. To  further elevate the INDULGE experience, an Indigo welcome drink made of fresh lemon juice with  butterfly pea flower is served upon guests' arrival at the lounge with TGV's crowd-pleasing  popcorn samplers! 
Linora Low, a radio DJ of AFORadio, emcee and host said "INDULGE is fun to be at because you  get to enjoy being pampered. I honestly felt like I was going to fall asleep the minute I sat on the  comfy, premium recliner seat! As a Dim Sum lover, I had the Gourmet Dim Sum platter and really  enjoyed the red bean pau."
"INDULGE is my preferred choice for movie watching experience mainly because the comforters  are comfortable, and the seats aren't completely reclined. It's at the optimal position where I can  still enjoy watching the movie while digging into my food without any worries." said fitness model,  Kit Mah.  
"The INDULGE platters are really good and the portion size is just nice. I am looking forward to  enjoying more variations of the INDULGE platters in the future!" he added.  
Meanwhile Ceddy, a content creator said "It was a dangerously good experience at INDULGE!  When you recline the seats, it's so comfortable! Moreover, as the hall is cold, the thick comforters  provided are really nice and perfect to snuggle with! I was surprised when the food served were  still fresh, hot and delicious!"  
Mohit Bhargava, TGV Chief Marketing Officer said "We have been delighted with the response  from guests over the last few weeks of our soft opening, regular Indulge customers are delighted  to return and have relished the new Indulge experience. We are looking forward to welcoming  more moviegoers to come experience TGV Indulge over the coming months as more blockbusters  return to the big screen."
During the reopening night of INDULGE, guests are treated to the full INDULGE experience  accompanied with a premiere screening of Sony Pictures' highly anticipated blockbuster movie – Morbius starring Oscar winner, Jared Leto as the enigmatic bloodthirsty antihero Michael Morbius. 
TGV INDULGE is located at TGV 1 Utama, TGV Sunway Velocity and TGV Toppen JB. To book  tickets and get the best seats for your INDULGE experience, visit  https://www.tgv.com.my/experience/indulge 
For more information, visit www.tgv.com.my