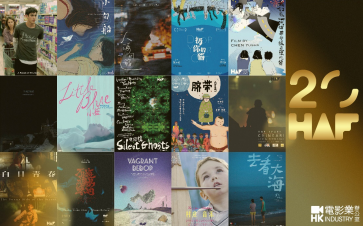 Hong Kong, 8 February 2022 – The Hong Kong – Asia Film Financing Forum today completes the line-up for its 20th anniversary edition (HAF20) with the announcement of 15 projects shortlisted for  the Work-in-Progress  (WIP) section, including nine debut  features and works by Stanley KWAN,  Winnie TSANG, WONG Lina, Matan YAIR, and YANG Heng. 
HAF20, which already announced 28 In-development projects last month, will run online from 14 to 16 March in conjunction with the 26th Hong Kong International Film & TV Market (FILMART). 
There  were  84  WIP  submissions  from  23  countries  and  regions  this  year.    Commenting  on  the  selections, which  have  become  an increasingly  significant  part  of HAF  since  their introduction in  2017,  HKIFF  Industry  Director  Jacob  WONG said  he  was  particularly  pleased to  present  BORROWED TIME and The Sunny Side of the Street. 
"They are  the  first projects to have progressed through the HAF eco-system,  from Film Lab  to In development projects, and now onto WIP," WONG said.  "We set out to provide coordinated support  across  various  stages  of independent  filmmaking,  covering  every  aspect  from  early-stage  project  development, financing to post-production and promotion.  It is very satisfying to witness some of  these projects coming through."
BORROWED TIME and The Sunny Side of the Street both won script consultation service awards at  HAF Film Lab in 2019.  They participated in HAF's In-development projects section the following year and are currently in post-production.   
BORROWED TIME, which Stanley KWAN produces for first-time Chinese director CAI Jie, is about a  daughter who sets out from Guangzhou to Hong Kong to look for her long-missing father, played by  Tai Bo (Suk Suk).  In The Sunny Side of the Street, Anthony WONG (Still Human) plays a taxi driver  who  forms  an  unusual  father-son  relationship  with  a  Hong  Kong-born  Pakistani  child  refugee. 
Winnie  TSANG produces for  Hong  Kong-based  Malaysian  filmmaker  LAU  Kok Rui,  making  his  directorial debut. 
Other WIP  highlights  include Silent  Ghosts by YANG  Heng (Ghost  in  the  Mountains,  Berlinale  Panorama 2017),  in  which  a  tourist  follows a  mysterious  woman  to  a  small  town  where  he  encounters men with different memories of her.  The recipient of an excellent screenplay award and  production funding from Taiwan's Ministry of Culture, LEE Yi-Fang's debut feature Little Blue is an  intimate portrayal of female erotic desire. 
Bad Rabbit Pictures, the Beijing-based production company founded by cinematographer CAO Yu and  actress-producer YAO  Chen,  has  two  projects on the  shortlist.  WONG Lina,  whose  A  First  Farewell won  the  Firebird  Award  winner  of  HKIFF's  first-ever  Chinese-language  Young  Cinema  competition in 2019,  returns with Village‧"Senet", a poetic musical about a  boy from a remote  village in Xinjiang's Taklamakan Desert.  QIAO Sixue's debut feature, The Cord of Life, explores the  notion  of  hometown  through  a  nomadic  electronic  musician  who  brings  his  Alzheimer-stricken  mother back to the Mongolian grassland for her last days. 
While Chinese-language projects dominate the field, this year's WIP line-up still features an Israel Italy co-production.  A Room of Its Own by Matan YAIR (Scaffolding, Best Film at  Jerusalem Film  Festival 2017) is about a 17-year-old teenager searching for his path in the world when his mother  moves into his room after his father has moved out of the house. Also making the shortlist are two  projects from India: documentarian Rajesh S. JALA's first narrative  feature, The Spark, is about a  victim of violence who creates havoc in the ancient city of Banaras.  He is joined by first-time director  Syed Maisam Ali SHAH, whose In Retreat follows a marginalised character who returns home in a  dream-like journey. 
WIP Open Pitch (Hong Kong Time) 
Date: 14 March 2022 
Time: 15:30 – 17:30 
All accredited FILMART and HAF guests are welcome to attend the online WIP Open Pitch through  this  link: www.hktdc.com/hkfilmart. Please  refer  to Appendix for  details  on  all  shortlisted WIP  projects. 
WIP began in 2017 as a dedicated platform for later-stage projects seeking completion funding, post production partners, distributors and sales agents, and film festival support, extending the services  of the main HAF programme, which is for projects in the pre-production or development stages. 
WIP  projects have performed remarkably in  film  festivals internationally.   As recent as Venice in  2021, Arsalan AMIRI's Zalava won the International Film Critics' Week grand prize, with Kavich  NEANG's White Building winning the Orizzonti Best Actor award.  GAO Linyang's To Love Again and  LEI  Lei's animated  Silver  Bird  And  Rainbow  Fish both  competed in  Rotterdam's  Tiger  Competition this year, with To Love Again winning the Special Jury and FIPRESCI awards.  Ananta THITANAT's documentary Scala will premiere at Berlinale Forum. 
Guest Accreditation for HAF 
Guest  registration for HAF20 is  now  open to investors,  festival  programmers  and  other industry  professionals through  https://industry.hkiff.org.hk/guest-registration.  Accredited  guests  will  receive a complimentary code for registration and schedule one-on-one online meetings with HAF  filmmakers to discuss their projects. 
For  more  up-to-date  information  about  HAF,  please  visit  our  official  website  at  https://industry.hkiff.org.hk or our Facebook page at https://www.facebook.com/hkiffindustry/. 
To download information: