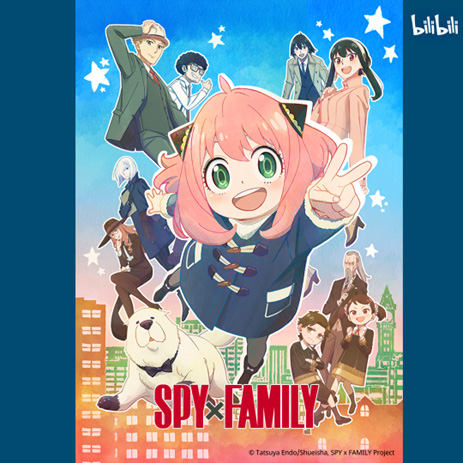 Bilibili's ever-expanding library of Anime also introduces 15 exclusive titles
Malaysia – October 6, 2022 – As the rainy season approaches, there is nothing better than a hot drink, blankets, and Bilibili's Fall 2022 Anime Lineup! Bilibili, the largest video platform for anime, comics and gaming (ACG) content in Southeast Asia, will be releasing more than 30 new anime titles and sequels of some beloved anime series, including well-loved and much-anticipated titles such as Spy X Family Part 2 and the remake of the legendary Urusei Yatsura. 
Furthermore, fans can enjoy a stacked list of 15 titles exclusive to Bilibili such as Reincarnated as a Sword, Shinobi no Ittoki, The Little Lies We All Tell, LOVE FLOPS, The Eminence in Shadow, Uzaki-chan Wants to Hang Out! Season 2, Immoral Guild, and more.
Get Ready to Binge with Bilibili
With a plethora of new shows arriving to the Bilibili platform this month, viewers can indulge themselves in a binge-fest. Viewers can look forward to more misadventures with the Forger family and more of Anya's adorable antics with the highly anticipated Spy X Family Part 2 available for viewing on Bilibili now!
The upcoming 2022 reboot of  Urusei Yatsura, a classic in the anime world that debuted in 1978, is another title to keep an eye out on Bilibili this Fall season. Re-experience Rumiko Takahashi's first major work and relive the tale of Ataru Moroboshi, an unlucky and lecherous human boy who meets a beautiful space alien princess. Join in as Ataru gets roped into an unusual game of tag to defend earth from aliens, and other strange encounters with otherworldly beings!
Only on Bilibili
Arriving into Bilibili's ever-expanding library of anime are 15 new exclusive titles. Don't miss out on Reincarnated as a Sword, a new contender in the Isekai genre adapted from the light novels written by Yuu Tanaka. Reincarnated as a Sword brings a twist to the Isekai genre, where protagonists are often reincarnated as mighty warriors and skilled wizards. In contrast, Reincarnated as a Sword's protagonist gained neither magical powers nor fighting prowess, and was instead reborn as a sword.
Other exclusive releases include but are not limited to:
Shinobi no Ittoki,

which

follows the story of Ittoki Sakuraba, an ordinary boy who discovered that he was the heir of the famous Iga Ninja Clan. He now attends Kokuten Ninja Academy, a high school specialising in Shinobi techniques, and must defend himself from a rival ninja family, the Koga Clan.
Upcoming comedy anime,

The Little Lies We All Tell

, which tells the stories of a group of girls who attend the Nakayoshi Girls' School, who all look like regular students at first glance, but all harbour wacky and zany secrets deep down.
LOVE FLOPS,

which focuses on Asahi Kashiwagi, an average high school student, who discovers that a TV fortune teller's predictions had come true one after another. Asahi finds himself with five confessions from different girls, and he now finds himself in a predicament where he needs to follow his heart and find his perfect love, lest his love fortunes flop horrendously.

Get ready for more hijinks and shenanigans from Hana Uzaki and Shinichi Sakurai in

Uzaki-chan Wants to Hang Out! Season 2.

Enjoy more slice-of-life moments as Uzaki continues to try and coax Sakurai out of his introverted shell with her constant desire to hang out with him.

The Eminence in Shadow,

another entry in the Isekai genre tells the story of Cid Kagenou, whose lifelong dream was to become a mastermind. Unable to fulfil his dreams in his previous life in modern-day Japan, Cid had the fortune of being reborn into a world of magic where he lives his dreams of scheming from the shadows.
Get ready to curl up and get cosy with all these new titles arriving in Bilibili this fall! Keep an eye out for the following dates and clear your calendars for any of your favourite releases.
I'm the Villainess, So I'm Taming the Final Boss – September 24,




9:30 pm

Mobile Suit Gundam: The Witch from Mercury – September 25, 5 pm

Reincarnated as a Sword – September 28, 11:30 pm

Legend of the Galactic Heroes: Die Neue These – Intrigue – September 30, 7 am

My Master Has No Tail – September 30, 10:30 pm

Uzaki-chan Wants to Hang Out! Season 2 – October 1, 10 pm

SPY x FAMILY Part 2 – October 1, 11 pm

BEAST TAMER – October 2, 10 pm

Management of a Novice Alchemist – October 3, 9 pm

Shinobi no Ittoki – October 4, 8 pm

Encouragement of Climb: Next Summit – October 5, 12 am

The Eminence in Shadow – October 5, 10:30 pm

Akiba Maid War – October 6, 11 pm

Bibliophile Princess – October 6, 10:30 pm

Welcome to Demon School! Iruma-kun3 – October 8, 6:25 pm

Blue Lock – October 9, 1 pm

Peter Grill and the Philosopher's Time – Super Extra – October 10, 12:30 am

LOVE FLOPS – October 13, 12:05 am

The Lies We All Tell – October 16, 2 pm
For more information about Bilibili, visit bilibili.tv or download the Bilibili app from the Google Play and App Store!