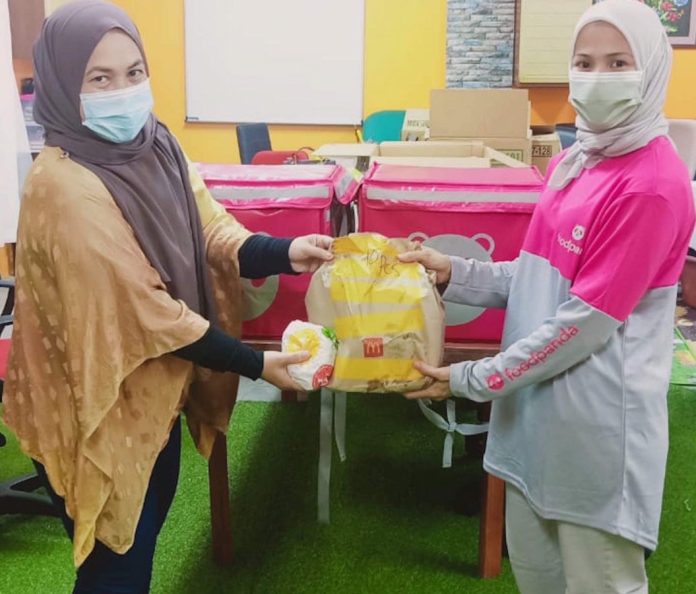 Collaborative Effort by Malaysians for Malaysians
Malaysia, August 25, 2021 – In hopes of instilling positivity and inspiring togetherness, foodpanda Malaysia has collaborated with vendors, NGOs and brands to bring smiles to communities and donate meals as well as care packs to the needy throughout the month of August, in conjunction with the Merdeka celebration.
A firm believer that the spirit of Merdeka lives in the hearts and minds of every Malaysian, foodpanda Malaysia initiated this collaboration for Malaysians to help one another and spread joy through the simplest forms.
Besides delivering more than 10,000 meals and care packs to the less fortunate, foodpanda Malaysia had also put together a Merdeka video to showcase their continuous efforts in encouraging unity among Malaysians to overcome adversity and commemorate the momentous celebration. The video is now live on foodpanda's YouTube channel.
Commenting on this charitable initiative, Sayantan Das, Managing Director of foodpanda Malaysia said that one thing made certain amid the pandemic is the importance of being united in the face of hardships and rendering help to vulnerable communities. The company hopes to collaborate with more parties to play a role in ensuring Malaysians are able to get through tough times and spread the Merdeka spirit of unity, joy and hope.
"In line with this year's National Day celebration theme of Malaysia Prihatin, we would like to showcase the generosity and comradeship among various organisations, local brands and Malaysians to help one another during crucial times. This initiative further solidifies the efforts of the Malaysian people to stand together as one nation and we are very proud to be able to do our part. We have decided to utilise our marketing budget for a greater cause by collaborating with NGOs and brands to provide daily essentials to the less fortunate," added Sayantan.
Some of the participating vendors of this initiative include McDonald's, who are sponsoring 2,000 burgers and fries to the less fortunate, while Tealive will be providing cookies. Domino's joins in the cause by sponsoring personal pizzas. Drinks are being provided by Gong Cha and chicken rice solo meals are being sponsored by Kenny Rogers Roasters. Additionally, other brands participating in this initiative include Red Bull, Quaker Oats, Munchy's, Horlicks, Babas, SKIPPY, Nutriplus, Yeo's and Maggi.
The meals will be distributed through foodpanda riders in partnership with NGOs such as Food Aid Foundation, Lions Club, Kuching Food Aid, Pertubuhan Kebajikan Makmur Negeri Johor, Persatuan Kebajikan Inspirasi Ceria Kulai, Bulan Sabit Merah Malaysia Bandaraya Kota Kinabalu and Persatuan TCM Harapan Baru Ipoh.
The commendable efforts do not just end there. In hopes of helping vulnerable communities, foodpanda for business also allows companies and brands to donate meals to NGOs and associations of their choice. Some of the ongoing initiatives include 8VI Malaysia Sdn Bhd donating 500 meals from Perfect Match Catering to frontliners at Sungai Buloh Hospital and Kinetik Consulting Sdn Bhd donating 36 Prihatin boxes from Tesco Lotus to the white flag initiative at Kelab Muhibbah Balakong. For companies interested in participating, please contact corporates@foodpanda.my
"Thankfully our business was able to sustain throughout the pandemic because of our loyal customers and the community. Hence, we would like to take this opportunity to give back to Malaysians in need. We truly believe that small efforts can go a long way and hope we are able to continue spreading joy in all that we do," shared Sayantan.