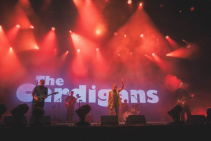 [Hong Kong, March 4, 2023] Clockenflap, Hong Kong's biggest music and arts festival,  delivered another day to remember as the sold-out, three-day event welcomed an eclectic  lineup of top international, regional and local acts to Central Harbourfront. 
Swedish indie-pop icons THE CARDIGANS were pitch-perfect headliners on the Harbourflap  Stage, which also played host to French New House pioneer FKJ, Norwegian folk-pop  legends KINGS OF CONVENIENCE and acclaimed American singer-songwriter SASHA ALEX  SLOAN.  
The FWD Stage once again showcased a diverse mix of musical genres and styles, including a  headline set by Canto-rock giants KOLOR, the soulful sounds of GINGER ROOT, a unique  joint performance by COLLAR x RUBBERBAND, Thai indie-pop duo HYBS and captivating  Taiwanese singer-songwriter LÜCY. 
And there was more great live music on the Park Stage, where the highlights included local  breakout rock act N.Y.P.D., Tokyo-based indie-rockers HITSUJIBUNGAKU and Japanese  dance-pop dynamos CHAI, while the Electriq Stage hosted a poignant and memorable JANETTE  SLACK TRIBUTE. 
In addition to six stages of music, the festival also presented a full programme of arts  attractions that included eye-popping street art by CARATOES and PARENTS PARENTS, an  interactive sound installation from Clockenflap Open Call winner PAUSE.REC.PLAY, a visually  astonishing journey into artists' mental imagery of local cityscapes curated by VIDEOTAGE,  and the ever-popular BIRDMEN, a trio of huge luminous bird-like creatures that wandered  among the crowd. 
Among the highlights set to perform on Sunday are hip-hop legends WU-TANG CLAN, UK  indie-rock innovators BOMBAY BICYCLE CLUB, German electronic supergroup MODERAT and British genre-hoppers BLACK COUNTRY, NEW ROAD. For the full lineup, see  clockenflap.com/schedule.
Here are some of the best photos from Day Two: