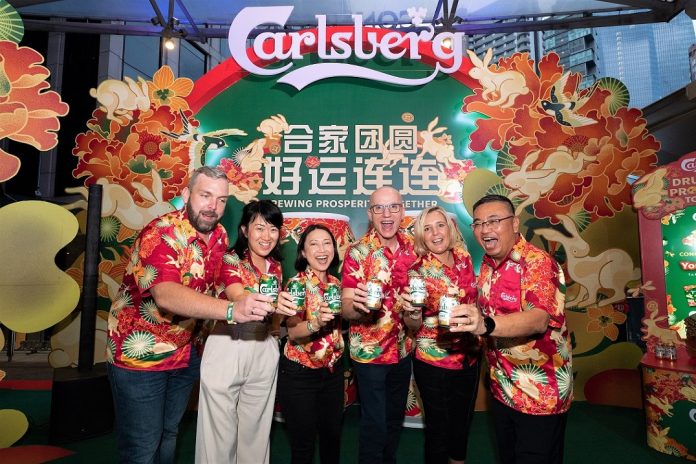 Celebrate reunions and gatherings at Carlsberg's Prosperity Burrow specially curated to  bring the best CNY traditions to life
KUALA LUMPUR, 5 January 2023 – Carlsberg's highly-anticipated annual Chinese New Year (CNY) celebration themed Brewing Prosperity Together or "合家团圆, 好运连连", returns to usher in the Year  of the Rabbit in style with the Carlsberg Prosperity Burrow after the introduction of its artist edition  Carlsberg Danish Pilsner and Carlsberg Smooth Draught cans that bring the greetings of 'prosperity'  and 'smoothness' for the year ahead, nationwide. 
Taking great pride in being a part of gatherings and celebrations throughout the year, be it at home  or elsewhere, Carlsberg believes that nothing makes a cold Carlsberg taste better than when shared  in the spirit of togetherness, creating happy reunions between family and friends. 
Similar to the beautiful artwork created by multi award-winning illustrator, Feifei Ruan, Carlsberg  brings to life the vibrant CNY Prosperity Burrow spring wonderland that highlights the essence and  traditions of the Chinese culture, and delivers all the best elements of CNY in the epicenter of both  Kuala Lumpur and Penang. Running from 3 January to 17 January 2023 at Pavilion Kuala Lumpur's  Level 3 Connection, visitors can look forward to bountiful treats that stretches from one end of the  Connection to the other. 
At the heart of the burrow, the celebration comes alive at the central festive area where visitors can  enjoy the Zodiac Forecast, to find out what lies in store for each of the 12 zodiac signs in 2023, a Paper  Craft station where visitors can snip, fold and create their craftiest CNY artwork, the Prosperity Cam to  capture the perfect all round reunion photo with their loved ones and a Drumming Prosperity Together challenge where visitors can win special prizes. Guests will also be treated to the much loved Lion  Dance performance to usher in prosperity and smoothness in 2023. 
The stretch also features a beautiful garden installation holding a giant auspicious golden rabbit  followed by CarlsBar – a cool Carlsberg pop-up bar, where consumers can try their hand at making  their very own signature Carlsberg cocktails guided by a mixologist. The pathway is also adorned with  artistic arches carrying the same thematic artwork leading consumers to where the main action takes  place.  
"As we all celebrate new beginnings in 2023, 'Brewing Prosperity Together' represents our hopes and  best wishes for all our consumers, partners and friends across the region, so that together, we may  have an auspicious 2023 filled with smoothness, prosperity and happiness. Building on that further, we  hope to celebrate the bonds with family and friends through our Prosperity Burrow, an interactive  space where 'reunions' & 'prosperity' come to life in a fun yet meaningful way and smoothness blooms with the opening of every Carlsberg beer," said Stefano Clini, Managing Director of Carlsberg Malaysia. 
A grand reunion dinner was also held for media and business partners at the Grand Imperial, Pavillion to honour CNY traditions. After touring the grounds of Connection and enjoying the CNY activities,  guests were treated to Lou Sang, a visually enigmatic LED Lion Dance showcase, a traditional CNY www.carlsbergmalaysia.com.my  feast and best of all, a performance by DJ Kenji who donned the persona of the God of Prosperity taking over the decks and spinning the night into action. 
With celebrations being at the heart of every Carlsberg moment, the CNY Prosperity Burrow aims to  inspire an endless flow of smoothness, prosperity and happiness in the year to come as it unites  modern and traditional customs of CNY, delivering unique premium experiences to customers from all  generations. 
For those seeking to have the same experience in the northern part of Malaysia, the Prosperity Burrow  celebration will also be in Penang at the main concourse of Sunway Carnival Mall, happening from 5  January to 29 January 2023. 
Special 'Brewing Prosperity Together' Promotions:  
From now until 28 February 2023, shoppers who purchase any two cartons of Carlsberg Danish Pilsner  or Carlsberg Smooth Draught plus a carton of any premium brands (Somersby Cider Assortment, 1664  Blanc, 1664 Rosé, Connor's Stout Porter or Asahi Super Dry), will be able to redeem an exclusive  Neoflam Fika Stock Pot worth RM275. To get a two-piece Neoflam Smart Seal set worth RM60,  consumers need to only purchase any six sets of 4-can packs or 24 cans of 1664 Blanc/1664 Rosé,  Asahi Super Dry, Carlsberg Special Brew or Connor's Stout Porter. Over in Sabah and Sarawak, the  purchase of any two cartons of Carlsberg Danish Pilsner or Carlsberg Smooth Draught, inclusive of a  carton of premium brands, will reward consumers with a three-piece Neoflam Smart Seal set worth  RM84.  
Exclusive to 99 Speedmart in West Malaysia, shoppers can bag themselves a one-of-a-kind artist  edition mug with the purchase of one carton of either Carlsberg Danish Pilsner or Carlsberg Smooth  Draught, together with a 12-can pack of 1664 Blanc. 
To celebrate 'Drumming Prosperity Together', consumers who spend a minimum of RM288 on selected Carlsberg products in participating super hypermarkets nationwide, will stand a chance to 'Drum and Win' themselves up to RM388 Touch 'n Go eWallet credit. Additionally, contestants can also walk away with a 4-can pack of either 1664 Blanc, 1664 Rosé, Somersby Apple Cider, Somersby Passion Fruit & Orange Cider, Connor's Stout Porter or alcohol-free Somersby Apple 0.0. 
In convenience stores, consumers can ring in some prosperity by winning up to RM388 in Touch 'n Go eWallet when they purchase RM20 worth of Carlsberg Malaysia products. Touch 'n Go eWallet credit of up to RM888 is also up for grabs in bars and pubs with purchase of one tower, two buckets, six full pints, 10 half pints or 10 mugs. 
Over at selected food courts and eateries, special CNY Celebration Nights have been scheduled with lion dance performances, singing performances and 'Drumming Prosperity Together' activities where consumers can 'Drum and Win' Touch 'n Go eWallet credits to ring in the New Year. Consumers who buy any big bottle of Carlsberg brew during these events will also stand a chance at winning unique prizes. As a special bonus throughout the CNY campaign period, those who collect 12 limited-edition big bottle caps of any Carlsberg Danish Pilsner, Carlsberg Smooth Draught or Carlsberg Special Brew will be able to redeem an exclusive glass container and be in the running to win the grand prize of RM2,888 cash Ang Pow. 
For more exciting news and information on Carlsberg's Chinese New Year celebrations, promotions and locations, visit www.carlsbergcny.com.my or follow @CarlsbergMY on Facebook at  www.facebook.com/CarlsbergMY for the latest updates! And remember, as part of advocating  responsible consumption, #CELEBRATERESPONSIBLY – if you drink, don't drive.