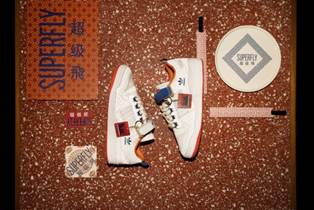 adidas Originals selects Beijing restaurant as partner, with limited-edition Forum Low  SUPERFLY sneaker drop
27 September 2022, Singapore – The House Collective's The Opposite House in Beijing  announces SUPERFLY's selection as one of only 11 restaurants for global sports behemoth  adidas Originals' adilicious campaign. Celebrating SUPERFLY's cult status amongst Beijing's youth  scene, the collaboration sees adidas Originals and SUPERFLY work together to reimagine one  of the brand's iconic sneakers, with a limited-edition run of 880 pairs released on 23 September.
SUPERFLY's unique identity and strong community influence made it the clear choice for adilicious;  the sole hotel restaurant picked. Both destination restaurant and urban social hangout, the eclectic  Chinese bistro, which celebrates and elevates Sichuan's buzzed-about "Fly restaurants" – casual  eateries famously known for their delicious Sichuan cuisine and the go-to hangout place for locals.
Central to the partnership is the limited-edition sneaker drop, which draws on the style concept  of SUPERFLY; creatively combining retro elements with future ideas. As a restaurant known for its bold design, the blue and white squares patterned on the shoe nod to SUPERFLY's tiling,  while splashes of orange-red mimic the terrazzo dining tables.  
Available in Beijing via select retail stores as well as adidas' dedicated app – CONFIRMED.  Through the CONFIRMED app the limited-edition Forum Low SUPERFLY will be available for the  Chinese Mainland market starting Friday, 23 September and ending on Tuesday, 27 September.  For the global market, pre-order opens on Wednesday, 28 September.  
On the launch day of 23 September, visitors to SUPERFLY experienced a full venue takeover,  with adidas installations to discover both inside and out, and a short menu of reimagined basketball snacks in tribute to the original concept of adidas Forum.  
Olivier Dumonceaux, The Opposite House General Manager, comments, "SUPERFLY is a creative  restaurant with a unique imprint of Chinese culture. It retains many nostalgic elements of the 70s  and 80s, while capturing the daily life of today's younger generation. This adilicious collaboration  with adidas Originals is yet another effort to build closer relationships with the city's young,  fashionable, and trendy community, and by combining with new perspectives of athletics and  fashion, we are able to vividly convey the energy of a street culture that's full of local spirit and  attitude." 
Since its opening in 2020, The Opposite House's SUPERFLY has strived to create a locally rooted experience that resonates on the global scene. As the "House of Art", The Opposite House  is a destination for the capital's culture makers. Blending fashion and art in its DNA, The House  features buzzed-about happenings from fashionable high tea that culls inspiration from the  designers' creation, to pop-up stores featuring sought-after luxury brands. In tandem with the  unveiling of the collaboration with adidas Originals, SUPERFLY will house a creative installation  at the restaurant from 24 September to 24 October 2022.
Teresa Muk, Swire Hotels Head of Brand and Strategic Marketing, notes: "This creative  collaboration between SUPERFLY and adidas Originals fully demonstrates The House Collective's
"think differently" motto. This partnership's significance goes beyond providing guests with an  exceptional dining experience, but also reflects the brand's multiculturality, and popularity as a  lively social space. These sneakers also bring to life our artistic expression with its pioneering  design, echoing our artistic pursuit for continuous innovation. We hope to be able to tap into and  showcase the perspective of the younger generation through taste and food culture with this  partnership. With a strong urban atmosphere and bold design, SUPERFLY has always been an  exemplary reflection of the ongoing pursuit of art in The House Collective."
Starting today, the limited-edition SUPERFLY x adidas sneaker will retail at RMB 899  (approximately USD $128), and be available exclusively at select adidas stores in Beijing, as well  as through the adidas CONFIRMED APP.