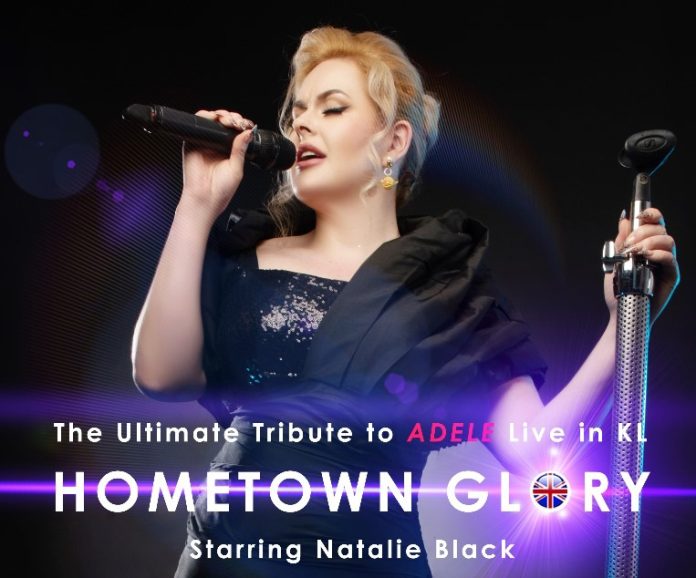 KUALA LUMPUR, 21st September, 2023 – Prepare to be transported into the mesmerizing world of Adele's timeless hits as acclaimed British singer Natalie Black graces the stage for a series of unforgettable performances. With a reputation for her exceptional talent and unparalleled stage presence, Natalie Black brings the renowned "Adele Tribute Hometown Glory" show to Kuala Lumpur.
Recipient of multiple national awards, including the prestigious "Best Tribute Act to Adele"
title at the National Tribute Music Awards, Natalie Black's HOMETOWN GLORY show has
captivated audiences worldwide. Critics have hailed it as "The best tribute to Adele by a
country mile," making it no surprise that this multi-award-winning show has garnered a
dedicated following.
Natalie Black's international journey has seen her grace stages across the globe, from
Bahrain to Netherlands, Latvia to Greece, and beyond. Her ongoing theatre tour throughout
the UK has solidified her reputation as a remarkable performer. Now, Natalie is poised to
make her mark in Malaysia with a trio of captivating performances.
Taking place at The Platform, KEN TTDI on the 18th & 19th October, 2023, this show will
transport the audience into Adele's world, featuring an array of chart-topping hits from
albums 19, 21, and 25. Prepare to be moved by classics like 'SkyFall,' 'Hello,' 'A Million
Years Ago,' 'When We Were Young,' 'Rolling in The Deep,' 'Make You Feel My Love,' and
'Someone Like You.'
This spectacular event is made possible with the generous support of our sponsors. We're
thrilled to have Malaysia Airlines on board, flying Natalie Black and the entire cast to this
grand occasion. Additionally, we extend our heartfelt gratitude to Alliance bank, The Eastin Hotel, Melbourne Capital Group, SIDS, Yamaha Music and The Malaysia British Society, for their invaluable support.
Event Details:
Date: 18th & 19th October, 2023
Venue: The Platform KEN TTDI, Kuala Lumpur.
Time: 8:00 PM
Ticket Information:
Tickets prices: from RM160 to RM370
TICKETS: https://premier.ticketcharge.com.my/shows/show.aspx?sh=HOMETOWN23
Join us for a night of musical enchantment, as Natalie Black pays homage to Adele's iconic
songs in a performance that promises to be a true masterpiece.