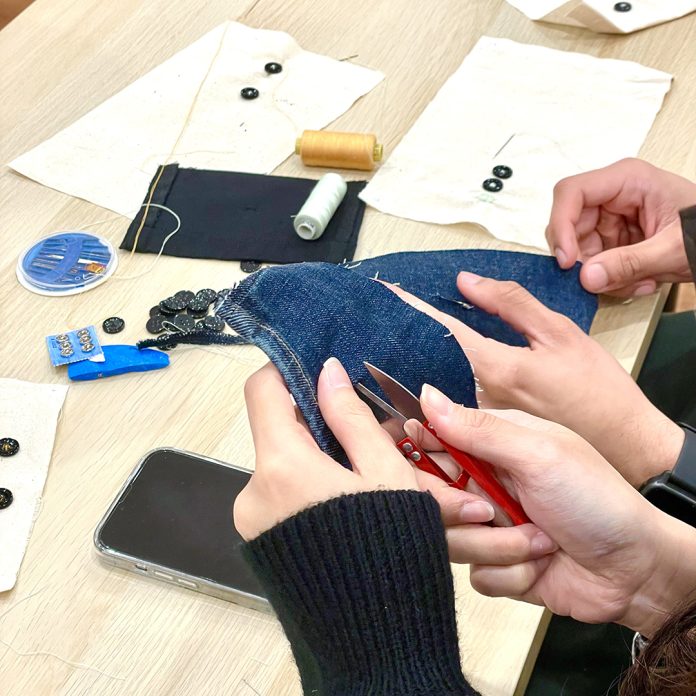 In-Store Facility Offers Repair, Reuse, and Recycling Services to Reduce Clothing Waste
November 14, 2022; Kuala Lumpur, Malaysia – Global apparel retailer UNIQLO added momentum to sustainability efforts in Malaysia today with the launch of its new RE.UNIQLO Studio at DA Square, the first roadside store in Malaysia. The new RE.UNIQLO Studio is the first of its kind in the country, and is part of the RE.UNIQLO program, which contributes towards a circular economy through upcycling and the 3Rs: Repair, Reuse and Recycle.
"UNIQLO's LifeWear philosophy has always emphasised quality and durability in our clothing. Moreover, we believe our responsibility is not only to produce and sell apparel that our customers can wear frequently and for a long time, but to also ensure clothing and materials last much longer. Our RE.UNIQLO Studio at DA Square creates a great opportunity for us to partner with customers directly to sustain their personal LifeWear items, and foster more sustainable ideas about clothing in the community," said Evelyn Tan, Sustainability Director of UNIQLO in Malaysia.
The RE.UNIQLO Studio will help customers extend the life of clothing by offering simple and practical on-site repairs for LifeWear items, giving pre-loved clothing a second lease of life. It is an important initiative in Malaysia, because it benefits the local environment and communities, keeping valuable resources from going to waste. Clothes repair services on offer include replacing missing buttons, mending spilt seams, as well as patching torn pockets and loose hems, all at a nominal fee.
To celebrate the studio launch, and to promote the 3Rs, UNIQLO is hosting a special workshop on launch day for customers to learn embroidery skills and take part in upcycling unwanted fabric into coasters. In partnership with Asfarena Group, a local social enterprise that empowers underprivileged women, the workshop equipped customers with sewing techniques such as mending broken seams, sewing on loose buttons, and fixing patches on pre-loved apparel.
The RE.UNIQLO Studio will soon be made available at other stores in Malaysia in the coming months and a calendar of events focusing on upcycling and repair activities will also be announced.
For more information about UNIQLO and its sustainability initiatives, please visit www.uniqlo.com/my.