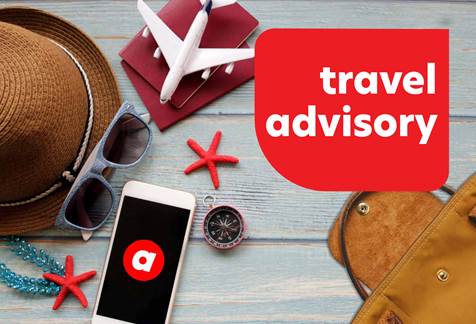 SEPANG, 12 April 2023 – AirAsia would like to encourage all guests travelling during the Hari Raya Aidilfitri period to follow the below travel advisory for a seamless travel experience. Heavy traffic is expected at the airports during this period, as such there may be congestion at the counters, as well as during the immigration and security clearance process.
Perform self check-in via the airasia Super App which is available as early as 14 days to one hour before the scheduled departure time. Guests can already self check-in now, and obtain their electronic Boarding Passes for their Hari Raya flights departing from 19 April 2023.
Please note:
Download the airasia Super App from the Apple App Store, Google Play Store or Huawei AppGallery to receive latest travel information including the latest flight updates under the 'flight status' tab in the App.

Counter check-in service will only be available for guests with reduced mobility, those travelling with an infant (under 24 months of age), pregnant guests, senior citizens and young guests travelling alone.

Pregnant guests are required to fill out a form at the counter before boarding. Guests who are more than 27 weeks pregnant are required to submit an approved doctor's medical certificate.

Guests with reduced mobility may pre-book Special Assistance (Wheelchair Service) at the time of booking or via My Bookings on the airasia Super App at least four hours before the scheduled flight departure time.

Pre-book inflight meals up to 24 hours before scheduled departure time for greater savings and to be assured it is available alongside priority meal service on board. Enjoy a special festive menu by airasia's Santan, consisting of deliciously-marinated chicken satay with Santan's special peanut sauce, available from now till 30 June 2023.

For international travel, guests must meet the requirements for every country they will travel to and transit through including visa requirements. These requirements may change from time to time and guests are advised to check the latest requirements with the respective embassies or consulates.
Arrive early at the airport (at least two hours earlier for domestic flights and three hours prior for international flights) to allow enough time for all the necessary travel processes during this peak travel period. The check counter will close one hour prior to the flight's scheduled departure time at Kuala Lumpur International Airport (KLIA) (Terminal 2) and 45 minutes prior to departure at other Malaysian airports for domestic flights.
Use contactless kiosks at the airport to print baggage tags and perform self-bag drop. Once guests have self checked-in, simply scan the QR code on the e-Boarding Pass at the airport kiosk to print the baggage tags and proceed to the self baggage drop counters to load the bags. Guests also add on or increase baggage allowance up to four hours before departure via airasia Super App.

Ensure cabin baggage is the right size. Each guest is only allowed one piece of cabin baggage (not larger than 56 x 36 x 23cm in dimension) and/or one laptop bag OR handbag OR small bag on board. The total permitted weight for two pieces of unchecked baggage must not exceed 7kg.
Use the e-Boarding Pass on airasia Super App to board the flight without the hassle of printing a boarding pass. e-Boarding Passes are accepted in several airports around the world, including all airports in Malaysia that AirAsia operates in.

Enrol for FACES via the airasia Super App to travel seamlessly from KLIA (Terminal 2) without having to present a boarding pass after self check-in and proof of identification.
AirAsia has also enhanced solutions for guests who are affected by a flight change or rescheduling:
Move flight for FREE easily at any time by clicking on the deeplink in the email. Alternatively, log in to airasia Super App or the website, click the 'My Bookings' tab, select the affected flight and click Modify. The flight change is free of charge for one time move within one month from the original departure date. Or, opt to change the flight via AirAsia's new and improved chatbot Ask Bo. For the latest flight status, visit airasia.com/flightstatus.
Selamat Hari Raya Aidilfitri from AirAsia!