Oscar Wilde once said, "the whole of Japan is a pure invention." If you're a fan of beautiful Japan, but are still saving some money for the actual trip – head over to Tokyo Town at Pavilion Bukit Jalil for the next best thing.  The new precinct welcomes shoppers to celebrate all things Japanese, from food, retail, arts, and culture. Here's all you can expect from the newly launched precinct.
An artistic layout
Stepping into Tokyo Town will transport you to the land of the rising sun, and shoppers will be greeted by two larger-than-life sumo sculptures at the entrance of Tokyo Town.
Embodying the sense of Tokyo with its intricate design and layout is a grand floating temple roof inspired and designed with kirizuma-zukuri or gable roof style, a fundamental architectural style in ancient Japan. It is enhanced by giant Japanese umbrellas or Wagasa designed by renowned Japanese artist Kotaro Nishibori, a fifth-generation successor of Hiyoshiya, a maker of Kyo-wagasa (Kyoto-style traditional umbrella).
The beautiful sakura trees are a great spot to take your OOTD shots for Instagram, and you will have the opportunity to hang up your Tanabata wishes by tying them with the ribbons on the branches of the trees.
May good fortune come to us all!
Be-you-tiful, for you
Those looking to indulge in some much-needed self-care can stop by AIME. Stocked with a breathtaking variety of lip treatments, lipsticks, lip palettes, body oils and moisturising balms – there's no way you won't fall in love with this store in Tokyo Town. AIME, from its name, focuses on loving oneself while offering a wide range of beauty products made with natural ingredients, sans the the harsh chemicals.
The beautiful packaging for their lipstick actually shimmers and are embedded with real dried flowers, available in multiple shades and patterns. You can choose the lipstick or lip treatment of your liking and select your preferred packaging! It makes a lovely luxe gift for yourself and your loved ones.
For the fashionistas
Flaunt your look.
One of the most challenging aspects of putting together an outfit is accessorising. Do you want gold, silver, rose gold, or gunmetal? That's where statement earrings can come into play. These bold jewellery pieces can do all the talking necessary to make your look come together best. If you are looking for fun, unique and funky earrings to elevate your style, look no further than Cherry Art Studio and Wabi-Sabi! From dainty origami pairs to cute snacks and miniature local delicacies, there's something for everyone.
The one and only.
If you ask any lady, a statement handbag is key to any ensemble. Embellish, glue, iron-on or sew, the handmade bag specialists at Yuniku have what it takes to make a bag from scratch and personalise it for you. Pick your preferred size, design, and fabric and Yuniku will work their magic, and you'll have the custom-made bag ready to strut down your own runway!
Such a cu-tee.
Comfort still reigns supreme in our day-to-day, and now, it's all about mixing soft-fabric staples with slightly more structured pieces to nail that chic-yet-casual look. The key ingredient – A graphic tee that does all the talking. You can wear yours lounging around the house in sloth mode, jaunting around town for a day of errands, or even to work with an oversized blazer. Drop by Pixtee and check out their adorable and funny graphic tees! 
For the artsy and crafty 
The art of folding.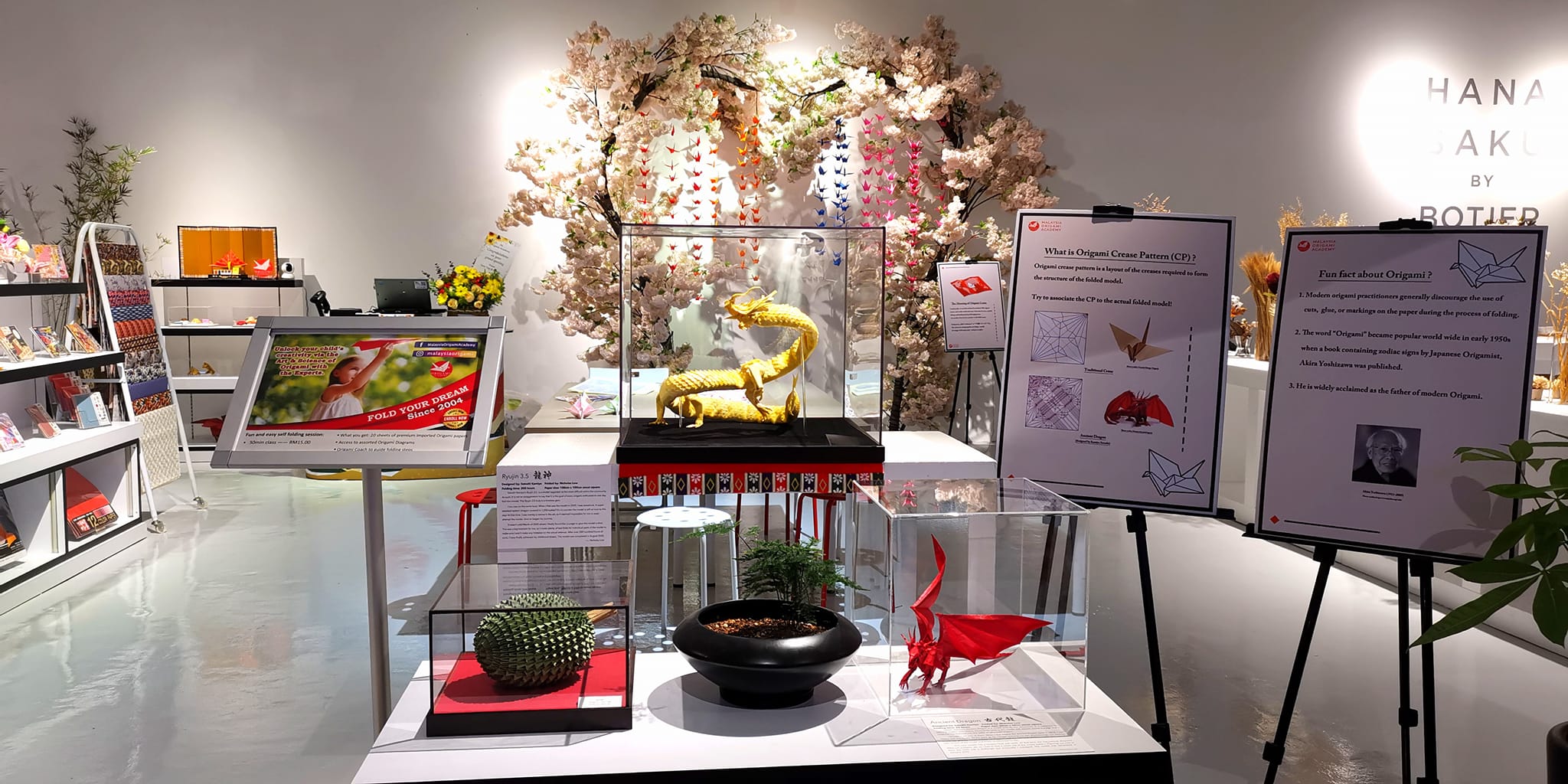 Turning a piece of paper into a remarkable creation is genuinely fascinating. Kids can try their hand at the origami workshop at Malaysia Origami Academy. It is an excellent activity to develop your child's creativity skills.
Explore an intricate assortment of origami paper at Origami Academy, including beautiful designs, various paper thicknesses, and even glow-in-the-dark options. It's time to take up the art of origami as a hobby. On top of that, they have a special Origami Christmas tree for shoppers to check out — don't miss your chance!
Get artsy.
With wide selections from the Kokuyo Design Award showcase, charming MT tapes, aesthetically-pleasing Ilaika pottery collections and many more, Jippuri is a must-go spot for everyone at Tokyo Town. While there's an assortment of art supplies for you to marvel at, the selection of Decopatch is definitely worth trying. There is an array of paper mache animals, including bears, cats, foxes, rabbits and more, waiting to be transformed with bright, bold patterns and papers. It is a fun and creative way to express yourself.
One for the gram!
Art lovers can immerse themselves in Japan's rich arts and culture until December 31. Nippon Designers School currently has a Japan Moment by Japanese Creators exhibition featuring 28 famous illustrators, manga artists and photographers commemorating the 40th anniversary of the Look East Policy. On top of that, make a beeline to the Instant Ramen Wall for a cutesy photo and catch the bespoke and beautifully curated floral arrangements at Hana Saku by Botier for more Instagrammable shots!  
For the foodie
So matcha love.
With its sophisticated earthy, bright taste, stunning vibrant green colour and a host of health benefits (it's loaded with antioxidants and vitamins), It's no surprise that matcha flavoured desserts are a trend we can't get enough of! If you have matcha things on your to-do list and need a quick caffeine pick-me-up, make your way to Matcha Cafe to have a tea-riffic Matcha Latte or Houjicha Latte to boost your day. 
What's the scoop?
Who could ever say no to ice cream? Especially when they look this incredible. From mangoes to coconuts and durians, Musang Wang Ice Cream uses the tropical lusciousness of Malaysian fruits for an irresistible treat, transforming into ice cream in incredible 3D art styles.
This ice cream promises visual beauty and naturally flavourful satisfaction and sure to brighten your day.
Quick noms.
If you are a fan of Japanese food and would love to try their street food, Yatai Mura is a one-stop shop for authentic Japanese street food right in the heart of Tokyo Town. Its highlights include delicious best-sellers from teriyaki, shioyaki, okonomiyaki to yakitori skewers and more. Seats are provided for you to rest after walking around Tokyo Town!
A taste of Japan.
Looking for freshness and variety? Fuji Sushi is known for mouth-watering sushi and thick sashimi slices. You'll find your catch of the day here! If you want something warm and comforting, it is teppanyaki time! Tokyo Teppan creates a truly authentic Tokyo-style teppanyaki experience with a wide selection of premium seafood and meats to choose from – allowing you to create the perfect meal.
After dark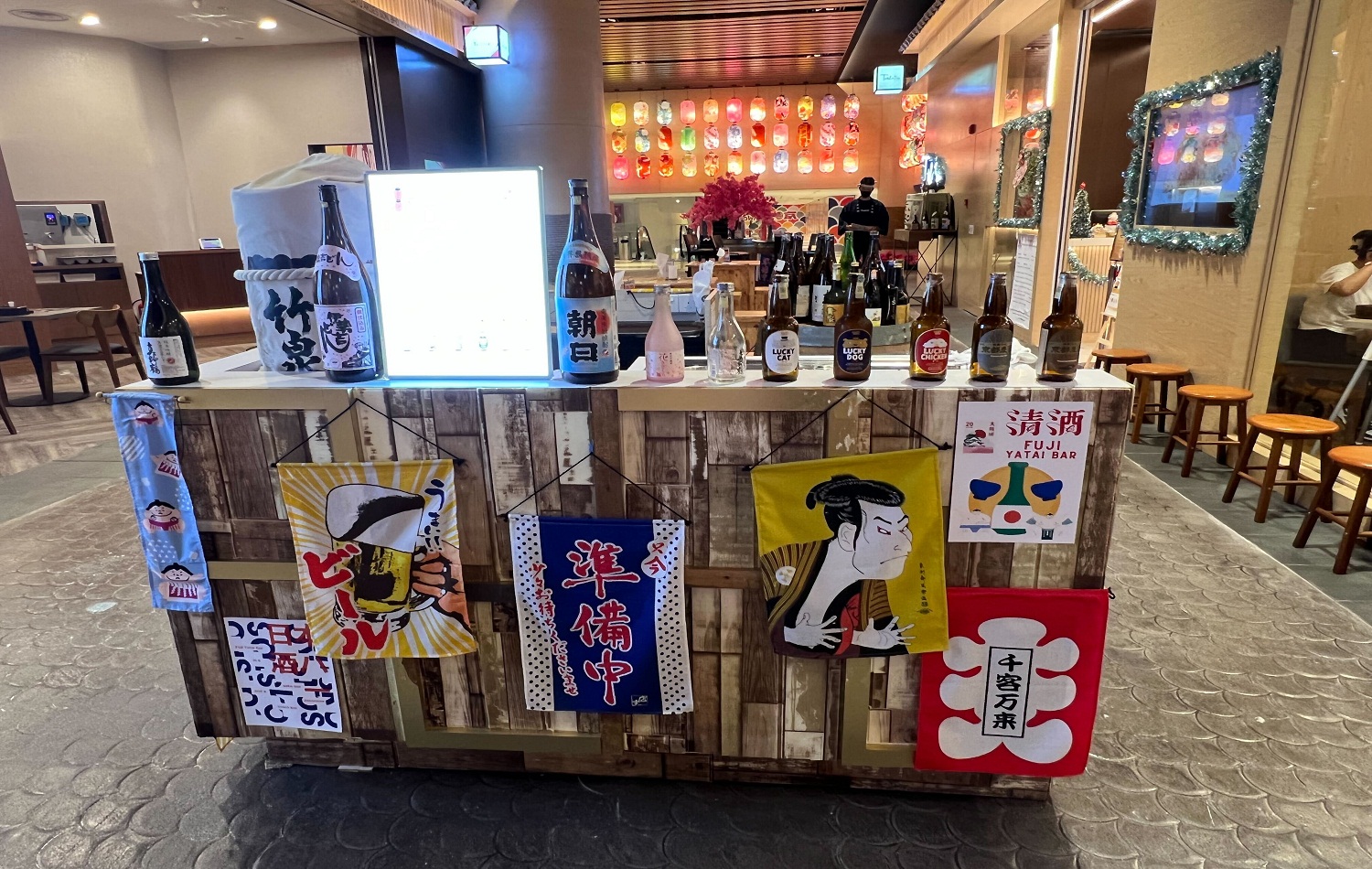 If you fancy some alcohol after a meal, head to Fuji Ya Tai Bar, which serves Sochu. Shochu is one of Japan's most delicious (and least known) alcoholic beverages and is sometimes referred to as Japanese vodka. Sit back, relax and enjoy the rest of the day with a glass (or two!). The bartender will guide you through the menu and help you choose the best drink.