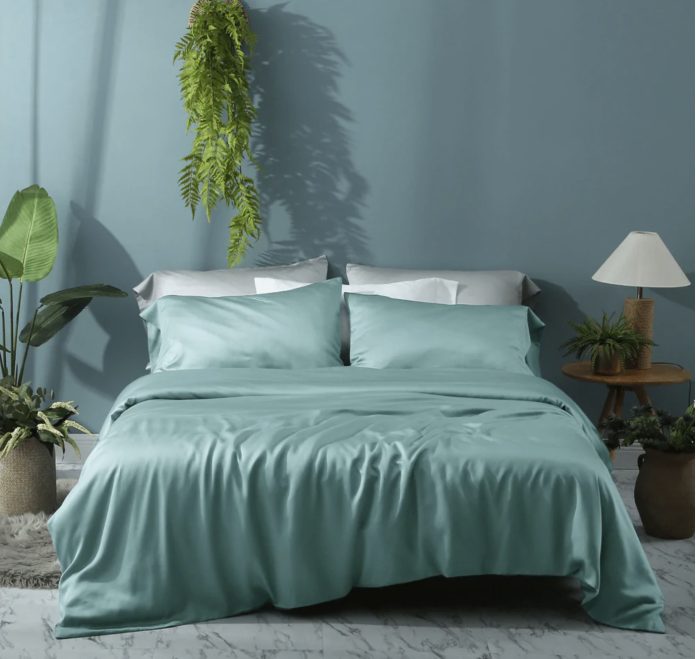 This article is attributed to Lee Jia Wei, founder of GAIAS Home
When it comes to important spaces in the house, you may be inclined to think of your work desk, living hall, or simply where you spend the better part of your day. In truth, the most crucial space in a home is where you spend your nights: the bedroom!
As we lead increasingly busy lives in the digital age, the need for quality sleep is becoming increasingly obvious. Being well-rested has been proven to boost the immune system, improve mental health, and even encourage weight loss — all of which help keep us more focused, productive, and physically fit during the day.
While there are many factors that could potentially affect one's sleep — from stress to brightness levels to temperature and humidity — the bed itself plays a vital role in ensuring you wake up well and fully rested. Bed size and mattress density may make a good bed, but bedsheets are what take a bed from good to great, and here's how to choose the right one for you.
Bedsheet thread counts: myth or matter?
When it comes to the perfect bedsheet, the big myth often being sold is that of the thread count. Bedsheet thread counts have commonly advertised anywhere in the range of 200 to 800, even exceeding 1,000 on rare occasions. It is often said that the higher the thread count, the better the sheets, but is this necessarily true?
In essence,  'thread count' refers to the number of horizontal and vertical threads woven together per square inch. This means that astronomical thread counts will actually translate into very heavy and stuffy sheets; certainly far from ideal for Malaysian weather. Unscrupulous bedsheet makers have also taken to forcibly weaving in an excessive thread in order to falsely inflate the thread count. This does not at all achieve their goal of making these wares more luxurious; rather, it detracts from the quality of the fabric and makes these sheets more likely to age poorly.
In fact, the sweet spot for thread counts is 300 to 500, regardless of material. The perfect balance between structural integrity and soft comfort, it's a marker of really good sheets — the kind that feels well-worn and cosy even after years of washing. Years of perfecting the science behind sheets at GAIAS have led me to settle for a thread count of 300 on our signature sheets too!
Material maketh magic
While thread counts can play a part in helping you choose the right bedsheet, by no means does it make or break your decision. An equally, if not more, the important factor is what will spend hours in contact with your skin: the material of your bedsheets.
Sheets in Malaysia are most commonly made of cotton or linen, both of which are affordable, crisp, and breathable enough to keep sleepers comfortable in our warm climate. What sets them apart lies in the nitty-gritty details. Linen, made from flax stems, is softer and airier. Meanwhile, quality cotton is typically divided into two different types: percale, a cool and lightweight material; and sateen, a silky fabric heavier than percale but with a smooth sheen that resembles satin. There are also speciality long-staple cotton sheets in the market, such as Egyptian, Pima, or Supima cotton.
While cotton and linen have been big players in the bedsheet industry for years, Tencel is the new eco-friendly alternative that has steadily been gaining popularity among bedscaping experts and bedsheet manufacturers alike. A type of lyocell or rayon, Tencel is ultra-soft and light to the touch, even more so than cotton, and is great at moisture wicking — which means it can move sweat away from your skin for cooler sleep. Tencel's signature is in its sustainable creation, where it is sourced from the wood pulp of renewable eucalyptus trees through a closed-loop, low-waste process.
You might ask: "But there are so many! Which one should I choose?" 
With the extensive range of materials available in the market, Malaysians are certainly spoilt for choice. Taking our hot and humid climate into consideration, Tencel edges out its competition as the material of choice. It has all the softness and airiness one would expect from bedsheets, but also siphons away moisture and prevents matter build-up on your sheets over time — making it the perfect material for those with sensitive skin, or those like me, who are simply looking for sheets that will keep me cool and comfortable at night!
There's really nothing quite like a well-chosen bedsheet: it can very well transform your bed setup to that of a luxury hotel. After all, beds are the place we associate with rest and refuge after a long day, so why not give it a little flair for a lot of comfort in return?