MALAYSIA, 1 JUNE 2022 A brand new international production of the world's most beloved musical – THE SOUND OF MUSIC is coming to  Malaysia for the first time this December and a casting search is now on in Malaysia for 18 children, ages six to 14, to be part of the musical as  members of the famous von Trapp children. The legendary musical, produced by Broadway International Group, Simone Genatt, and Marc  Routh and presented by Base Entertainment Asia, will take stage at the Palace of Culture in Kuala Lumpur, also known as The Istana Budaya.  
This highly acclaimed original production of THE SOUND OF MUSIC is directed by three-time Tony Award-winner and Broadway veteran Jack  O'Brien, and comes directly from the NETWorks Presentations National Tour, which has entertained audiences for more than three years across  North America. The production is choreographed by Danny Mefford and has Music Supervision by Andy Einhorn. 
THE SOUND OF MUSIC is one of the most successful Broadway musicals of all time – it won five Tony Awards, including Best Musical, as well as  the Grammy Award for Best Show Album. It has since entertained generations of audiences within live productions across the world and inspired  the beloved film starring Julie Andrews, which won five Oscar Awards, including Best Picture. The film is ranked as one of the highest grossing  movies of all time. An Emmy-winning television special starring Carrie Underwood was watched by 44 million people. 
Datuk Jared Lim, Chairman of Base Entertainment Asia said, "It is huge for Malaysia to be having its first international musical after a 2.5 years  hiatus because of the pandemic. With the overwhelming response we received for The Phantom of the Opera – Kuala Lumpur 2019, we have put  Malaysia on the map for international touring musicals. Now with the brand-new Broadway production of The Sound of Music not only premiering  in Kuala Lumpur, but also auditioning for local children to star in it, we are taking arts and live entertainment in Malaysia to another level by bridging  local and Broadway talent on an international platform." 
Chantal Prudhomme, Chief Executive Officer of Base Entertainment Asia said, "It has been a long wait during this pandemic and we are very  happy to be able to finally bring another renowned international musical to Malaysia after the highly-successful The Phantom of the Opera in 2019.  These are exciting times for the live entertainment and arts scene in Malaysia because with THE SOUND OF MUSIC premiering in Kuala Lumpur,  we are further setting a precedence to present more international productions in the country. Also with the auditions, to be able to give local talent  the chance to star in an international production from Broadway with professional actors is not only a dream come true, the possibilities of where  this opportunity will take them are endless." 
"We have been eager to bring this beautiful production to Asia for years and are certain that Kuala Lumpur is an ideal city for this highly anticipated  global tour," Simone Genatt and Marc Routh, Executive Producers of Broadway International Group said in a joint statement. Genatt and Routh  have worked on various international productions of THE SOUND OF MUSIC for over 25 years, including producing the 1997 Broadway Revival  and five global tours as part of Broadway Asia, a production, management, and licensing company in the Asia Pacific region.
Together, the Producers and Presenter of THE SOUND OF MUSIC are looking for 18 outstanding girls and boys from  Malaysia to play the roles of the six younger von Trapp children, Friedrich, Louisa, Kurt, Brigitta, Marta and Gretl, in three  separate casts. Children auditioning will be assessed by THE SOUND OF MUSIC touring creatives in Malaysia. 
Children who wish to audition must fit the below criteria to perform in the musical. The children are expected to sing in  English and have a good level of skill in acting, singing (including harmonies) and dancing. Auditions for THE SOUND  OF MUSIC will be held at Dominus Arts Venue at Wangsa Maju – Grand Hall on 28 and 29 June for these roles. Those  aged between six to 14 are invited to register via an online form at https://thesoundofmusic.asia/ where further details  can be found. Candidates must be physically present for the auditions on 28 and 29 June at Dominus Arts Venue at  Wangsa Maju – Grand Hall and must be available for all rehearsals and performances as listed on the registration site.  All ethnicities and nationalities are very welcome.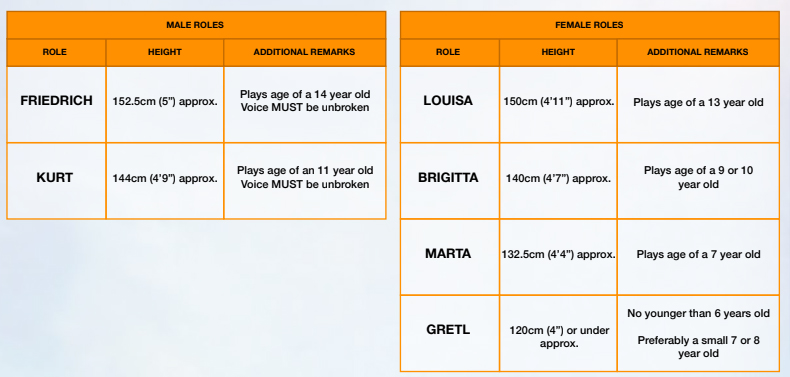 In addition to this year's Malaysia season, this original production of THE SOUND OF MUSIC will be making a stop in Singapore  in November before heading to in Kuala Lumpur and is currently searching for another 18 children to be part of the Singapore  engagement.
THE SOUND OF MUSIC tells the uplifting true story of Maria, the fun-loving governess who changes the lives of the widowed  Captain von Trapp and his seven children by re-introducing them to music and culminating the family's escape across the  Austrian mountains as tensions rise prior to the outbreak of World War II. 
The musical features some of the most unforgettable songs ever heard on stage and screen, including My Favorite Things,  Edelweiss, Do-Re-Mi, Sixteen Going on Seventeen, The Lonely Goatherd, Climb Ev'ry Mountain and the title song The Sound  of Music. Even today, THE SOUND OF MUSIC is considered the world's most popular musical – an iconic show that touches  the hearts of all ages. 
In addition to O'Brien, Mefford, and Einhorn, THE SOUND OF MUSIC International Tour will feature an all-Broadway  creative, design, and production team. Matt Lenz, Original Tour Restaging; Douglas Schmidt, set design; Jane Greenwood,  costume design; Natasha Katz, lighting design; and Shannon Slaton, sound design. Additional team members to be  announced. Eric Cornell serves as General Manager and Simone Genatt and Marc Routh are Executive Producers for  Broadway International Group. THE SOUND OF MUSIC is presented in special arrangement with Concord Theatricals and 
NETWorks Presentations, with music by Richard Rodgers, lyrics by Oscar Hammerstein II, book by Howard Lindsay and Russel Crouse, and is suggested by The Trapp Family Singers by Maria Augusta Trapp.