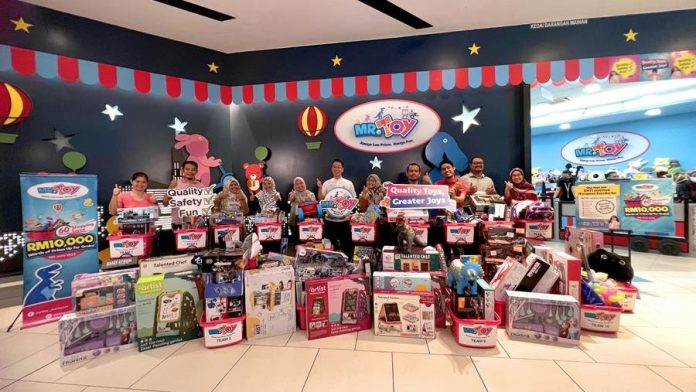 KUALA LUMPUR, 27 JUNE 2023 – Ten lucky shoppers got the shopping spree of their lives when they were selected to participate in MR. TOY's 60-second shopping spree, collectively worth RM10,000.  The ten were selected from thousands who participated in MR. TOY's recent 60-second Shopping Spree contest. 
To enter, all MR. TOY customers had to do was to spend RM50 in a single receipt.  The ten who took part in the 60-second Shopping Spree consisted of Dahlia Mohamad Ramli, Siti Aisyah Muhamad Raslee, Nur Alyaa Aqilah Azlan, Wan Hafizin Jamil Wan Hamzah, Haikal Ambri Rosle, and Wan Noor Hazlinda Abdul Halim from Selangor, Hafizudin Abd Halim and Nurkamilah Hamzah from Negeri Sembilan, and Cheok Lay Sze and Teh Nurulaina Mohd Noor from Kuala Lumpur. 
Held at the MR. TOY store at Melawati Mall, the shopping free was fast and frenzied, with the ten dashing around with their shopping trolleys trying to maximise the value of their individual purchases.
On hand to witness the event and congratulate the winners was Alex Goh, MR D.I.Y. Group's Head of Marketing.
Since the opening of its first store in 2019, MR. TOY has grown to become the country's favourite toy retail network, with 54 stores nationwide and a diverse range of toys across nine categories.  More than 7,000 of its toys are certified by the European Union Toy Safety Standards (EN71), which put toys under stringent tests to ensure their quality and safety.
The retailer recently launched the "Quality Toys, Greater Joys" initiative aimed at helping more Malaysian children access good quality, affordable, enjoyable, and educational toys. As part of the initiative, the retailer also launched a video series featuring six-year-old Sofia as its 'Chief Entertainment Officer' [CEO] and five-year-old Aiden as the 'Little Big Boss'. The series showcases how the children can enjoy MR. TOY's range of high-quality toys in a fun and safe way. Watch the series on MR. TOY Malaysia's YouTube channel.
Get the latest updates on MR. TOY through its website at https://www.mrtoy.com.my/ or follow its social media platforms on Facebook and Instagram. Customers can purchase MR. TOY products online at www.mrdiy.com.my.