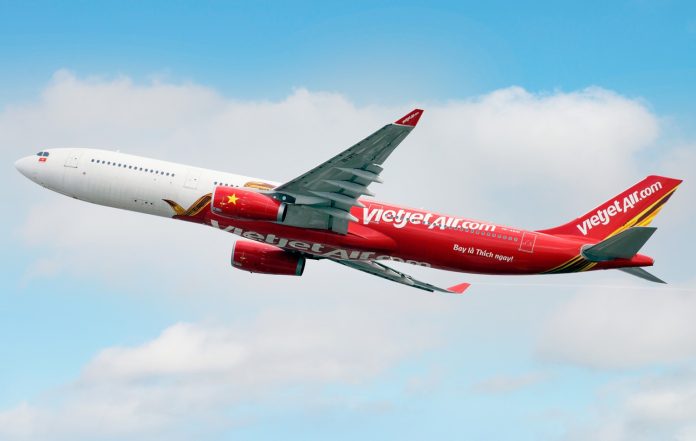 Kuala Lumpur, 21 November 2022 – Fly like a boss on Vietjet and get treated to a luxurious in-flight experience unlike any other with Vietjet's SkyBoss Business class ticket. This latest lavish service by Vietjet is set to offer passengers first class experience from the ground right up to the skies.
Experience a one-of-its-kind in-flight experience onboard the A330 aircraft by relaxing in a private cabin on soft leather seats while being treated to premium services. Savour complimentary fresh and hot in-flight premium meals that represent the quintessence of the Vietnamese cuisine such as beef noodle soup, Vietnamese bread and much more. Also available are unique dishes from around the world paired with a wide variety of drinks including wine, fresh coconut water, herbal teas and snacks such as macadamia nuts, raisins, dried jackfruit and much more.
Before boarding, SkyBoss Business passengers will also enjoy priority check-in privileges, be allowed 18kg of weight for their carry-on luggage and another small bag not exceeding 2kg. For check-in luggage, passengers can enjoy up to 60kg of allowable weight along with one set of golf equipment to be checked in. A private car transfer will also be on site to transport passengers right up to their boarding gate. While waiting for the flight, passengers can also enjoy the business lounge, travel insurance and are entitled to change their flight routes, date and time for free.
The SkyBoss Business Class ticket is available for flights on Vietjet's modern A330 wide-body fleet, offering passengers more choices to suit their lifestyle and taste. It is also set to meet the travel needs of business passengers and customers who prefer the luxurious lifestyle. 
From now till 20 December 2022, passengers will be able to enjoy Vietjet's highest level of service with SkyBoss Business which is going from only RM549 (USD120) (*). This is valid for travels from 21 November until 21 December 2022 on all routes connecting Hanoi and Ho Chi Minh City, with more than 20 flights per day to choose from. Get them now at www.vietjetair.com, via Vietjet's Air mobile app or at official ticket agents worldwide.