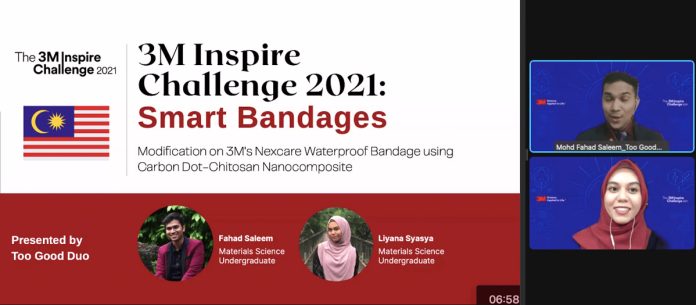 They beat 121 teams for the top spot with their solution in modifying Nexcare™ Waterproof Bandages utilizing green nano composite to enhance and monitor wound healing
Malaysia, September 23, 2021 – After a four-month battle for the highest honor in The 3M Inspire Challenge, two students from The National University of Malaysia (UKM) were crowned Regional Champions today, triumphing over five other Country Champions from Singapore, Indonesia, Thailand, the Philippines, and Vietnam.
Following months of conceptualization and refinement under the mentorship from 3M volunteers, the team defeated a total of 121 undergraduate teams across the region.
For their ingenious solution under the sustainability theme, the team, which included Mohd Fahad Saleem and Nur Liyana Syasya Mohd Zamuri clinched a total of USD$3,000 in cash prizes and internships at local 3M offices. When asked about the inspiration behind their innovation, winning team member Mohd Fahad Saleem said: "Adhesive bandages are common items that can be found in many households as there has been an increased awareness in wound management over the decades. We came up with the idea of Smart Bandages to equip users with a product that can better monitor different stages of the wound healing process and provide an optimum condition for the skin and tissues to heal so that they can continue on with their day-to-day lives without worrying about their wounds"
Said Mr Kevin McGuigan, Vice President and Managing Director, 3M South East Asia Region and Country Leader in Singapore: "It was deeply inspiring and rewarding seeing the teams' growth throughout the entire four-month challenge. Innovation is a continuous process of refining ideas again and again, but never once did their passion or enthusiasm wane."
He continued: "While The 3M Inspire Challenge has come to an end, I hope it has sparked curiosity and the spirit of innovation in not only the participants but the audiences tuning in!"
Challenge culminated in exciting Regional-Level Finals
The 3M Inspire Challenge is a regional case challenge organized by global science company 3M seeking solutions to help elevate its business through the themes of Technology, Sustainability, and Innovation.
The Regional Finals saw a total of six teams from each participating country pitching their solutions to a panel of judges from diverse areas of expertise which includes business management, manufacturing and supply chain, research and development, sustainability, as well as branding and communications. They include:
Kevin McGuigan, Vice President and Managing Director, 3M South East Asia Region and Country Leader in Singapore
Kiyoshi Endo, Vice President, Plant Operations, Manufacturing & Supply Chain, Asia Pacific
Chan Yen Sze, R&D Operations Leader, Southeast Asia Region
Jun Lee, Sustainability Leader for Asia, Brand & Communication, Ethics & Compliance Leader for Korea
Napaporn Ratanasaenghirun, Southeast Asia Regional Business Group Leader, Consumer Business Group
The Regional Champions from team Too Good Duo representing Malaysia from The National University of Malaysia (UKM) includes:
Mohd Fahad Saleem, BSc. in Material Science (Hons.)
Nur Liyana Syasya Mohd Zamuri, BSc. in Material Science (Hons.)
The first runner-up team from Vietnam scored second place with their proposal of building a 3M 360° Virtual Store to showcase the science of 3M products and using the platform to run campaigns for customer engagement. Team Charmmm from RMIT University Vietnam includes:
Phan Le Minh An, BA Economics & Finance
Tran Kim Huong, BA Economics & Finance
Rahul Sharma, BA Economics & Finance
Vuong Anh Chien, BA Economics & Finance
The second runner-up spot went to team Kancil from Indonesia with their idea of offering a sustainable surgical mask option by using bioplastic as the main raw material. The team is made up of:
Muhammad Rahmadito, Mechanical Engineering
Gabriele Maruli Tondi , Mechanical Engineering
Ramadhana Bhanuharya Krishnamurti, Industrial Engineering
Safira Dastalenta, Mechanical Engineering