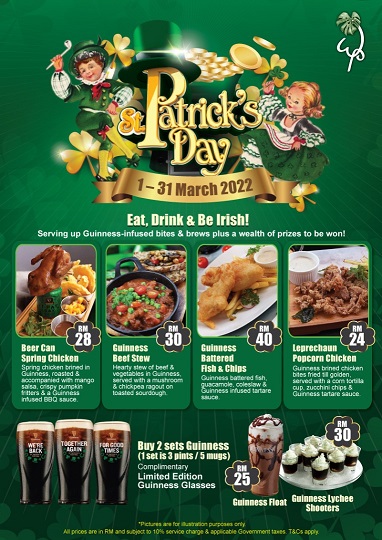 Throughout the month of March, SOULed OUT outlets in Kuala Lumpur, Bangsar South and Kota Kinabalu, as well as WIP at Bangsar Shopping Centre and WIP On The Park at Marc Residences are featuring Irish themed food and drink offerings to keep the St. Pat's vibe going all month long. Of course, in true St. Patrick's spirit, the curated cuisine has been infused with the world's most loved stout, Guinness. All participating outlets boast ample open-air dining, stringent SOPs and fully vaccinated staff so guests can enjoy a day or night out without any qualms.
For St. Patrick's Day on 17th March, SOULed OUT Kuala Lumpur will be bringing an authentic Irish experience to partygoers, where they will be welcomed and decked out in an iconic black and green stovepipe hat courtesy of Guinness, enjoy a variety of fairground games, like the claw game and high striker, watch a St. Paddy's parade complete with mascot, jive out to live music and traditional tap dancing, as well as participate in party games, including pub quizzes, step dancing and a scavenger hunt, where revellers stand to win special edition Guinness t-shirts for one night only. Guests can also visit the 'Guinness Tavern' across the street, constructed for this celebration. Another unique experience patrons can look forward to is getting a picture-perfect pint of stout from the aptly named 'Guinness Stoutie' with their faces or other images printed in foam art for the memories or to upload the ideal social media post.
Right now, punters can tease their tastebuds with seasonal offerings like the Beer Can Spring Chicken; a whole roasted spring chicken brined in Guinness accompanied with 
a tangy mango salsa, crispy pumpkin fritters and a Guinness infused BBQ sauce for RM28++. Traditionalists will enjoy the Guinness Beef Stew and hearty vegetables served with a mushroom and chickpea ragout on toasted sourdough for RM30++. Pescatarians and seafood lovers can dig into the Guinness Battered Fish & Chips. It showcases a dense and robust Threadfin Fish which releases its moist sweetness with a touch of Guinness added to the batter to make the final result extra crispy when it leaves the fryer. Coupled with hot chips, guacamole, coleslaw, and Guinness infused tartare sauce this masterpiece is priced at RM40++. For pub snacks the Leprechaun Popcorn Chicken for RM18++ at SOULed OUT outlets and RM24++ at WIP outlets is wonderful as a festive appetiser or for sharing. These bite sized morsels of Guinness brined chicken are fried until golden and accompanied by a corn tortilla cup, zucchini chips and Guinness tartare sauce. All St. Patrick's inspired food offerings perfectly complement the Guinness-infused brews and promotions available at SOULed OUT and WIP outlets all month long.
To wash down all that tantalising goodness, there is the Guinness Float for RM21++ at SOULed OUT outlets and RM25++ at WIP outlets, a delicious combination of Guinness Draught and Häagen-Dazs vanilla ice cream drizzled with chocolate syrup, resulting in the perfect dessert-inspired cocktail. For larger groups, the Guinness Lychee Shooters are fun sized concoctions of Guinness liquorice syrup, lychee, Malta and topped with whipped cream that comes in a set of 10 shots for RM30++ so everyone can partake.
Also available now until March 31st, patrons at SOULed OUT and WIP outlets also get a pair of quirky limited edition Guinness party glasses for every two sets of Guinness they order at WIP. Each set at WIP outlets is 5 mugs for RM70++ and at SOULed OUT outlets for 3 pint or 5 mugs at RM68++. It's an entire month of all things St. Pat's, so don your best green gear and let the party begin.