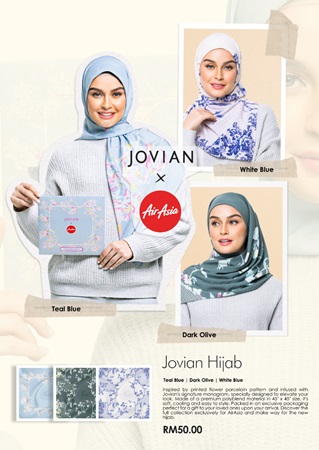 Specially designed Jovian bags and hijabs available for purchase for a limited time only
Other exciting offerings by airasia's Santan in conjunction with Ramadan
KUALA LUMPUR, 10 April 2023 – A match made in the skies! Celebrate the new year with style when you fly AirAsia and get first dibs on exclusive merchandise from one of Malaysia's most popular designers.
To celebrate an amazing first quarter,  AirAsia announced a collaboration with style icon and fashion designer Dato' Jovian Mandagie. Guests will be spoilt for choice with a must-have Jovian x AirAsia Multifunction Bag Mint Green comprising durable everyday bag made of lightweight woven material that is both washable as well as water-resistant, a heavenly-scented bottle of Jovian x AirAsia Classic 101 EDP perfume and a limited edition Jovian x AirAsia hijab that comes in three flattering colours – White Blue, Teal Blue and Olive Green.
The limited edition range of products will commence for sale from now until 30 June 2023 on board all AirAsia Malaysia flights with airline code 'AK'. These items will also be available for sale on the airasia Super App under the 'shop' icon with a starting price of RM28.
Catherine Goh, General Manager, Retail & Food Operations said: "As we continue to expand our offerings both inflight and on the ground, we are pleased to launch our collaboration with the one and only Dato' Jovian  – a style icon and a household name in Asean. The Jovian brand is much loved by style enthusiasts nationwide and beyond and we thought it would be a perfect fit for our ever-evolving inflight services.

"We will always strive to showcase the beauty and worth of Asean brands by talented entrepreneurs  whilst leveraging on AirAsia's vast network and on-going branding initiatives. There is so much untapped potential from artists around the region and being a home-grown Asean brand ourselves, we hope to keep championing their growth and exposure through our duty free range."

Dato' Jovian Mandagie, Group Chief Executive Officer of Jovian Mandagie Group said: I had to pinch myself when I saw the AirAsia catalogue, it has always been a dream of mine to sell Jovian merchandise onboard AirAsia flights! For those who are travelling this festive season with AirAsia, don't forget to grab our merchandise for your loved ones and fly in style with Jovian x AirAsia!"
That's not all in store for the Santan Group – in conjunction with the upcoming Hari Raya period, Santan will be serving delicious delectables both in the air and on the ground. From now till 30 June 2023, AirAsia guests on board 'AK' flights will get to opt for Santan's very own special Raya meal – comprising a hearty serving of juicy chicken satay, with bowl of toasty peanut sauce for dipping and a side of nasi impit, onions and cucumber. Guests can pre book this meal up to 4 hours before their flight via the airasia Super App or website.
Patrons at any Santan Restaurants or Cafes are also in for a treat with the special 'Festive Feast' menu available at all 6 Santan Restaurants. From the 'Satay Snack Plate' to spicy 'Nasi Lemak Goreng Ayam Berempah', there's something for everyone! Those with a sweet tooth, fret not as Santan Cafe brings its signature Pandan Series where you'll be able to enjoy your favourite dessert – with a unique twist. Be sure to try the chilled Pandan Cheesecake and wash it down with a chilled glass of Pandan Tea. The 'Festive Feast' menu is available from now until 31 May 2023.
In the spirit of giving, airasia's Santan will be offering affordably-priced meals at only RM6 per meal with a different menu on each day. The 'RM6 Value meal' meals are available daily at Santan Restaurants in Sunway Pyramid and Wisma Tune only. From now till 30 April 2023, airasia members can earn 12 airasia points for every RM1 spent when they upload and submit their receipts via Snap & Earn on the airasia Super App.